How To Remove Stubborn Glitter Nail Polish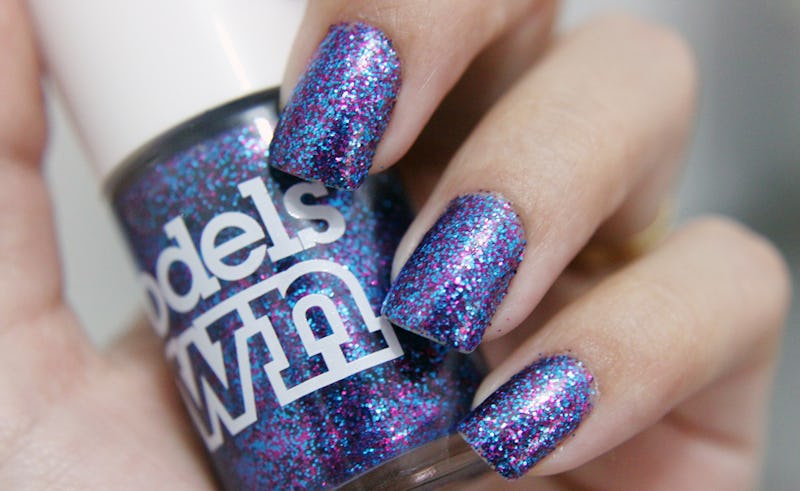 Rocking a sparkly mani is a fun way to jazz up your nails — until it isn't. Textured polish is notoriously difficult to remove, but where there's a will, there's a way. Here's how to remove glitter nail polish that Will. Not. Budge.
Before you swear off glitter nail polish forever, there are ways to take the struggle out of removing it. Yeah, just going in with a cotton ball and nail polish remover is a lost cause. It's beyond annoying to end up with teeny pieces of cotton snagged on the glitter in your quest for clean nails, so that option is pretty much out.
A more successful method is to soak cotton balls in nail polish remover and place them on each nail (starting with one hand first.) Acetone nail polish remover is more effective, but it's also more damaging your your nails and the skin around them, so go with whichever type suits your fancy. Secure the cotton balls by wrapping your fingertips in aluminum foil and leave them on for about five minutes, according to Allure. Grab the foil to slide the cotton balls off with a little pressure, and repeat on the other hand.
The one challenge with the traditional foil method is getting the silvery stuff tight enough to let the cotton ball and remover work their magic. This tutorial suggests using plain old scotch tape instead — why didn't I think of that?
Allure also mentions that white felt and acetone nail polish remover works well on saying goodbye to your sparkly nails. While I can't vouch for this method myself, it might be worth a shot if you're a glitter nail polish devotee.
Whichever method you choose, here's a breakdown of your toolkit:
Nail Polish Remover
Beauty Secrets Nourishing Acetone Nail Polish Remover, $3, Sally Beauty
This acetone formula contains wheat protein and vitamin E to avoid drying out nails too much.
Cotton Balls
Swisspers Cotton Balls Jumbo Plus (3-pack), $8, Amazon
These extra large cotton balls will cover your entire nail, no problem.
Aluminum Foil
Reynolds Wrap Heavy Duty Aluminum Foil Roll, $9, Amazon
Aluminum foil really is multipurpose — cooking, science projects, and now, glitter nail polish removal.
Clear Tape
3M Scotch Magic Tape (6-pack), $10, Amazon
Bonus: Maybe you'll improve your present wrapping skillz.
White Felt
Craft 100 Felt, $0.35, United Now
Snag some during your next Pinterest-inspired trip to the craft store.
Cuticle Cream
Burt's Bees Lemon Butter Cuticle Creme, $6, Drugstore
Give your nails a little TLC after soaking them in the acetone to keep them moisturized and healthy.
A New Glitter Polish
Deborah Lippmann Magic Carpet Ride, $23, Jet
Now that you know how to remove it without the struggle, why not?
Image: Lelê Breveglieri/Wikimedia Commons; Courtesy of brands