The Clever Way This Pizza Joint Pays It Forward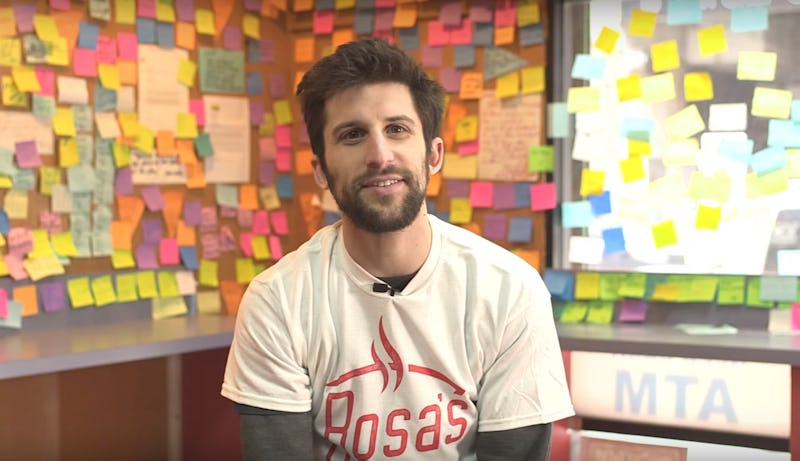 At Rosa's Fresh Pizza in Philadelphia, you can buy a slice for only a dollar, but the restaurant offers something more than an affordable lunch: Rosa's Fresh Pizza helps feed the homeless by inviting customers to pre-purchase slices for those in need. Patrons of the pizza shop simply pay an extra dollar (or two or three…) to pre-pay for someone else's pizza. When a homeless customer comes in, he or she can ask for a "Little Rosa" to receive a free slice. It's a simple, smart idea that works: Rosa's has given more than 45 thousand slices of pizza to the homeless since the shop opened in 2013.
Rosa's was founded by Mason Wartman just over two years ago. Wartman left a desk job on Wall Street to open the dollar-per-slice pizza shop in central Philadelphia. Early on, a customer came in and asked to buy a slice for the next homeless person to visit the restaurant; Wartman used a Post-It to keep track of the purchase, and an idea was born.
Wartman soon started a pay-it-forward program, in which customers could pre-pay for slices for homeless customers. If someone donated a dollar, a Post-It note would go on the wall as a symbol of the slice that dollar would pay for. If someone came and requested a "Little Rosa" or "one off the wall," the Post-It would get pulled down and the customer would get free pizza. According to Generocity, Rosa's doesn't use the notes to keep track of donated slices anymore, but colorful Post-Its still decorate the shop's walls, filled with messages of hope and support, as well as thank-you notes from people who have received free slices.
After gaining some significant media attention, including a visit to The Ellen DeGeneres Show, Rosa's giving has expanded to include up to 150 free slices a day. Wartman has also found ways for customers to help the homeless through merchandising. Rosa's t-shirts (some of which were designed by homeless artists) sell for $20, and come with a promise that a portion of the money will go toward donating ten slices of pizza to the homeless. For every sweatshirt that Rosa's sells, the business will donate another sweatshirt to a homeless person — and, if that weren't enough, each sweatshirt comes with a label sewn inside with info about the locations and hours for local soup kitchens.
If you don't live in Philadelphia but want to support Rosa's Fresh Pizza, head on over to the restaurant's website, where you can purchase t-shirts, sweatshirts, and more. You can also go online to buy slices of pizza for the homeless, at still only a buck each.
Image: YouTube