'Better Call Saul' Season 2 Previews A New Poster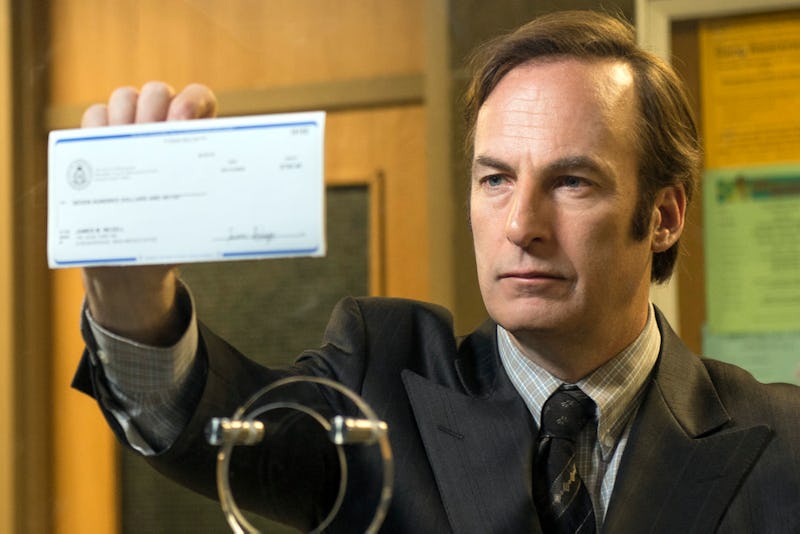 Fans of the Breaking Bad universe, rejoice! No, there will not be a new season featuring your favorite meth-cooks and dealers anytime soon, but Season 2 of Better Call Saul is upon us. The Emmy-nominated prequel series to the drama Breaking Bad begins Monday, Feb. 15, at 10 p.m. A new Better Call Saul Season 2 poster has been released for the series, ensuring that this hype train keeps on root-a-toot-tooting.The image suggests that James McGill's life won't be getting any more easy, as he struggles to carry a briefcase up a road that is unnaturally inclined.
This series stars Bob Odenkirk as James McGill (Saul's birth name), and starts out Season 1 with a down-on-his-luck public defender. The poor guy spends his time taking care of his sick brother, Chuck, and trying to bring good to the world. After unsuccessfully trying to get the law firm where his brother worked to give him a payout, he turns to a life of cons and crimes. At the end of the series, a class-action lawsuit led him to become a lawyer in a high-ranking firm, but showrunner Pete Gould hinted "Jimmy McGill's journey takes surprising, left-handed turns in Season 2. He goes to places we'd never, ever expected."
What's going to happen to the poor guy? To be honest, as long as Mike Ehrmantraut (Jonathan Banks) is involved, I'm not that concerned. I love that bald man and will argue forever that he is the best Breaking Bad character by far. If Jimmy aka Saul has Mike by his side, he'll be alright. And other cameos would be cool as well. Get on board the hype train, guys because Better Call Saul will be here before you can even say "justice is blind!"
Images: AMC