Fall Out Boy & Demi Lovato Bringing Back The '00s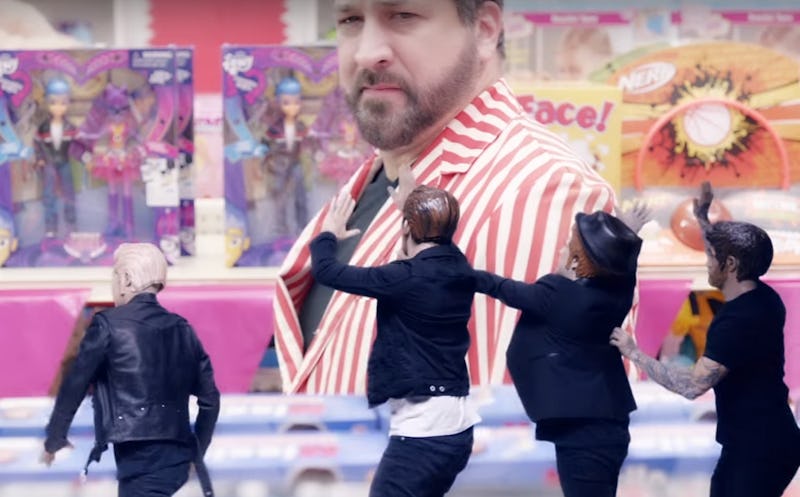 If you're a Fall Out Boy fan and an *NSYNC fan, then all of your dreams just came true. And, if you're not, then well... You're about to be one. Because Fall Out Boy and Demi Lovato not only released the music video for the band's insanely-catchy song, "Irresistible," but they also paid tribute to the popular '90s boy band. By making their "Irresistable" music video mimic the popular "It's Gonna Be Me" music video — and even feature some of the band's members! *NSYNC's record-breaking No Strings Attached album was released in 2000, and included one popular (and somewhat bizarre theme): Having the boy band members featured as dolls. However, as strange as it may have seemed at the time, it quickly became a staple of the boy band themselves, and the time period. And, clearly, it's not something that Fall Out Boy forgot about.
In fact, according to Fall Out Boy themselves, their idea for the new "Irresistible" music video was actually a pretty the complex situation, as it was an idea they've been carrying around for quite some time. "I was looking back at the video for 'it's gonna be me' — where they come to life as dolls — and we thought was there an analog to this story? Like somewhere in that same store was there a dollar bin full of toys that no one really wanted? That would band together like the misfit, offbrand little outsiders they were. The toys no one ever wanted come to life. Where would our band have fit in that story?" they revealed in their blog regarding their new video. But are you still a bit confused? Well, just check out the video first to see what they're talking about.
And now check out the classic "It's Gonna Be Me" music video for a little throwback refresher course.
It's hard to miss all of the similarities between the two! Aside from the fact that, yes, *NSYNC's Joey Fatone and Chris Kirkpatrick are featured in both, things such as the set and the doll-like figures of the band seem to be almost identical! Seriously, just look at this.
Compared to this.
And don't forget about this.
Clearly taken from this.
And who could forget the struggle to get with Barbie?
It seems like both bands had that problem.
Honestly, I'm in throwback heaven right now. Join me in watching the video for the 100th time, like I know you want to.
Images: FallOutBoyVEVO/YouTube (3); NSYNCVEVO/Youtube (3)