Will These Be The 'Star Wars: Episode 8' Title?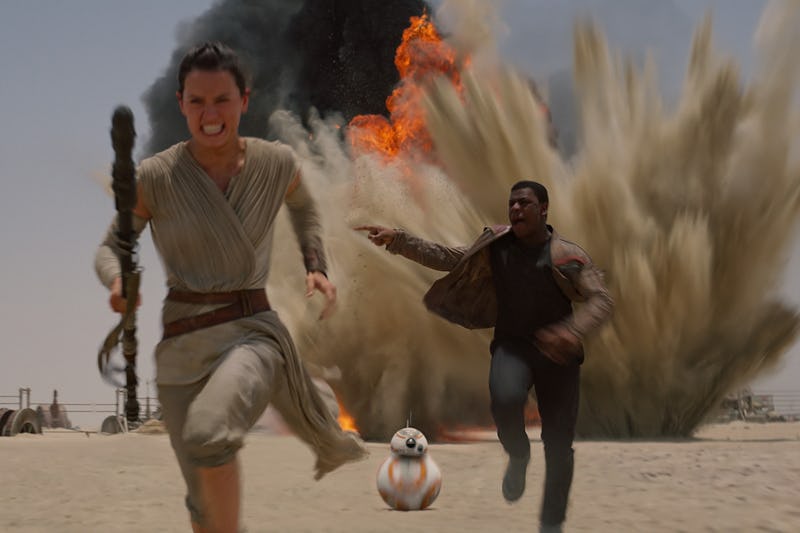 It hasn't even been a full month since Star Wars: Episode VII — The Force Awakens hit theaters, but fans everywhere are already clamoring for details about the forthcoming eighth film. The name of the new film hasn't even been announced yet, though — which has sparked #BadStarWars8Names to start trending on Twitter. It makes sense: With the film so far, far away, fans don't have much else to do but speculate wildly about every detail of the new film, including what it will be called — or, in the case of #BadStarWars8Names, what it won't be called. After all, the next installment in the wildly successful franchise isn't due out until 2017 and hasn't begun filming yet. With so little known about the eighth film, fans have been utilizing #BadStarWars8Names to submit their thoughts on what the film should definitely not be called. Since its creation, the hashtag has become a trending topic on Twitter, with over 12,500 tweets on the subject.
The Force Awakens left so many questions left to be answered (Who are Rey's parents? Is Luke her father? Will Kylo Ren remain emo? Will Luke be in more than two minutes of Episode VII?). But, it's really exciting that thousands of fans would participate in a hashtag like this. It shows just how completely enamored the world is with Star Wars.
To celebrate the hilarious meme, I rounded up some of the funniest #BadStarWars8Names. Here's hoping Rian Johnson takes note:
1. The Empire Strikes
Like Norma Rae in the First Order. I nominate Gwendoline Christie for the Sally Field role.
2. That's So Rey-Finn
In which Rey and Finn team up to prevent bad things from happening, but *spoiler* by interfering, they cause them to happen anyway!
3. The Hateful BB-8
BB-8, R2-D2, C-3PO, Rey, Finn, Luke, Kylo Ren, and General Hux are stuck in a cabin on Hoth...
4. Straight Outta Endor
Because people want and need more Ewoks.
5. Brokeback Falcon
For all those Finn/Poe shippers out there?
6. Training Rey
Rey and Luke go rogue during her Jedi training.
7. Luke Who's Talking
Because he didn't talk in The Force Awakens! Get it?!
8. Death Cab For Kylo
A movie where we fully explore the extent of Kylo's angst and pain.
9. Keeping Up With The Skywalkers
There are getting to be quite a few of them now.
10. Who's Your Daddy?
But really, who is it? We all want to know.
11. The Fault In Our Death Stars
Where Rey and Finn have deep, existential conversations about death and culture and fall in love.
We may not know the real name of Episode VII yet, but these are some great place holders in the mean time.
Image: Lucasfilm/Walt Disney Pictures