You Can Buy Glossier's Milky Jelly Cleanser Online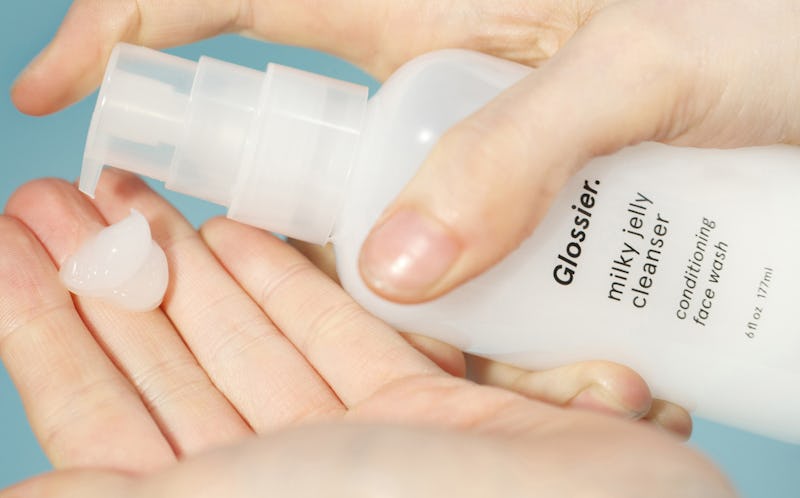 Glossier is one of my favorite new product lines because its offerings are minimally packaged but insanely effective and that's really all I need them to be. Glossier just launched its Milky Jelly Cleanser and this creamy, dreamy face wash is divine. Trust me, since I've been using it for the past two days and it's perfect. Where can you buy Milky Jelly, which sounds like a few of the items and ingredients in my fifth grade lunchbox, sans the peanut butter?
The cleanser is available exclusively on the Glossier website and comes with an $18 price tag. It's the ultimate daily face wash that also moisturizes. Milky Jelly can be used to wake up, cleanse, and hydrate your face as you start your morning and it can be used at night, to wash away the dirt of the day and all of the grime that comes with a life lived.
Milky Jelly Cleanser, $18, Glossier
The brand's Coconut Balm Dotcom is in my pocket or in my bag at all times. I also use the Boy Brow eyebrow pomade daily to shape and fill in my brows. I am thrilled to add Milky Jelly to my repertoire of products.
Coconut Balm Dotcom, $12, Glossier; Boy Brow Eyebrow Pomade, $16, Glossier
What, exactly, makes Milky Jelly so special?
Milky Jelly Cleanser, $18, Glossier
Well, the recipe includes five skin conditioners, which means your face will feel soft after you've cleansed it, as opposed to all sorts of tight or pulled. It is also comprised of the same cleansing agents that are in contact lens solution, so it's safe for the eye region. No burning here!
But the main takeaway is that it's gentle yet effective.
Another ingredient? Rosewater! The brand replaced a fourth of the water content with rosewater, which smooths and smells divine.
Need another reason to adore Milky Jelly? Well, it is paragon-free, sulfate-free, and cruelty-free.
Milky Jelly is part of Glossier's "core" Phase 1 Set, which is rounded out by the Priming Moisturizer, Perfecting Skin Tint, and the aforementioned Balm Dotcom.
Milky Jelly is majorly creamy, like milk, and gentle, with a gel-like texture that doesn't lather heavily. In fact, it's so creamy that it's like washing your face with moisturizer, yet it's never too, too thick. Hence the name Milky Jelly.
It smells fresh and clean like a baby just out of the bath. And there is absolutely zero post-wash tightness. I used MJ both during my morning shower and at night, to get rid of the day's makeup. Even mascara and black liquid liner melted off... like they were never even there. My face was so, so smooth after using that I didn't feel the need to use a post-wash moisturizer. Ahh!
Images: Glossier (3)