11 Books Every 'Calvin and Hobbes' Fan Will Love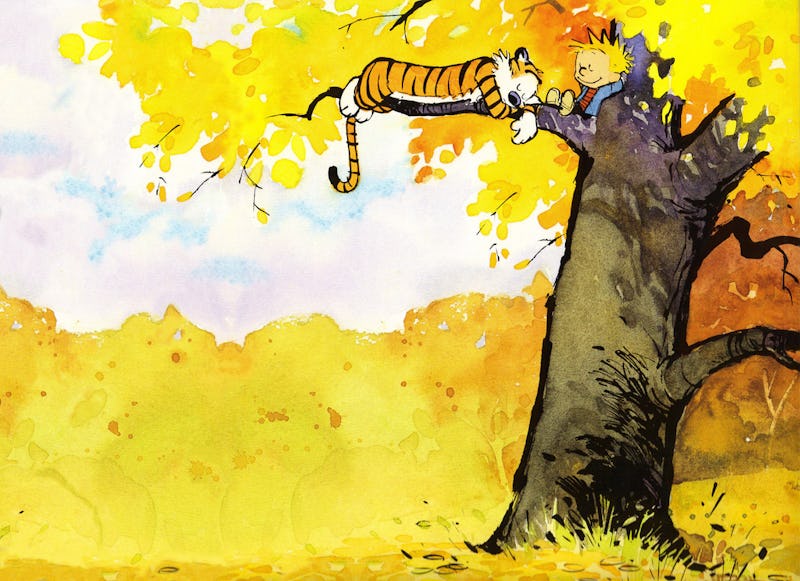 Today was one of those perfect winter days — the sun blazed bright across a crisp blue sky, the snow fell quick and fast in thick, luscious flakes, and with a relatively clear conscious and a full thermos of cocoa, I abandoned my laptop, slipped on my long johns, laced up my boots, and headed out into the winter wonderland to whip up a few casual scenes of tragedy and torment. I know, it sounds gruesome; while children everywhere were lying down to make their first snow angels, I was positioning headless snowmen in front of parked cars, but after all, I grew up reading Calvin and Hobbes .
If you are one of the lucky ones who was raised on Calvin and Hobbes , you know that there's no such thing as an innocent pile of leaves or a useless cardboard box, and you know that there's no better tactic to take with a street full of snow than a full frontal assault on common decency. In fact, if you grew up with Calvin and Hobbes, chances are you'll never see the world quite the same way as the uninitiated, which can wreak havoc on your literary lifestyle. So, if you're looking for a quick fix that will take you back to those bygone days of Spaceman Spiff and Chocolate-Frosted Sugar Bombs, look no further than these 11 books.
1. The Amazing Adventures of Kavalier & Clay by Michael Chabon
The Amazing Adventures of Kavalier & Clay is contemporary adult fiction rooted in the lure of the comic superstar. Breathing life into the story of Joe Kavalier and Sammy Klayman, Chabon weaves together a tale of boyhood that begins with a daring escape from Nazi-controlled Eastern Europe and coalesces with the creation of a unique superhero character — The Escapist — and a journey through the world of comic publishing into adulthood and beyond. If you find yourself yearning for a novel with the spunk and soul of a Calvin and Hobbes comic writ large, look no further than The Amazing Adventures of Kavalier & Clay.
2. The Adventures of Tom Sawyer by Mark Twain
Would Calvin waste his time painting a fence just to make up for the dubious offense of ditching school for a day when he could engage local kids to paint the fence for him, if they were willing pay for the pleasure? No, he most certainly would not; Calvin would undoubtedly follow in the footsteps of another iconic pre-teen troublemaker: the one and only Tom Sawyer, blazing a fiercely independent, wickedly rabble-rousing trail through childhood. Mark Twain's youthful adventurer is the spitting image of Calvin, albeit borne of an altogether different time, which makes for a truly fascinating fictional experience.
3. The Martian by Andy Weir
I have to be careful not to read Calvin and Hobbes anywhere that demands a certain measure of decorum; even now, in my early 30s, I just can't help myself — I laugh out loud every single time. Sure, the illustrations are incredible and the plotting is damn near perfect, but what really gets me is Calvin's precocious wit. Humor of the laugh-out-loud variety is all too hard to find in a protagonist these days, which is exactly why you should pick up a copy of Andy Weir's The Martian. Whether or not you've watched Matt Damon beautifully inhabit astronaut Mark Watney on the big screen, I guarantee you will not go more than a few pages without a good laugh if you take on The Martian in print.
4. Black Swan Green by David Mitchell
At its core, Calvin and Hobbes is a comic strip that lays bare the rough and tumble world of childhood, following Calvin on his greatest adventures and staying close as he navigates uncertainty and heartbreak. It is a rare treat to peek into the cloistered world of childhood and watch the messy work of growing up is laid bare, but David Mitchell's Black Swan Green offers readers exactly that — a delicately intimate, achingly honest portrait of a boy struggling toward manhood; a book with heart, soul and a style all it's own; a book Calvin himself would have appreciated.
5. JPod by Douglas Coupland
Not everyone has what it takes to raise a little hell, be it in the harried halls of an elementary school, the boundless wonderland of a backyard, or the boring white collar world of the modern workplace. However, the eccentric video game designers who populate Douglas Coupland's JPod more than take up the gauntlet of laid down by Calvin and Hobbes, bringing the very same brand of no-holds-barred mischief-making fueled by boundless imagination to the cubicle, exactly where it belongs.
6. To Rise Again At A Decent Hour by Joshua Ferris
Joshua Ferris' To Rise Again At A Decent Hour captures the spirit of doubt and uncertainty that are the hallmark of so many of Calvin's most poignant musings. From a grave mistrust of his parents motivations to a skeptical concern about what the future might hold, Calvin clings to his distrust, as does the good dentist Paul O'Rourke, who finds himself pulling at the strings of his own existence after discovering a website and Twitter account in his name that he knows virtually nothing about. Embrace your own doubts, wade into the chaos, and you are sure to enjoy Ferris' utterly delicious ode to the power of doubt.
7. We Are All Completely Beside Ourselves by Karen Joy Fowler
Without giving anything away — and believe, me there are secrets aplenty worth spilling — I will say this: If you're looking for a family drama that tackles this intricacies of intimacy within the warm embrace of an unconventional family structure, look no further. Karen Joy Fowler has crafted a story of supreme originality with a styling all its own, but if you know where to look you are sure to find a little Calvin and Hobbes on every single page.
8. Death and the Penguin by Andrey Kurkov
Although Calvin and Hobbes presents a stirring portrait of one boy's friendship with a supremely sarcastic tiger, I find myself wondering why there aren't more stories out there dedicated to the friendships that blossom between man and beast. Luckily for lovers of this oh-so-niche genre, Andrey Kurkov's Death and the Penguin does exactly that. For every grown up boy or girl who has ever dreamed of a Hobbes of his or her very own, Kurkov's transcendent tale about a struggling writer who adopts a King Penguin from a failing post-Soviet zoo is sure to hit home.
9. The Brief Wondrous Life of Oscar Wao by Junot Diaz
Like the eponymous Oscar, Calvin is more successful in the realm of science fiction and fantasy than the he is on the social plane occupied by Susie Derkins and his unnamed classmates. Weaving a novel that deftly draws upon "the genres" to evoke a grander narrative of aspiration and failure across oceans and decades, Junot Díaz's family saga speaks perfectly to the plight of the outsider.
10. American Gods by Neil Gaiman
Neil Gaiman's American Gods presupposes a world populated by both men and mythological creatures, a world strikingly similar to the fantasy realm conjured up by Calvin and energetically engaged by the boy and his tiger. Marrying the world of wonder and reality with a macabre sensibility and an eye to the extraordinary, American Gods belongs to the same fictional realm as some of Calvin's greatest fabrications.
11. Breakfast of Champions by Kurt Vonnegut
Breakfast of Champions is nothing less than a work of genius — an arch, no-holds-barred, satirical tour-de-force that challenges the very notion of the unbelievable. Of all the authors on this list, Vonnegut comes the closest to approximating the wry style, the fantastical world-building, and bold characterization of Calvin and Hobbes. If you're looking to simulate the Calvin and Hobbes experience in a whole new way, you simply cannot do better than Breakfast of Champions.
Image: Thoth, God of Knowledge/Flickr