6 Ways To Use The Anastasia Brow Definer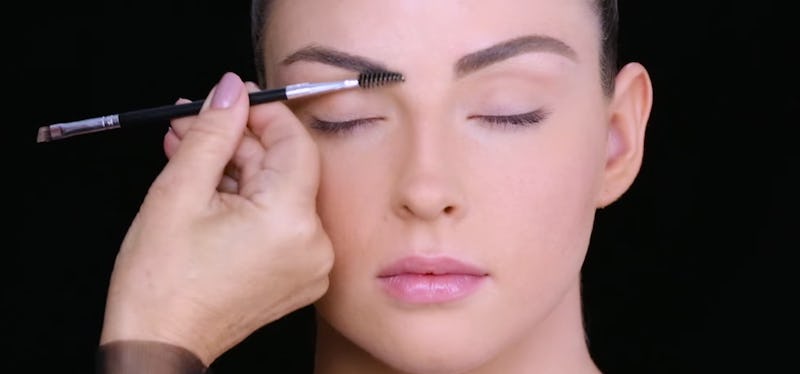 If your New Year's resolution was to have bolder, better brows, then this is the product for you. The Anastasia Beverly Hills Brow Definer is here, and it's the latest fabulous brow tool from the label that you need to add to your makeup bag. The best part is that creator Anastasia Soare has already given you every tutorial you need for on-fleek brows on her YouTube channel, so if you're looking for a sign to buy, this is it.
Brows are without a doubt one of the most intimidating features to perfect, but Anastasia Beverly Hills' new Brow Definer makes it easier than ever to get the look that you're going for — no matter what shape that may be. According to the site, this product took two years to get right, so you know that it's something special. What's unique about the double sided tool is the triangle shaped tip that lets you make thin or thick hairlike strokes with just one product. You can also use it as a wide pencil to completely fill in brows as well, so you're basically getting three products all in one.
Brow Definer, $23, Anastasia Beverly Hills
You can choose from ten different brow shades, so really is something for everyone. Alongside the brand's other two best selling brow products, Dipbrow Pomade and Brow Wiz, the new Brow Definer is available at Anastasia Beverly Hills for $23.
Whether you're looking for more of an arch or just trying to define sparse brows, Anastasia Beverly Hills is here to help. Each of the following tutorials can easily be used with ABH's newest product. Check out the expert advice on how to spruce up those dull brows with ease.
1. Reshaping An Arch
Brow Definer, $23, Anastasia Beverly Hills
Instead of using multiple products, you can easily achieve these natural looking brows with the new double-ended Brow Definer.
2. Fix Over-Tweezed Brows
With the new product and a brow primer, an instant brow lift is easier than you might think.
3. Enhance A High Arch
Who needs all these products when you can get this look with just one?
4. Define Sparse Brows
It really doesn't get easier than this. Just grab the Brow Definer to get the perfect natural texture.
5. Adding Texture
You can swap out the Anastasia Beverly Hills Brow Wiz for the Brow Definer if you're looking to create a slightly different level of thickness.
6. Super Defined Brows
These tips for getting a more defined eyebrow are perfect for creating a natural look.
7. Dramatic Brows
Brow Definer, $23, Anastasia Beverly Hills
Getting thick, dramatic brows is all about the technique.
Want more beauty tips? Check out the video below, and be sure to subscribe to Bustle's YouTube page for more hacks and tricks!
Image: AnastasiaBeverlyHills/YouTube