7 Hacks For Saving Money At The Hair Salon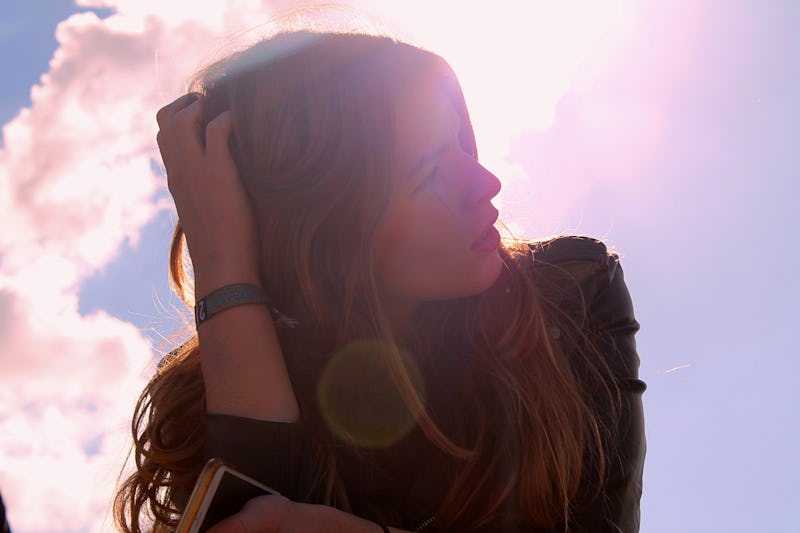 A visit to the salon can instantly make you feel just a little more glam, but the cost of a cut, color, and blow out can get pretty steep super fast. Luckily, with these hacks for saving money at the hair salon, you'll be able to look great and still have some cash in your wallet. A few of these hacks will require a little DIY courage, but I promise you're totally capable.
My first painful reality of just how expensive haircuts and color could be dawned on me when I was the naive age of 17. I had just stopped filming this little series for Disney (yay, As The Bell Rings!), and wanted to keep using the same amazing stylist for my hair. I went to his super sleek and swanky salon in West Hollywood, took one look at the prices, and had to pick my jaw up from off the floor. I'm sorry, a $350 cut and color? Excuse me while I put my hair into a messy, split end-filled bun and cry.
The stylist was kind enough to give me a discount once he saw the shock on my face, but I knew I was going to have to find cheaper options in the future. Fortunately, the hacks below have made a huge difference in how often I get to change up my look!
1. Decline The Deep Conditioning Treatment
Organic Virgin Coconut Oil, $20.49, Kirkland Signature
If your stylist is pushing that extra deep conditioning mask, you can politely decline and make your own on the super cheap! Even just coating your hair in coconut oil for half an hour serves as a major deep conditioning mask.
2. Ask If They Charge For The Blowout
OK, first and foremost, it seems super not awesome your stylist would charge extra for a blowout to finish off your look. But, some do, and it's wise to make sure before you just assume it's free.
3. Hit Up A Cosmetology School
If you're alright with someone who isn't fully certified yet snipping your hair, consider going to an open night at a cosmetology school. You'll likely be able to snag a great style for under $20.
4. Ask If Bang Trims Are Free
AboutStyle pointed out that most stylists will snip your bangs (assuming they're the ones that gave you bangs in the first place) for free! Just ask before you leave your first appointment.
5. Consider Trimming Your Own Bangs
Trimming your own bangs is not as scary as it might sound. The tutorial vid above breaks down exactly how and is practically foolproof.
6. Scan Flash Sale Sites
StyleCaster made a great point that sites like LivingSocial and Groupon sometimes run incredible specials on cuts, colors, and additional treatments!
7. Get A Low-Maintenance Cut
If you're on a budget and your cut requires some serious precision angles to work, you might want to opt for something that requires less continual trimming upkeep. Talk with your stylist about how to emulate the look your after in a simpler way.
Want more beauty tips? Check out the video below, and be sure to subscribe to Bustle's YouTube page for more hacks and tricks!
Images: Lea Dubedout, Fade Qu, Milada Vigerova, Sergei Zolkin/Unsplash; Fotolia