'Ex Machina' Deserves Some 2016 Oscars Love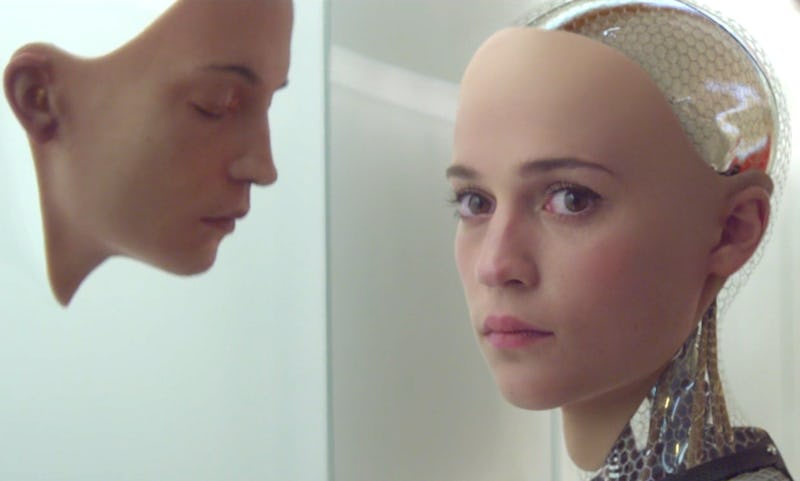 For all those Oscar voters who may have forgotten about the sci-fi thriller Ex Machina, which was released way back in April 2015, the Producers Guild of America is here to remind them. In early January, the nominations for the 2016 Producers Guild Awards were revealed, and Alex Garland's debut film made the list — along with The Big Short, Bridge of Spies, Brooklyn, Mad Max: Fury Road, The Martian, The Revenant, Sicario, Spotlight, and Straight Outta Compton. Now, this is awards season, so there are a lot of nominations being handed out — but something you may not have known is that the PGA nominations often predict the Oscar picks for Best Picture. According to Vulture, at least seven of the 10 PGA nominees over the past few years also earned Best Picture noms. In 2010, the guild picked nine out of the eventual 10 Best Picture selections.
Those numbers make it seem that Ex Machina just had its chances of landing an Oscar nom — which are set to be announced Thursday, Jan. 14 — upped. And really, why shouldn't it be in the running? It's a sci-fi film and a psychological thriller that, within its first 10 minutes, will have you on the edge of your seat wondering what it is you've gotten yourself into.
It's exactly how Caleb, a computer programmer for the Google-like search engine Blue Book (played by this Oscar season's most familiar face and your new crush, Domhnall Gleeson) feels the moment he steps inside the computer enhanced bungalow of his boss, eccentric billionaire Nathan Bateman (Oscar Isaac). Caleb is told he's won a prize, but he's really there to conduct a Turing test, which — for anyone who saw 2014's Oscar nominee The Imitation Gameknows — is a test to distinguish a computer from a human. It's something that becomes much more difficult when that said computer looks like an attractive woman, played by Alicia Vikander.
In case the PGA noms weren't enough to convince the Academy, though, I'm here to break down the seven categories that Ex Machina should be considered for at the 2016 Oscars.
Best Picture
This film focuses on what it is to be human, and makes you wonder if science could ever be advanced enough to force us to rethink that. It's an indie that feels iconic, reminiscent of Stanley Kubrick's 2001: A Space Odyssey with its use of confined space and its lesson of what can happen when technology turns on you. Or, more specifically in this case, turns you on. Garland also touches on gender, and how it toes with your consciousness, creating both a feminine robot and two masculine characters whose treatment of Ava ends up being their individual downfalls. The movie is also quite current with its commentary on a "big brother"-like presence, who here is definitely taking note of everyone's Internet searches, and how it could mess with the world in so many more ways than we can think of. This film stays with you way after the final shot, leaving you confused, unsure, and perhaps even paranoid. It it's able to get audiences feeling this much, it should definitely make the cut for best film of the year.
Best Supporting Actress
Alicia Vikander is almost 100 percent guaranteed to land this nomination, and when she does, it should be for this movie. Yes, she's gotten a lot of buzz for her supporting role in The Danish Girl, in which she plays Gerda Wegener, the supportive, but still suffering wife of transgender artist Lilli Ebe. She did an amazing job as Gerda, but throughout Oscar history, we've seen enough women get nominated for playing "the wife" — so why not nominate Vikander for this unique role? In Ex Machina, the Scandinavian screen star shows how effective restraint can be with this calm, cool, and collected portrayal of a humanoid who is more human than android. Her movements and her speech patterns are soft and robotic, but always human.
Best Supporting Actor
Oscar Isaac, with his shaved head, professor glasses and bushy beard, is the bro-iest of tech billionaires — Nathan is a borderline alcoholic who drinks all day only to wake up, work out, and pass out all over again. Isaac manages to make you feel both disdain and sad for his character, while also leaving you with chills every time you see him watching over his creation. But, like Frankenstein before him, he doesn't have full control over his monster. Isaac does, however, know how to dance in the most Twin Peaks scene ever put to screen by someone not named David Lynch. C'mon just give an Oscar to Oscar already.
Best Director
This is director Alex Garland's debut, and he certainly didn't try and play it safe. This is a stylized piece that looks like it came from the mind of a visionary. From the living room decor to the wiring of Ava, this is someone who was very conscious of what they were giving to the world. While the directorial Oscar race is pretty tight — especially with the ability to only pick five nominees out of the up to 10 films that can be chosen for Best Picture — voters should recognize and celebrate budding talent like this instead of going with the usual suspects.
Best Original Screenplay
A novelist by trade, Garland — who wrote the screenplay to 28 Days Later — told Eastfield College newspaper, the ET Cetera, that he started thinking of this screenplay when he was just 11 years old. He had gotten a family computer and was working on some coding when he started to dream up a talking computer. Of course, the film he would end up creating is only partially about a thinking computer — it's really about how we think about computers and the development of AI. Garland has a way with dialogue, making something as complicated as computer science seem like common conversation between his two lead characters. Like you're not watching a movie at all, but eavesdropping on a very highbrow conversation. Now that's talented screenwriting.
Best Cinematography
This is a small, confined movie that is filmed in such a way to make you feel claustrophobic — like the walls of this huge mansion are closing in around you. Lots of close, tight, contained shots help in making you feel this way. The film's cinematographer Rob Hardy told the website Film School Rejects that "what I was seeing with my eye is what I wanted the camera to see." He wanted it to feel natural, like you were there in that room with him. "We wanted to have enclosed sets," he explained. "So everything had a ceiling, the doors were sealed so there would only be one entrance in and out of the set. So when that door was closed, you really felt like you were in this environment." Safe to say, his plan worked and should be recognized.
Best Special Effects
When you think special effects, you think of these CGI-heavy action movies — but Ex Machina's chose subtle flourishes to perfectly create Ava. There were no green screens involved. Instead, according to The Verge, visual effects supervisor Andrew Whitehurst and his team shot Vikander saying her dialogue, and then shot the same scene without her in it to get the background. This was so they were able to seamlessly add Ava's CG-rendered body parts into the shot. "When we got into post-production, we could track both versions of the shot — the one where she's in there, and the one where she isn't — and then paint her out and restore the background behind her," Whitehurst said, "which was a very painstaking process." The pain was well worth it, though, to help viewers convince that she was more than just another robot.
Here's hoping Ex Machina gets some much-deserved attention come nomination day.