11 Reasons Jon Hamm Is Already A Winner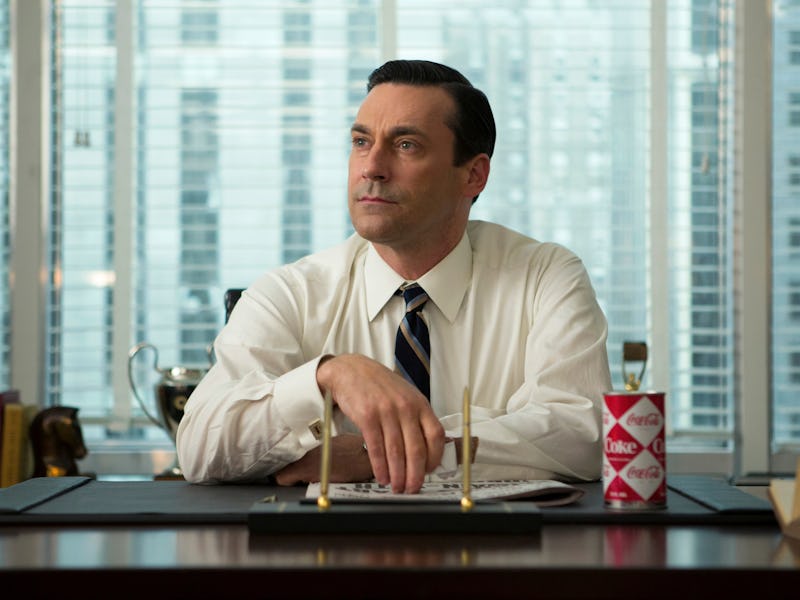 Despite being one of the greatest TV shows of all time (and that's a scientific fact, people!), Mad Men hasn't been a big Golden Globes winner over the course of it's 7 seasons. And now the show is over, and I'm still kind of raw about the whole thing — but more than anything else, I'm beyond sad to say goodbye to Jon Hamm's portrayal of Don Draper, which has been a rollercoaster of a viewing experience to say the least.
Possessing the perfect proportions of charming, obnoxious, toxic, destructive, and seriously handsome which result in the ultimate case of compulsive viewing imaginable, Hamm's portrayal of Don has been powerful and nuanced, something which was only highlighted by the somewhat surprising character arc that Draper's character took in the final season of Mad Men. The final season of the show saw Draper losing control of everything which informed his identity: His career, his family, his drinking problem, and his unwilling to adapt to a world which was quickly changing around him. Hamm's performance, especially during the final few episodes of the show, is nothing short of spectacular, so I think it's about right that the Golden Globes give him that Best Actor In A Television Drama Series award for his seven seasons of wonderful.
Still, whether he wins or not, Season 7 gave us plenty of reasons which proved to us that Hamm is already a winner this awards season. Why?
1. He Took Don Draper On A Journey
Sometimes that journey was a very messed up one, but it was always riveting.
2. And Even Though He Knew That Draper's Time Was Almost Up...
Season 7 was meant to be the last of the show's for a while.
3. ... He Still Gave Every Single Scene His All
I mean, would you expect any less from the guy?
4. Sometimes Saying The Most About His Character By Saying Nothing At All
He perfected that stoic gaze.
5. Which Is Probably For The Best Considering That Don Sometimes Only Had Banalities To Offer
How many times have we all heard that toaster line?
6. And His Colleagues Had Stopped Caring What He Had To Say, Anyway
SHUT UP, PETE.
7. But Sometimes When He Did Speak, He Said Exactly What Our Hearts Were Feeling
It happened once in a while, and it was always flawless.
8. Ultimately, Hamm's Performance Showed A Man In The Midst Of An Existential Crisis
And it did so perfectly, at that.
9. Until He Finally Found The Peace He Needed
From yoga atop a cliffside in California. Who wouldn't?
10. Which Incidentally, Looks Nothing Like The Peace We Found While Watching All 7 Seasons Of Mad Men
I only wish my apartment, dressing gown and easy chair were that nice.
So Here's To You, Jon Hamm...
Whether you win the Golden Globe Award for your acting work in the final season of Mad Men or not, you'll always remain a winner in our hearts. Now, if you don't mind, I have 7 seasons worth of Mad Men that I'd like some precious alone time to rewatch in tears.
Goodbye forever, Don.
Images: wardrobemalfunctioned/Tumblr (2); Fuckyeahmm/Tumblr; Giphy (9); AMC