Pregnant Sex, According to Kristen Bell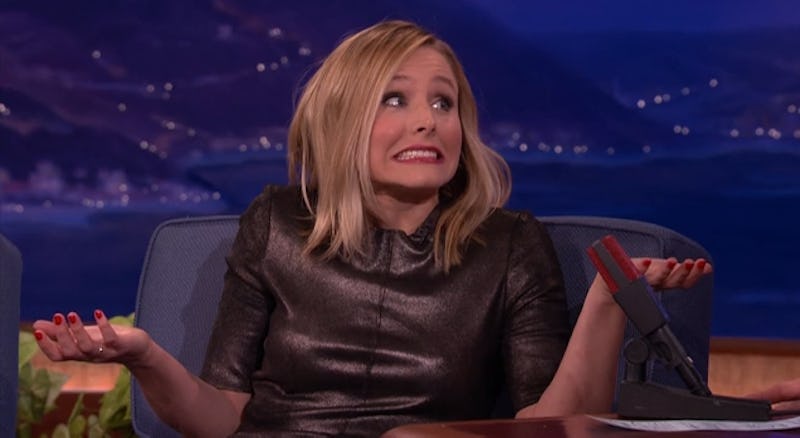 Kristen Bell is always honest, candid, and frank about everything in her life — including how much her husband, Dax Shepard, loved the weight she gained during her pregnancy with 10-month-old daughter, Lincoln. So much, in fact, that Kristen Bell talked to Conan O'Brien about having pregnant sex on his show on Jan. 21. The petite House of Lies star said that Shepard felt like he was with a "different woman" when they, uh... got their groove on.
"[Dax] says he likes some meat on my bones. He phrased it as 'there's more of you to love,'" Bell says. "He felt like he was with a completely different woman. He said he felt like he was cheating on me. That's pretty exciting if you're married and you know, you can feel like you're with someone else, so he loved it."
O'Brien laughed and says that her description sounds a "tad creepy," but Bell kept it all in perspective, as she usually does.
"Is it [creepy], or is it pretty cool because I was also involved and he kind of got a freebie that didn't hurt anybody's feelings?"
Can't argue there, Veronica Mars. Bell says that she gained 43 lbs. during her pregnancy, which added to some fun while filming on the House of Lies set.
"There was a storyline in the second season where my character at work has a sex tape coming out. She brings it into work and shows it to everybody and no one cares," Bell says."I was seven-months pregnant at the time and they were fitting me in these negligees and I just had this huge beer belly and I was, you know, pretending to act in a sex tape. Now I can forever look at my daughter and say, 'Oh, you were present for that.'"
Adam Brody, who plays Bell's boyfriend on the show, also jokingly called their sex scenes "threesomes."
You can watch Bell on Conan below: