Paris Haute Couture Fashion Week Street Style Is Ooh La La Kinds of Good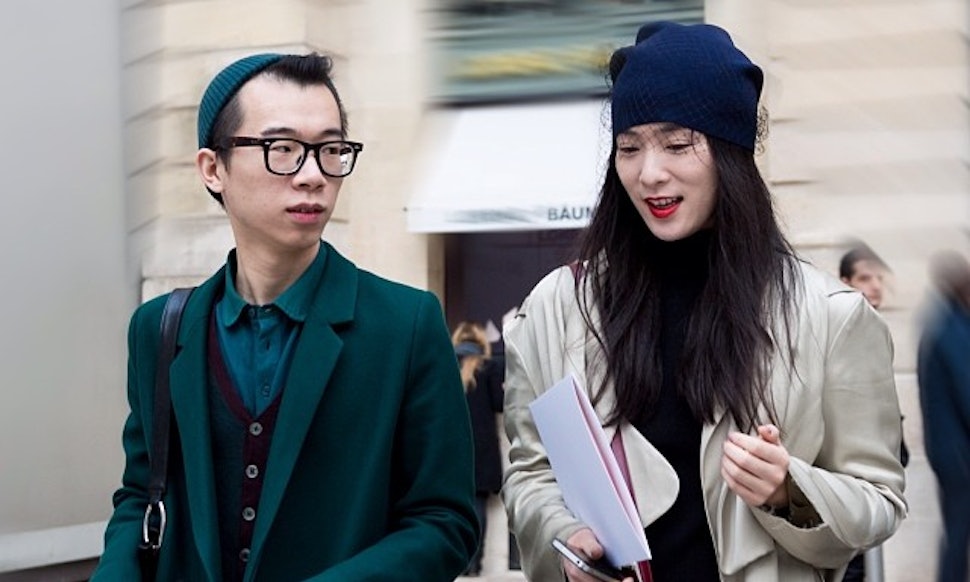 There's nothing more dreamy than Paris Haute Couture Fashion Week. Or Paris, for that matter. And, as we've come to learn about fashion weeks, what's on the street is sometimes just as good as what's on the runway. Snapshots of our favorite fashionable tastemakers frolicking across les arrondissements are bound to be beautiful, no filters needed. These eight Instagram photos... magnifique.
All the Accessories
What's better than a girl in a stylish beanie and a beautiful red lip leaving the Schiaparelli show? Watching her relive all the excitement with an equally fashionable and beanie-clad boy, of course. From the bright red notebook to the burgundy bag, these two definitely prepared for a week of haute snapshots.
Image: remiprc/Instagram
A Textured Piece or Two
Russian designer Vika Gazinskaya teaches us how to master the art of texture in a cozy, caramel coat.
Image: fwstreetstyle/Instagram
The Statement Coat
On the beautiful streets of Paris Fashion Week, it can't get much more perfectly French than Miroslava Duma, stunning in a shapely plaid coat.
Image: fwstreetstyle/Instagram
The Midi Skirt
Elisa Nalin is all smiles in her midi skirt and matching scarf. Pulling off sophisticated practicality, she stays warm in heavier fabrics and comfortable in oxfords.
Image: am_bitieuse/Instagram
The Printed Pantsuit
Fashion Director Esther Quek takes winter blues to a whole new level. Her mixture of colors and prints with a navy-black base is effortlessly chic.
Image: fwstreetstyle/Instagram
Timeless Red
Nasiba Adilova proves that being fashionable in Paris during the winter doesn't have to mean being freezing. She tops off her timeless, classic coat with an elegant hat and a unique purse.
Image: styledumonde/Instagram
Knee-High Boots
Sometimes, just for Paris, you have to bare some knee. Fashion Editor Tania Braukamper appears playfully put together in an oversized pastel coat and a black top hat.
Image: fwstreetstyle/Instagram
Winter Whites
Stylist Laetitia Roukbi is clean and classic in winter whites. Coordinating her clutch, shoes, and shades, she lets her accessories take center stage.
Image: styledumonde/Instagram