More 'Daredevil' Is Coming Our Way In March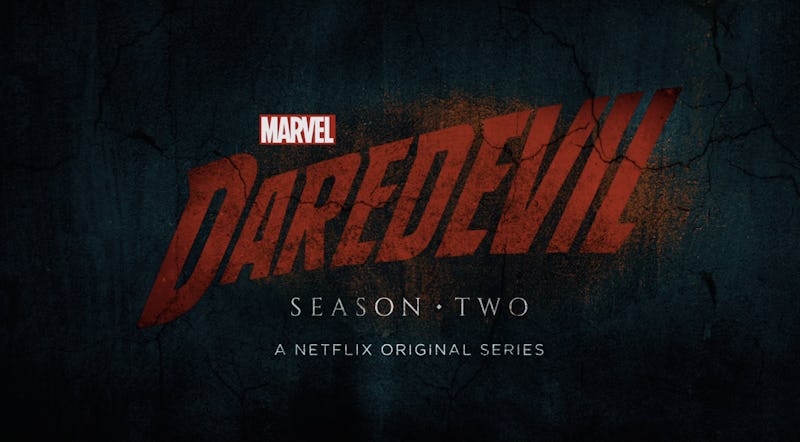 It's hard out there for a blind vigilante. Unless that blind vigilante is Matt Murdock, aka Daredevil, of course. Then again, even Matt Murdock has it hard, as Season 1 of Daredevil put the religious antihero through the emotional ringer, between having his constant attempts to clean up Hell's Kitchen fail at every turn, to having a falling out to his best friend and partner Foggy Nelson, to nearly dying so often that Claire Temple's first aid kit probably had to be replenished on the daily. Daredevil Season 2's premiere date has finally been official revealed, and, as it turns out, the rumors were wrong. Instead of debuting the same day as Batman V Superman: Dawn of Justice, Daredevil Season 2 will be available worldwide on March 18. Even better, Netflix released a Daredevil Season 2 teaser to tide us over during the three month wait — although how much you're likely to be placated by this really depends on the kind of person you are.
The teaser doesn't feature any footage from Season 2 or even any quotes there from. Instead, it takes place in a church — duh — and features stained and smudged renderings of scenes from Season 1 while voice overs from various characters essentially take us through the story to this point.
The teaser ends with the acknowledgement of guilt as the emotion that lets your soul know that your work isn't finished, which is a great place to end — right before the windows of the church blast inward. Because Matt's work really is never done — not just because his show is only in Season 2, but also because of what he's going to be facing as soon as we get those episodes. According to TV Line, "Season 2 of Marvel's Daredevil... finds Matt facing a new foe courtesy of The Punisher (Jon Bernthal, The Walking Dead), and former flame Elektra Natchios (Elodie Yung, G.I. Joe: Retaliation)." We've already gotten our first look of Elektra, and, to be honest, I'm more afraid of what her motives for remerging in Matt's life are going to be than I am for anything The Punisher might attempt.
Regardless, all of this combines to make for pretty much the most exciting Thursday we'll get between now and the announcement of the Oscar nominations, so grab a bowl of popcorn and a seat, then check out the under two minute teaser below. Are you as ready for Daredevil Season 2 as I am?
Image: NetflixUS&Canada/YouTube (2)