Meet The School Dedicated To Educating LGBTQ Youth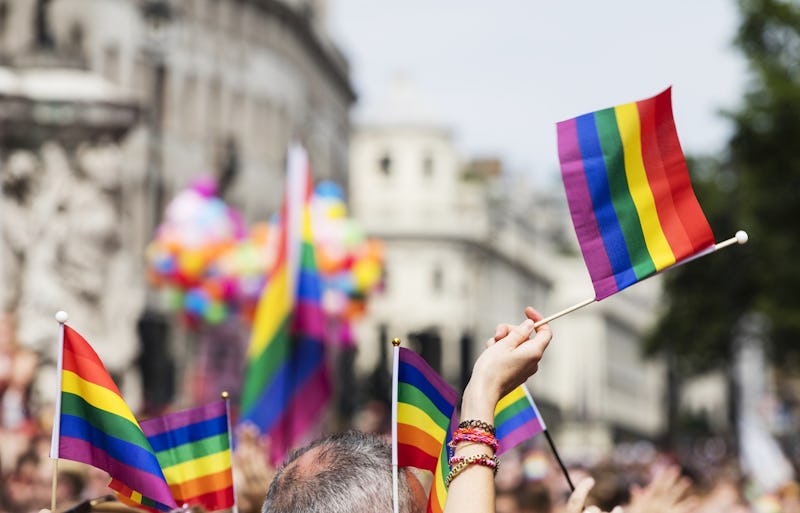 It looks like 2016 is off too a fabulous start, beginning with Pride School Atlanta, the private school making headlines months before it opens its doors. Although it's dedicated to providing a safe space for any student who doesn't feel comfortable in their current situation, the K-12 institution is primarily designed to cater to LGBTQ students (and teachers) whose educations are suffering due to homophobia and transphobia in the public school system.
Expected to open in September, the school is currently based in the Unitarian Universalist Congregation of Atlanta church, with a tuition of $13,000 per year. Pride School founder Christian Zsilavetz, a teacher with 25 years of experience, emphasizes the need for trust between students and teachers — a trust that many LGBTQ students may find difficult to establish when they already feel ostracized for their sexual or gender identity. "There's no wondering, 'Is this teacher going to be a person for me to be myself with?'" Zsilavetz said, according to The Advocate. "This is a place where [students] can just open up and be the best person they can be."
The reverse is also true: Zsilavetz hopes the school provides a space for LGBTQ teachers as well, who may experience homophobia or transphobia from colleagues and parents in much the same way as their students. In fact, according to MTV, he was inspired to launch the school after a private school administrator denied his request to come out as trans to students in his child's class.
The school isn't just the first LGBTQ-focused school in Georgia; it's the first in the entirety of the Southeast. In fact, it joins only a handful of other schools similarly designed for LGBTQ youth: New York's Harvey Milk High School, on which the Pride School is basing its curriculum; Wisconsin's the Alliance School; and the Walt Whitman School in Dallas, Texas, which was forced to close its doors in 2004. Unlike these other schools, however, the Pride School accepts children as young as kindergartners. This may seem early to some, but for many LGBTQ people, feeling out of place begins much at a much younger age than you'd think — especially for transgender children, who frequently begin questioning their gender identities early on.
Although it's easy to hold up marriage equality as a sign that homophobia and transphobia are on their way out, cultural acceptance lags far behind the legal system. Yes, LGBTQ visibility is at an all-time high. Yes, same-sex marriage is legal across the United States. However, that doesn't change the fact that LGBTQ youth are still at a much higher risk of bullying from their peers: The Human Rights Campaign reports that LGBT students are twice as likely to report being physically assaulted at school, and according to GLSEN's National School Climate Survey in 2013, 85 percent said they had been verbally harassed in the last year. Furthermore, a full 40 percent of homeless youth are LGBT, often as the result of being kicked out of their family's home for their sexuality.
Needless to say, an adolescence rampant with bullying and loneliness can have serious effects on someone's mental health. According to the Trevor Project, LGB youth are four times as likely to attempt suicide than their straight peers, and they're more likely to self-harm as well. For transgender and gender nonconforming individuals, the statistics are even higher. Coming out sometimes mitigates the stress of living a lie, but other times it can lead to dire consequences.
It may "get better" with age, but that doesn't change the fact that for many LGBTQ adolescents, school is more than just a place to ace report cards and worry about who to ask to prom. Fortunately, anti-bullying campaigns are increasingly common around the country, and a variety of nonprofits have taken an interest in ending LGBT homelessness. Best of all, schools like the Pride School and Harvey Milk High School offer LGBTQ kids an opportunity they might not otherwise get: To be kids.
For more LGBTQ stories, check out Bustle on YouTube.
Images: Fotolia