SoulCycle & Target Are Teaming Up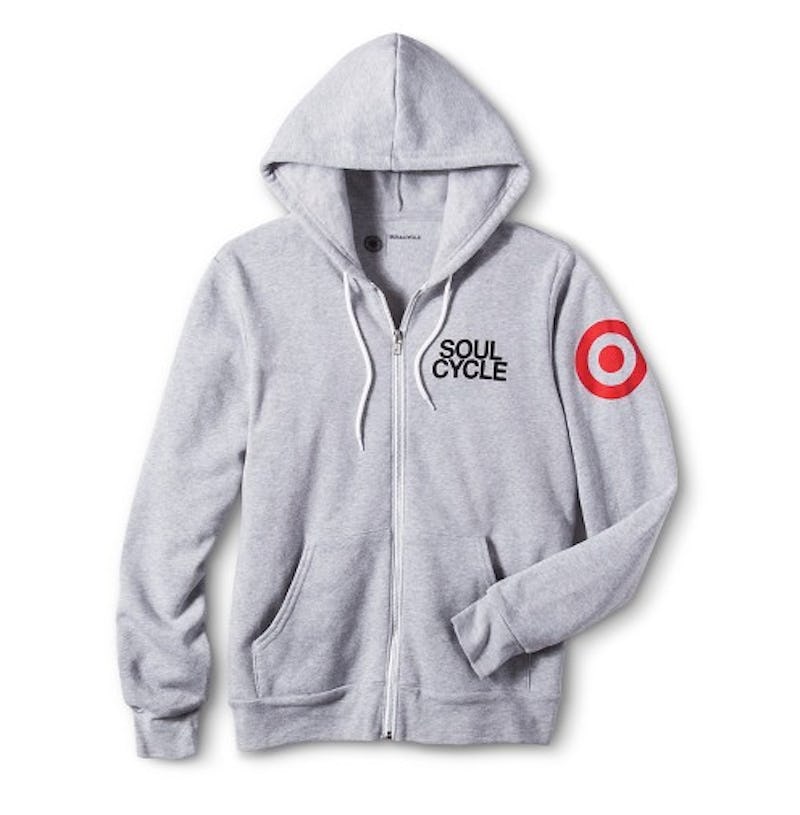 Your New Year's resolution is about to get a whole lot cuter, especially if it revolves around fitness. Target's latest collaboration is all about wellness. The retailer has teamed up with SoulCycle to bring you workout clothing to help you feel motivated to hit the gym this winter. Find out where to shop SoulCycle X Target by reading on, because you're going to want to get your hands on this collab as soon as possible.
Thankfully, the four piece collection will be coming to a Target near you, and if you live in DC, Houston, Seattle, Atlanta, Nashville, Denver, Miami, Chicago, Minneapolis, or Los Angeles, you've got an extra treat in store for you. The collaboration will be launching a tour of pop-up shops offering free SoulCycle classes, according to Racked. The tour starts on Jan.14 and ends Feb. 14, and you can visit the Target website for more information on how to sign up for the classes.
The capsule collection features a tank top, hoodie, sweat pants and a t-shirt. Each piece features the SoulCycle and the Target logos (both of which are super cool). The clothes are super cute and great for working out in so that you can kick butt in 2016. Best of all, the line is affordable, making this collab another win for Target. Take a peek at the collection and get ready to shop it in stores and online soon!
1. Tank Top
SoulCycle Women's Tank, $29, Target
A loose fitting, racerback tank top is the perfect thing to wear while hitting the gym.
2. T-Shirt
SoulCycle T-Shirt, $29, Target
Coffee runs, gym runs — whatever the case, I wouldn't want to take this off.
3. Hoodie
SoulCycle Hoodie, $49, Target
This zip up jacket will keep you warm and stylish while on-the-go.
4. Sweats
SoulCycle Sweatpants, $49, Target
These look so comfy, how could you not buy them?
I don't know about you, but I'm feeling more motivated than ever... to go on a shopping spree at Target!
Images: Courtesy Target (4)