Are These Treats Coming Our Way For V Day?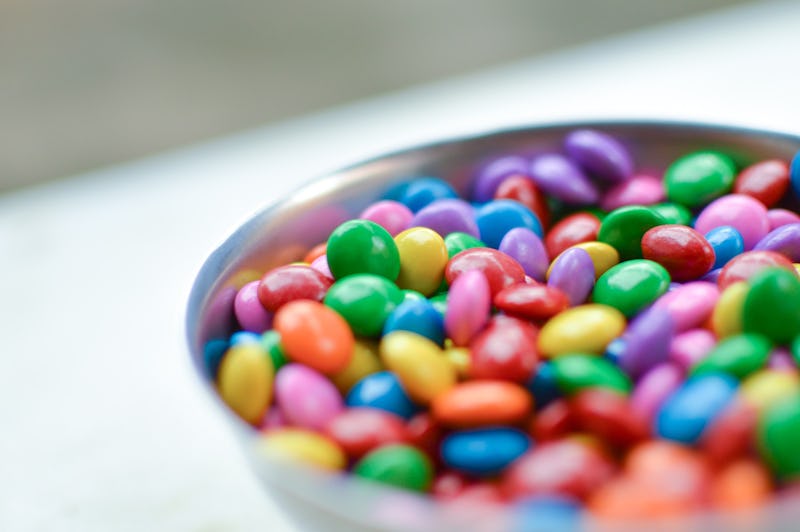 We may have just gotten through the winter holiday season, but Valentine's Day is just around the corner — and since the holiday is known for having some amazing candy and chocolate associated with it, you'll be delighted to hear that there will be new Valentine's Day M&M flavors being released this year. They sound promising, too: The new flavors do they seem promising! The two flavors hitting our taste buds are White Strawberry Shortcake and Strawberry Chocolate, which both sound absolutely delicious.
According to The Impulsive Buy, White Strawberry Shortcake M&Ms were first spotted at Target on Dec. 30, although it's unclear whether they're a Target exclusive yet. Then, The Impulsive Buy posted a review of the Strawberry Shortcake candies on Wednesday of this week. Likened to "a sweet, strawberry morsel that harkens back to a Strawberry Skittle enmeshed with their fudgy white chocolate," they scored an eight out of 10 on their rating scale. Sounds pretty good to me! Interestingly, though, the package has Ms. Green wearing bunny ears, which almost makes them seem more Easter-themed than Valentine's Day. The color scheme fits for February, though — and besides, you can feel free to eat your M&Ms any time of the year you like.
Next up, we have the Strawberry Chocolate M&Ms, which Delish writer Candace Braun Davison reports that she found for sale on eBay while she searching for information on the former Valentine's Day flavor. However, in an interesting twist, Davison notes that Walmart has confirmed that this flavor of M&Ms will be exclusively available at their stores this year. There doesn't seem to be any other information available yet, although you can snag some Strawberry Chocolate M&Ms on eBay right now if you like.
M&Ms are certainly not the only brand putting out special, limited-edition flavors for Valentine's Day. So if you're looking for some more themed treats, here's a list of five other brands with some sweetheart-themed treats this year:
1. Ghirardelli
This is one of my personal favorite brands of chocolate, and if you're also a fan, you'll be delighted to find that they are releasing a special Valentine's Day trio of chocolates: Dark and Raspberry, Milk and Caramel, and Dark 60 percent Cacao. Yum!
2. Jelly Belly
Everyone's favorite jelly bean maker is releasing a special edition deluxe Valentine's Day mix that includes their Mellocreme Hearts Foil-Wrapped Chocolate Hearts, Chocolate Dutch Mints, Red Raspberry Hearts, and Cupid Corn. Could anything be more precious?
3. Tootsie Pop
How many licks does it take to get to the center of a Tootsie Pop? No one may know for sure, but you can try to find out this Valentine's Day with the Valentine Tootsie Roll Pops. All of these suckers come with a cherry flavored Tootsie Roll in the center and a sweet V Day message on the wrapper.
4. York Peppermint Patties
York Peppermint Patties are coming in the shape of a heart this Valentine's Day. This is the perfect treat if you want something that's refreshing and not too sweet to snack on.
5. Reese's Peanut Butter Heart
The most epic Valentine's Day candy of all is this giant Reese's Peanut Butter Heart, only available during the Valentine's season. If you want to buy something a bit smaller, though, you can buy king, snack, regular, or miniature sized Reese's in the shape of a heart as well.
Images: Pixabay; twosistersbasements/eBay; brands