How Women Are Influencing The Most Popular Porn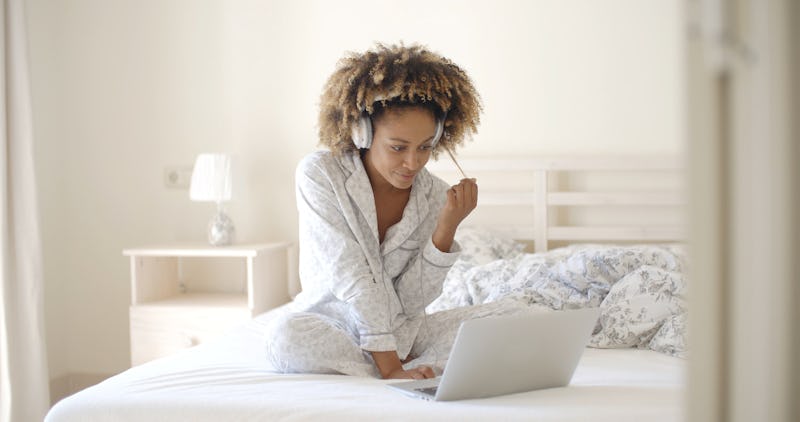 Pornhub Insights, the blog that tracks the porn mogul's traffic trends with oft-useful and informative findings, has just released its Year in Review for 2015, and, thanks to a spike in female usership, there's a new top search term in town. "Lesbian" was the porn term most often searched worldwide in 2015, overtaking 2014's most searched term, "teen."
Interestingly, if you break worldwide search terms down by gender, "lesbian" was the term most often searched by women, while "stepmom" followed by "teen" remained the terms most often searched by men, showing that the interests of women are skewing the overall demographics enough to overtake the interests of men. (Ahem — who run the world?) Pornhub experienced an overall female usership of 24 percent this year, which was a one-point bump from female usership in 2014.
Psychologist and sex therapist Dr. Laurie Betito offered Pornhub Insights an analysis of the popularity of the search term "lesbian":
"Research by Dr. Meredith Chivers of Queens University has shown that women are aroused by all kinds of sexual activity/imagery, whether they are gay or straight, while straight men are usually not aroused by gay porn and gay men generally not aroused by straight porn...It could be that the sexual acts they see on lesbian porn is what they favor (mostly cunnilingus), or simply that they get aroused to such a variety of imagery that it is difficult to pinpoint true desires versus what their bodies respond to."
Here's a breakdown of Pornhub's 10 most popular search terms worldwide in 2015:
1. Lesbian
'Nuff said.
2. Teen
3. Step mom
4. Cartoon
"Cartoon" had a 4-rank increase this year, from its position as the #8 most-searched term in 2014.
5. MILF
6. Mom
7. Step Sister
Sensing a relative trend? Step-sister had a 6-rank increase, which Dr. Betito chalked up to the taboo factor, explaining, "Taboo acts will always rank high simply because it's taboo. It's also only in fantasy and it usually stays there, as compared to threesomes which are often desired in real life for example."
8. Squirt
#NotAMyth #NotPee
9. Massage
Like this, but better.
10. Black
Black had a whopping 16-rank increase from last year, which was an increase only overtaken by "step mom and step son," which advanced 71 ranks this year, and "celebrity sex tape" which advanced 41 ranks.
Want more of Bustle's Sex and Relationships coverage? Check out our new podcast, I Want It That Way, which delves into the difficult and downright dirty parts of a relationship, and find more on our Soundcloud page.