7 Winter Comfort Foods That Are Good For Your Skin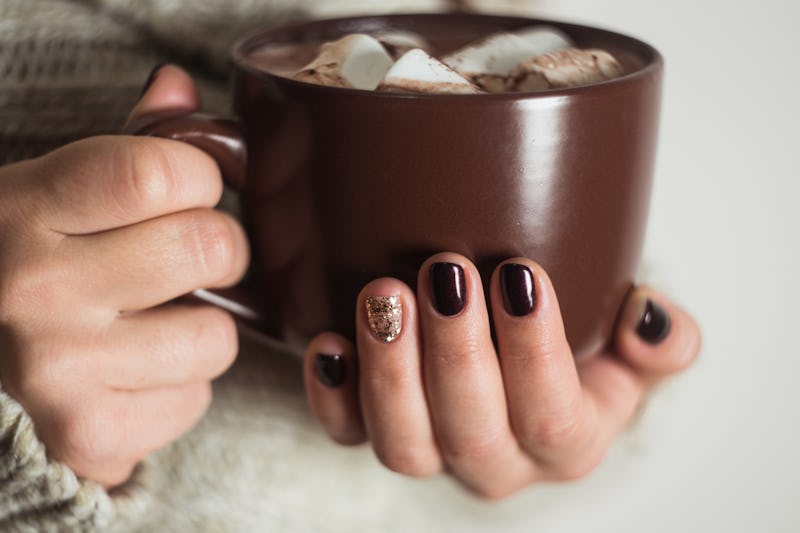 Cold weather requires cozy, warm foods and long cuddle dates with Netflix. Luckily, with these winter comfort foods that are good for your skin, you can shamelessly indulge in all of the wintertime deliciousness. Even though that sugar cookie might be good for your soul (and totally necessary sometimes), the foods below will keep both your spirit and your face bright.
I am all about home-cooked meals as often as possible, and really love knowing that, if I put healthy, tasty, and seasonal foods in my body, it's going to reflect in how I feel and look. If cooking anything from scratch makes you nervous, it's time to step away from the takeout menu and embrace your kitchen!
Not only is it totally empowering to not be dependent on a restaurant or convenience store to prepare food you actually want to eat, you also get the added benefit of putting precisely what ingredients you want into your meal. Farewell, added sugars, stupid high sodium content, and preservatives!
The foods below are the ultimate in seasonal winter comfort foods, and will give you that cozy feel good factor without making you feel sluggish after. Nom on them to keep glowing, even if the sun has been hiding for days!
1. Apple Cider With Cinnamon
A cozy cup of hot apple cider with cinnamon might be just what you need to warm up from the cold. And, according to StyleCraze, the cinnamon contains antimicrobial properties that will purify and cleanse skin. Sip on!
2. Chicken Soup
As long as its packed with lots of vitamin C-rich veggies (think bell peppers and brussels sprouts), Marie Claire shared that slurping up chicken soup will brighten your heart and your skin.
3. Sweet Potato Casserole
Assuming your sweet potato casserole is, in fact, made up of more sweet potatoes than marshmallows, each bite contains high levels of beta-carotene that will give dull skin a glow-inducing boost of vitamin A.
4. Matcha Latte
Sipping on a matcha latte can do more than give you a quick caffeine buzz. WellnessMama explained, "The same antioxidants that make green tea protective, including epigallocatechin gallate (EGCG), may also help support skin health by reducing inflammation and free radicals that accelerate skin aging."
5. Oatmeal
For clear and healthy skin, start the day with a bowl of ultra cozy oatmeal. As OneGreenPlanet pointed out, oats "contain specific compounds that reduce inflammation to the skin" and help to stave off breakouts.
6. Garlic Bread
As long as your garlic bread is extra garlicky, you can reap all the antibacterial and anti-fungal skin benefits of garlic. Bonus points for the fact the selenium helps hair grow strong!
7. Hot Cocoa
Dark chocolate lovers, rejoice: Cocoa contains flavonoids that can legit help protect your skin from skin cancer. Excuse me while I get another cup...
Want more beauty tips? Check out the video below, and be sure to subscribe to Bustle's YouTube page for more hacks and tricks!