15 Little Ways To Make Winter More Fun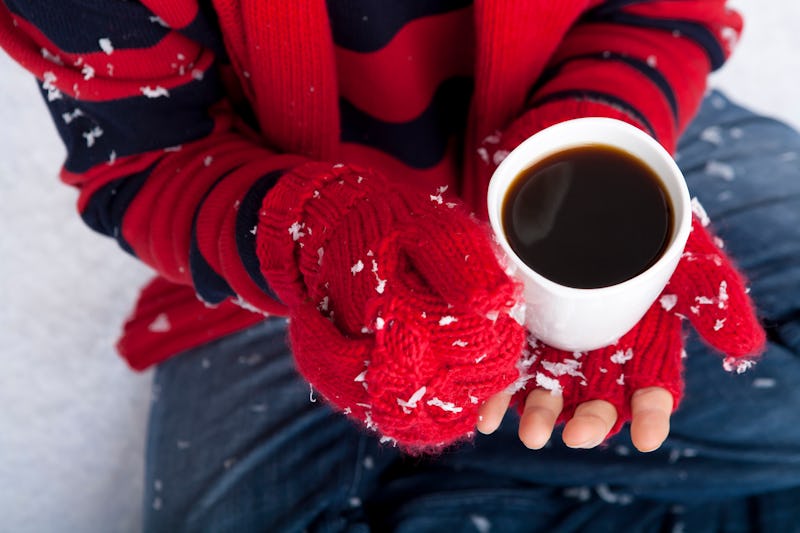 ChristopherBernard/E+/Getty Images
Not everyone enjoys this season of cold. But despite the early darkness, and the seemingly endless snowfall, there are ways to make winter more fun. You just need the right mindset and the right plans. Because there was a time — back when you were a wee kiddo, probably — when you loved winter and everything about it. Try to tap into that nostalgia and see this chilly season through your inner child's eyes. Then, the concept of embracing winter won't seem as utterly bonkers.
Because even though winter makes driving a nightmare, makes pretty much everyone depressed, and makes going outdoors basically an extreme sport, winter is an extremely useful and wonderful season. Think about it. Winter forces all of us to slow down with the natural drain on energy. It also makes it super convenient for us to cancel plans and become the cozy homebodies we want to be the rest of the year. So lean into the ways of winter and doing all the things Mother Nature expects you to do until the snow melts. Here are a bunch of little ways to make winter more enjoyable, because we should all become that snowball-making kid again — even if just for a few months.
1. Build a snowman.
Because it's fun. And because you have a closet full of items to make this snowman the best looking one on the block.
2. Try a new winter sport.
There are puh-lenty of winter sports to try, so go for something extreme on the mountain, or something tame like ice skating. Just get outside and find a way to enjoy the chill.
3. Buy yourself new winter accessories.
You will never regret picking out a cute new beanie or pair of mittens. Treat. Yo'. Self.
4. Sip a sweet latte.
Try all the flavors. Make it a resolution, because it's probably the most fun of all the goals on your list.
5. Go for a winter drive.
Exploring the snow-covered trees and hillsides by car is a pretty magical time. Just make sure you have snow tires and chains to keep you safe.
6. Take some snow bunny selfies.
There's just something that seems perfect about taking a selfie with natural light and a snowy backdrop. So pop on your new beanie and show off your angelic face to your Instagram followers amidst the season of general sadness. You'll probably cheer them up.
7. Shovel snow.
OK, hear me out. Shoveling snow definitely blows, especially if you have to do it just to get your car out of the driveway first thing in the morning before work. However, look at it as the only exercise you need to do for the day, and then you can just come home and relax. Glass half full, people.
8. Get a winter-scented candle.
Fill your space with the wonderful scents of Christmas trees, fresh baked cinnamon rolls, and hot cocoa, without actually having to do anything other than lighting a match. It will instantly improve your mood, I promise.
9. Bake winter treats.
Once the cookie-scented candle starts making your stomach growl, you can double the sweetness in your home by actually baking cookies. And since you can snack on the dough, baking cookies is one of the few activities that's rewarding throughout the entire process.
10. Drink winter cocktails.
Fire up the Crock-Pot, and brew some hearty adult beverages. With the snow coming down outside, there's no better way to warm up.
11. Snuggle up by a fire.
Find a fireplace, somewhere, anywhere, and snuggle up in front of it. It doesn't matter if you choose to snuggle with a partner, date, dog, stuffed pig, or just yourself — you will throughly enjoy the mesmerizing flicker of the flames in front of you, with or without a snuggle buddy.
12. Rock warm pajamas the second you get home.
It's already dark out, so there's nothing weird about removing your jacket and immediately changing into your sweats.
13. Become an early bird.
Since it gets dark at 5 p.m., you might as well go to bed earlier. And the earlier to sleep, the earlier to rise, right? Even if you don't get up earlier, you'll be getting more sleep that you obviously need, so it's a winning scenario all around.
14. Embrace the ongoing sweater weather.
You might be sick of it now, but during the summer you could not wait! Remember?? Take your brain back to those days, and enjoy your impressive sweater collection.
15. Focus on those resolutions.
Being stuck inside is a great excuse to focus on your resolution strategy. Keep your 2016 to-do list up to date, and see if any changes need to be made. And if "finding ways to enjoy winter" is on your list, well, you can officially check that box.
Image: ChristopherBernard/E+/Getty Images; Giphy (15)