9 Signs You Could Be On The Autism Spectrum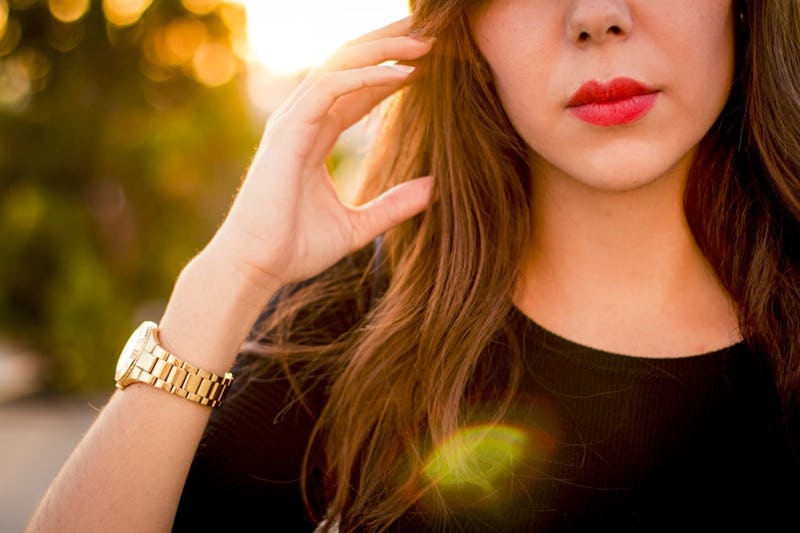 Most of the stories you hear about people on the autistic spectrum feature them being diagnosed as children. (Indeed, that's where all the unscientific fuss about vaccines causing autism comes from. And no, that is not true.) It's definitely common for signs of autism to first be noticed in childhood, when autistic kids don't do much pretend play and find social interaction difficult. But it's also perfectly possible for people, particularly those with more functional forms of autism (like Asperger's Syndrome), to reach adulthood without ever knowing they actually have a place in the autistic community.
When we talk about "the autistic spectrum," we're referring to a very wide range of disorders under the one banner of autism. There's no one way to present autistic signs, which is why diagnostic tests about the possibility of autism in adults tend to be seriously involved. One quiz, offered by Psych Central to determine whether you might want to seek diagnosis from a medical professional, offers 50 different questions, from social interaction to patterns and empathy. But the basics of autism of any kind, according to The National Autistic Society, are three difficulties: with social communication, social interaction, and social imagination.
An important note, though: If something about this list rings peculiarly true, take a more in-depth screening test and see a doctor if you'd like more information. This is not an official diagnostic test — some of these are just common traits in introverts or the socially awkward, and not all of them are found in every autistic person. You can be an enthusiastic YES to many of these and still not be autistic, so don't take any of this as hard-and-fast medical fact.
1. When You Have An Interest, It's Intense And All-Absorbing
Obsessions are a very common part of autistic experiences. They tend to involve learning everything possible about one particular thing or range of things, from television shows to objects to people. It can either be an entire topic or something seriously specific, too. It's not the same as being a super-fan, though; a "special interest," as it's termed for the autistic, is an integral part of your identity and how you live your life, and is pursued in every avenue possible. One study calls them "intense, interfering, and idiosyncratic," which sounds like a trio of children's book characters. And pursuing your special interest is also deeply comforting.
2. You Notice Patterns Everywhere
It's often a special feature of the autistic brain to be able to see patterns all over the place: in letters, numbers, formations of objects, anything. A 2011 study of nearly 750 people found that the brain regions that process patterns are very active in autistic people, while the regions associated with planning and decisions were less active. If you're able to pick out patterns nobody else can see, without even thinking, you may have one of autism's peculiar advantages.
3. You Often Find Sarcasm, Puns, And Irony Difficult To Understand
People with autism sometimes don't quite "get" jokes and humor of certain kinds, partially because of social difficulty. A 2014 study of high school students, some of whom had autism, found that autistic teens respond far better to certain types of humor than others: nonsense jokes (which they liked far more when read than when spoken aloud) and aggressive humor. They didn't have the same ease with stuff like puns or self-defeating humor. You may also have a bit of difficulty with sarcasm, irony, or weird idioms.
4. You Didn't Do Much Pretending As A Kid
Pretend play (like being a "doctor" or a "vet" when you're small) tends to be one of the marks that doctors use to assess autism in kids. You likely will have to ask parents or carers about this one, but if you didn't do much imaginative play or pretending as a kid, it might indicate an autistic bent.
5. You Find It Much Easier To Be Alone
Autism in many forms is distinguished by feelings of social difficulty: not quite understanding, integrating, keeping up, or doing the "right thing" in social situations. Many autistics feel, obviously, that being on their own is a much easier option. Interestingly, some scientists believe that autistics could actually have originally been early "solitary foragers," who survived in the wild on the strength of their attention to detail and ability to see patterns rather than their social ties. It's still early days for that hypothesis, but it's an intriguing idea.
6. You Are Often Focused On Small Details Rather Than The Big Picture
The autistic brain is good at certain things and not at others. It's exceptionally detail-oriented, able to pick up on a lot of tiny information at once, but it finds it harder to put together into a big picture. A 2013 study from NYU indicated that autistic brains process information in a different way than non-autistic ones, possibly because of lower levels of oxytocin, which both influences our social bonding and helps our brains sort and prioritize information.
7. You Get Upset If Your Daily Routine Needs To Be Changed
If you're a routines person, with everything just so and a very specific way of getting to each of your tasks in the morning, and if you get seriously upset if those routines become obstructed, you may have a place on the autism spectrum. Routines are, for the autistic, often a way to cope with overwhelming amounts of information and sound, and a very necessary way to get through every day.
8. You Find It Difficult To Socially "Read" People
Autism is, in its many forms, often about looking at the world very literally. And that means social situations can seem extremely weird, because there are a lot of unspoken rules, assumptions, communications, and other messages in any social situation, many of which may pass the autistic person by. If you feel perpetually as if you're getting it wrong in social situations and don't know why, you may simply be "socially deaf" to these kinds of cues.
9. You're Very Sensitive To Stimuli Like Sound
This is an interesting one, because it differs radically across the spectrum of autism, but it's worth noting. What are called "atypical sensory-based behaviors," or reactions to sensory stimuli that aren't quite normal, are often a part of autism, with some people extremely sensitive to various sensations or sounds. It's not the same for everybody, though. Autism seems to cause problems in some people when it comes to interpreting and processing sensory information, to the point of causing confusion and pain: you may have difficulty remembering faces, and be either over- or under-sensitive to things like noise and smell. If people keep commenting that your reactions to these things are unusual, it may be a marker of something deeper.
Images: Pixels, Giphy