9 Books In Translation Perfect For Your Book Club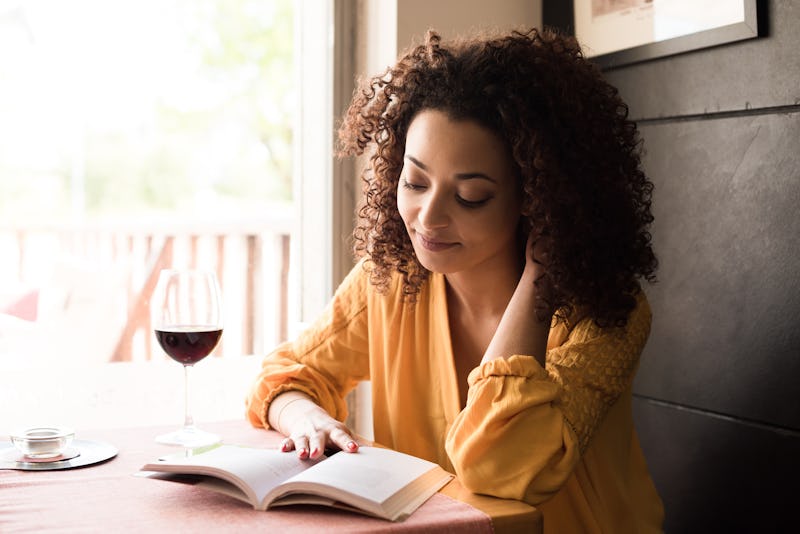 Raise your hand if you resolved to #ReadDiverseBooks this year. Or, at least, to read more diverse books, based on what specifically that means for you and your shelves. Well if you hashtagged the heck out of your reading goals on January 1, it seems you're not alone. Whether adding diverse books to your own reading life means incorporating more writers of color into your regularly scheduled reading, exploring books in translation for the first time, or adding a dash of poetry (or, you know, horror) here and there for good measure, resolving to add greater variety to your to-read pile is definitely a resolution I can get behind.
One foolproof method of ensuring you meet all of your reading goals this year is to join a book club — what with its social pressure and accountability and all. After all, what is a book club really, if not a gathering of bookish friends (and wine, and snacks,) designed specifically to pull you and your pals out of your literary comfort zones?
Need some book club-worthy suggestions to get you started? Then the titles on this list are for you. Here are nine books in translation that are perfect for your book club.
1. The Story of My Teeth by Valeria Luiselli, translated by Christina MacSweeney
Highway was born with four premature teeth, and was considered by all who met him to be the ugliest of babies. From that unfortunate beginning grew a man who works as an auctioneer, wanders the world, and collects the teeth of long-dead famous essayists, like Petrarch, Plato, Virginia Woolf. Translated from Spanish, The Story of My Teeth takes readers on a journey around Mexico City and tells the story of this one-of-a-kind narrator.
2. Ambiguous Adventure by Cheikh Hamidou Kane, translated by Katherine Woods
Translated from French, Ambiguous Adventure Samba Diallo's parents have sent him from his home in Senegal to Paris, under the premise of studying philosophy — but really they think of him as more of a cultural spy; one whose job it is to garner information about the French colonialism taking over their beloved Senegal. Shifting from the Koranic school of his homeland to the secularism of his French studies, Samba suddenly discovers what it feels like to exist simultaneously in two worlds.
Translated from French, The Truth About the Harry Quebert Affair centers around one question: Who killed 15-year-old Nola Kellergan? While the national media has decided to indict Harry Quebert, who was having an affair with Miss Kellergan, the young writer Marcus Goldman takes it upon himself to find out what really happened — and maybe get a compelling story out of it in the process.
4. The End of Days by Jenny Erpenbeck, translated by Susan Bernofsky
Five times the unnamed narrators asks: "How could it have all gone differently?" and her answer is imagined within the pages of this novel. Translated from German, The End of Days tells the story of one woman's life, lived five different times, with five very different endings.
Translated from Spanish, Signs Preceding the End of the World tells the story of Makina, as she traverses borders both geographical and cultural, in order to search for her brother, who has disappeared into the United States. Carrying a hidden message from their mother, as well as one from the machismo world from which Makina thinks her brother fled, Makina's journey will change her life — and possibly the life of her brother — forever.
6. Parade by Shūichi Yoshida, translated by Philip Gabriel
Anyone who spent even part of their early 20s trying to find themselves from the vantage point of an over-crowed apartment will immediately identify with Kotomi, Ryosuke, Mirai, and Naoki, who have moved to Tokyo to begin their adult lives. But when a homeless teen arrives at their apartment, everything they thought they knew changes. Translated from Japanese, Parade takes readers on a journey around Tokyo and into the secret lives of four roommates trying to navigate adulthood for the first time.
7. Blood Brothers by Ernst Haffner, translated by Michael Hofmann
Set in underground Berlin during Nazi-era Germany, this novel follows a gang of street youth around the city, as they commit petty crimes, engage in general debauchery, and try to survive life on the streets together. Translated from German, and written by a Nazi-banned journalist of whom almost all traces were mysteriously lost during World War II, Blood Brothers tells the story of a gang of young men who built their own world when the rest of the world didn't seem to notice them.
8. Bonita Avenue by Peter Buwalda, translated by Jonathan Reeder
Translated from Dutch, Bonita Avenue is all about carefully constructed identities, secret histories, resurfacing secrets, and what happens when the past and the present collided in a way that nobody saw coming. At the center of it all is Siem Sigerius, a professor and prospective politician whose fate is about to take a sharp turn, altering his career, family, and life completely.
9. The Physics of Sorrow by Georgi Gospodinov, translated by Angela Rodel
This interconnecting maze of stories is constructed around the myth of the infamous minotaur — the terrifying creature who resides at the heart of Ovid's imaginary labyrinth — and follows author Georgi Gospodinov's family as he knows and imagines them, across both generations and places. Translated from Bulgarian, The Physics of Sorrow , is a disorienting and beautiful collection of stories.
Image: Fotolia