14 Sweet DIY Valentine's Day Gift Ideas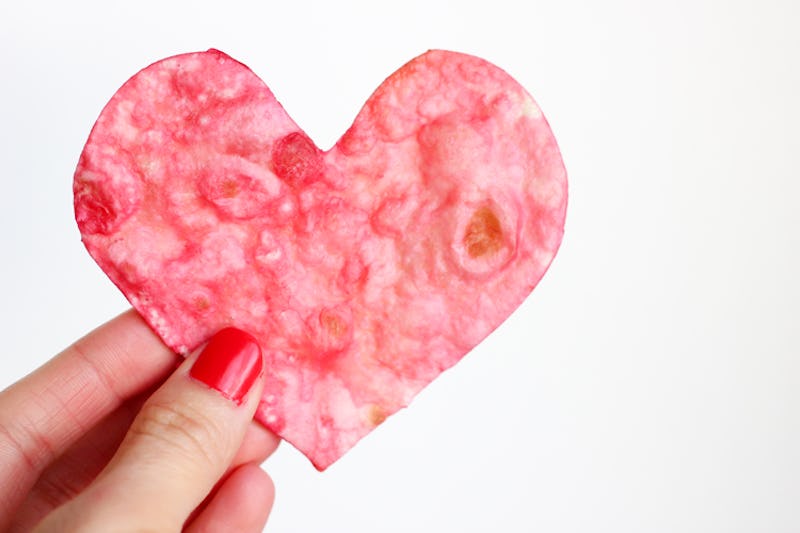 It's that time of year when every channel of consumerism is besieged by Valentine's Day paraphernalia in all its shades of pink glory. In this hectic environment of prepackaged ways to say, "I love you," it can be difficult to come up with a unique gift, so here's a roundup of 14 DIY Valentine's Day gift ideas you can be proud of. Read on if you're committed to thinking outside the commercial box, and are in the mood to get crafty for your Valentine this year.
From sweet and savory treats to lovely additions to the home, this roundup has something for everyone on your list. Whip up some homemade confections and deliver them in handmade boxes, or take it back to your college days with some heart-shaped Jell-O shots boasting amaretto and rose. Add some love-themed wall art to your main squeeze's studio, perfect for Valentine's Day and the rest of the year. Bid adieu to tired go-tos like bouquets and bracelets, and opt instead for novel reinterpretations using succulents and sticks. How you put your own spin on it is up to you. Whatever you choose to show your love and affection, your Valentine will appreciate the personal touch and homemade appeal.
1. Love You Photo Banner
A picture speaks a thousand words — and can also communicate two very important ones. Immortalize your fondest moments together with this DIY photo banner that tells your loved one how you feel.
Tutorial: The Merrythought
2. Travel Mugs
Warm the heart and soul of your special someone with a personalized travel mug that speaks to their personality. It will keep their hands toasty and mood cheery while they commute during these cold weather times.
Tutorial: Studio DIY
3. Honey Stick Valentines
What could be sweeter than a little taste of honey paired with a charming Valentine's Day greeting? The perfect little something for your honey.
Tutorial: Delia Creates
4. Homemade Valentine's Day Treat Boxes
Valentine's Day is your last chance to cure any "holiday season baking withdrawals," so use it as an opportunity to whip up some edible treats. While your on-theme concoctions are baking, use the down time to get crafty painting boxes, then deliver the the batch to your sweetheart in style.
Tutorial: A Beautiful Mess
5. Tea Gift Sets
Make a customized blend for your tea-loving companion, then get creative with packaging using craft store tins. You can design your own logo for your love potion blend, or use an already made print-out.
Tutorial: Bake Love Give
6. Rose Amaretto Jell-O Shots
Bring back a blast from the past for your college-loving Valentine. These Jell-O shots are a definite upgrade from the frat party variety, and serve as a cheeky alternative to typical V-Day chocolates.
Tutorial: Miss Rennaissance
7. String Art
Bring beauty to the home of your beau with some homemade wall art. This project uses nails and string to create a lovely piece that's perfect for Valentine's Day and every other day of the year.
Tutorial: Vintage Revivals
8. Succulent Planters
Give a gift as enduring and low-maintenance as your love. Bonus points for adding a plant tag with a plant pun one-liner like "You're succulent" or "Don't be prickly, Valentine."
Tutorial: Vitamini Handmade
9. Heart Journal
Create the cutest journal for the writer in your life, using your own homemade stamps. Once you're done, your stamps can pull double duty to decorate your other Valentine's Day gifts and cards.
Tutorial: A Beautiful Mess
10. Stick Bracelets
Your girlfriends deserve something out of the ordinary, so why not reinvent the friendship bracelet this Valentine's Day with these easy-to-make stick bracelets that go along perfectly with the phrase, "I'm sticking with you."
Tutorial: The Merrythought
11. Heart Beet Chips
For another gift of the edible variety, bake up a batch of these heart-shaped chips. There are plenty of puns to be made ("take a bite out of love"), and the savory appeal will be a refreshing break from the inundation of Valentine's Day sweets.
Tutorial: Delia Creates
12. Geometric Himmeli Heart
Hearts of all varieties will be given on Valentine's Day, but these will spruce up your sweetheart's home with a modern decorative touch.
Tutorial: Vintage Revivals
13. His & Her Pillow Cases
Nothing beats his and her pillow cases, especially when you've made them yourself. Surprise your partner with this adorable addition to the bed.
Tutorial: A Beautiful Mess
14. 3D Heart Gift Wrap
Wrap it all up with something just as sweet and personalized as the gift itself.
Tutorial: Studio DIY
For more inspiration, check out Bustle on YouTube.
Images: Delia Creates (2), The Merrythought (2), Studio DIY (2), A Beautiful Mess (3), Bake Love Give, Miss Renaissance, Vintage Revivals (2), Vitamini Handmade