11 Purrfect Books For Every Proud Crazy Cat Lady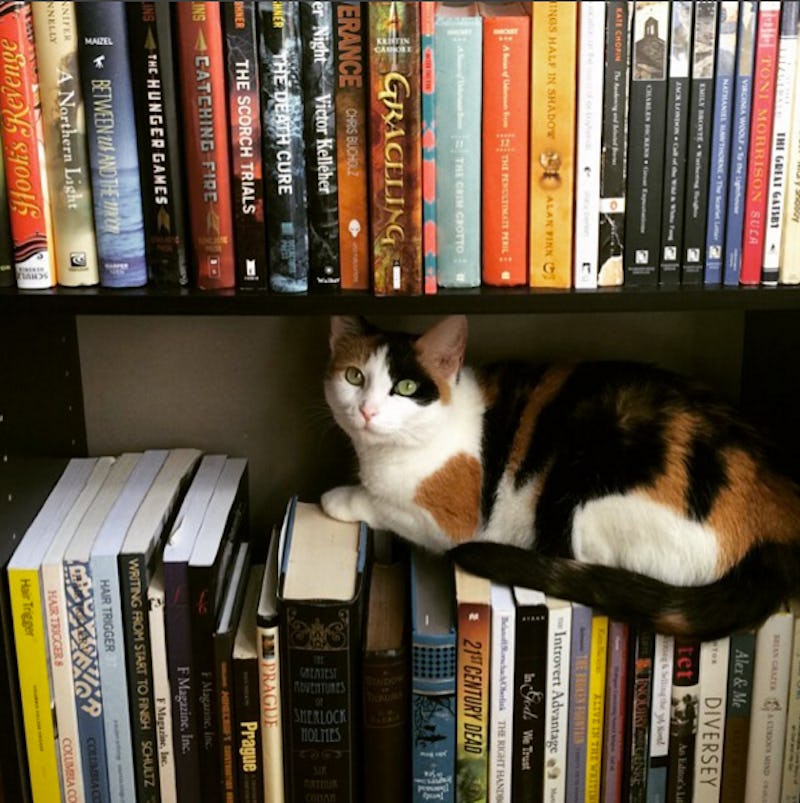 As far as I'm concerned, you don't know true happiness until you have a good book in hand and an adorable sleeping cat in your lap. I'm a proud crazy cat lady and a book-nerd. Speaking of, as I write this, my cat lounged across my legs, purring away, and I couldn't be happier about it.
Growing up with three cats, then adopting one of my own when I got to college, it's safe to say that I will always find a way to include cats in my life. Cats are misunderstood sweethearts at their silly, furry core. My cat makes me laugh with her random moments of running through the apartment, and loved when she plops down in my arms as I fall asleep. Basically, she's the cutest fluff ball and I'm sure you feel the same way about your cats.
Naturally, I love reading books about cats, and I wish there were more books out there that included feline companions. In case you feel the same way, I've collected 11 books, some comic-filled, non-fictional, and even YA genre based, that all have a cat character or theme. Pile some blankets on you, lure your cats to you, and cuddle up with them as you read these amazing books that are purrfect for every crazy cat lady:
1. How to Tell if Your Cat is Plotting to Kill You by The Oatmeal and Matthew Inman
Filled with The Oatmeal's most popular and new cat jokes, this is an essential how-to book for every cat owner. This is a quick read that'll make you explode in laughter and look at your cat and his or her habits in new ways. I love opening up this book up when I'm having a bad day, because there's not been a single time it didn't make me smile.
2. The Incredible Journey by Sheila Burnford
For the cat and dog lover (because yes, crazy cat people can also love dogs), The Incredible Journey is the courageous tale of two pups and one cat alone in the Canadian wilderness, and it was made into the tearjerker movie Homeward Bound. With each other and their reliable instincts, the three house pets face difficulties they've never encountered before but keep on in the hopes to returning to their loving family. I didn't cry like a baby reading this or anything. (OK, I did.)
3. Simon's Cat by Simon Tofield
Have you seen Simon's Cat YouTube channel? Honestly, his cartoons were what originally got me into watching videos online regularly, and I still watch them to this day. This book involves all the crazy and mundane escapades of living with cats with Tofield's charming and talented artistic hand.
4. Dewey: The Small-Town Library Cat Who Touched the World by Vicki Myron
It's a book about a cat who lives in a library and changes lives, and it's so heartwarming it'll make you feel warm and fuzzy. This is basically Marley and Me for cat-lovers. Dewey, a tiny kitten who was stuffed into a returned book slot at the Spencer Public Library one winter night and found the next morning becomes a cat the community all comes to recognize as as a source of pride and hope. You won't be able to stop petting, cuddling, and spoiling your cat for weeks after reading this book.
5. I Could Pee on This and Other Poems by Cats by Francesco Marciuliano
It's a collection of poems relating to cats, including the funny, annoying, and destructive things they do. It's a very tiny, pocket-sized book you could bring with you wherever you go, especially when you're missing your cats. It's also a great gift for any and every proud crazy cat lady to put front and center on her coffee table (for her cat to then later knock it on to the floor).
6. Kafka on the Shore by Hariku Murakami
Cats can carry on conversations in the vivid, mysterious, and abstract reality of Kafka on the Shore. It's the story of two characters, Kafka Tamura, a runaway teenage boy, and Nakata, a girl recovering from the war. Their destinies are intertwined for more reasons than one, and with quotes like this, "cats know everything, unlike dogs," your cat-loving self will simply adore this mind-bending novel.
7. The Chronicles of Narnia by C.S. Lewis
Being a cat-lover, Aslan is probably already one of your favorite childhood characters of all. He's lovable, courageous, and selfless — all the qualities you, and every other cat lady out there knows make up cats. There's always a good reason to pull out this classic series about siblings and their adventures in a new world. So what are you waiting for? Put out a few treats for your furry friend and snuggle up as you read one of the best childhood books of all time.
8. The Grumpy Guide to Life by Gumpy Cat
Chances are that if you're in love with all things cats, you know grumpiness rather well since most cats are talented at portraying the emotion. There is no other cat that can be as big of a grump as Gumpy Cat, though. In this demotivational book, you'll be uninspired to make a difference, chase your dreams, or succeed at work. Instead, you'll be having fun listening to a cynical cat explain the world to you.
9. A Mango-Shaped Space by Wendy Mass
This beautifully written book is about Mia, a unique girl that has a secret way of seeing the world. This secret happens to be synesthesia, a mingling of the senses where words, sounds, and numbers are colored. Mia is very close to her cat, the only living creature that seems to make sense to her. Every cat lady will love this heartwarming and heartbreaking young adult novel for many reasons, including how easy it is to relate to Mia's love for her furry pal.
10. Cat Versus Human by Yasmine Surovec
You probably recognize this artwork from Surovec's successful blog, catversushuman.com. This book brings together some of the most hilarious, true, and ridiculous comics about the reality of living with cats. From a detailed sketch of the anatomy of a crazy cat lady, to what it's like dating someone with a cat obsession, this is one book you'll want to share with your cat, and anyone else that comes over.
11. A Cat's Life by Gemma Correll
Frankly, I can't get enough cat comics in my life. These adorable, simple vignettes about cats and the interesting (or not so interesting) lives they live is a must read for every crazy cat lady out there. Each one will make you smile and hug your cat closer, even if he or she is protesting the cuddles.
Images: onthewing17/Instagram; Giphy