12 Kid-Friendly V-Day Recipes Adults Will Love Too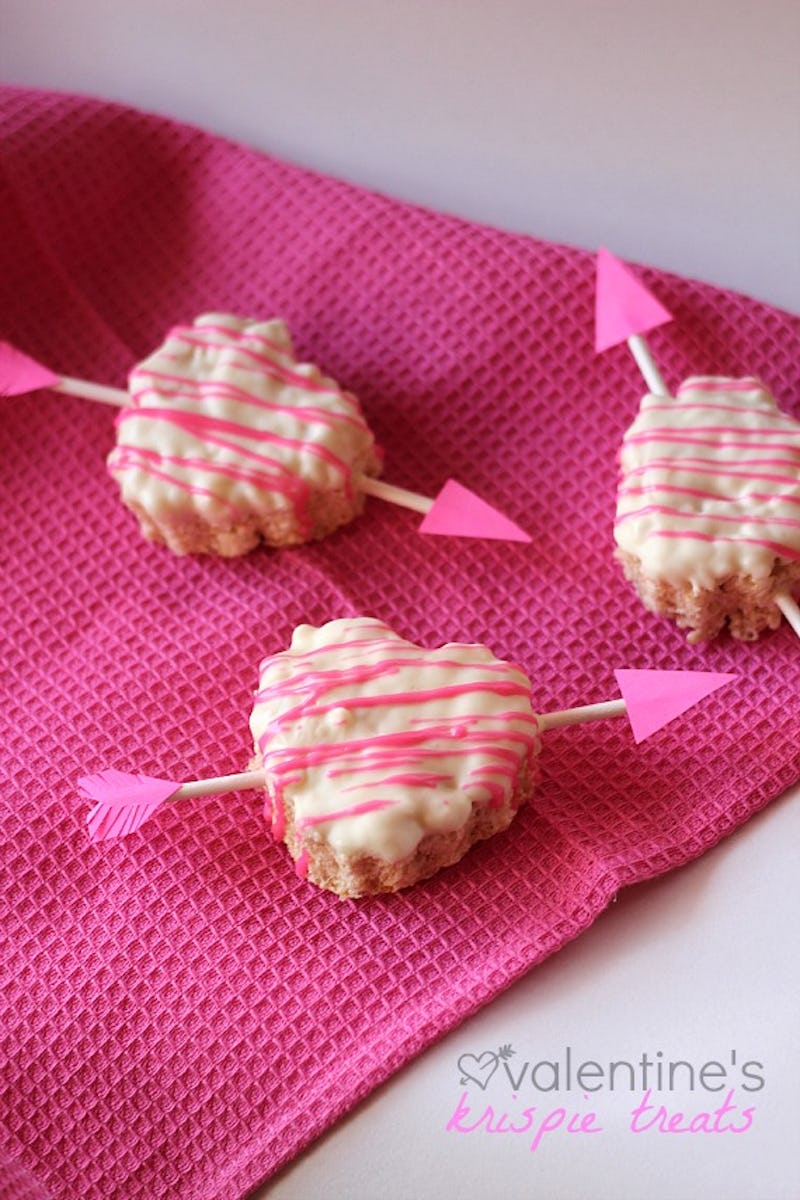 Even fancy adults have to love the nostalgia that comes with trying out fun Valentine's Day recipes for kids. For me, once Feb. 14 rolls around, I always flashback to Valentine's Day in second grade. I walked into class with a card and a cupcake for the boy I had a huge crush on — a crush so big, I'd dreamt about our daughter's Barney-themed birthday party. On Valentine's Day, in my full bowl cut glory, I had the courage to make my feelings known. I loved the class party where everyone decorated shoebox mailboxes, handed out punny Disney Channel cards, and stuffed their faces with too many sweets — mostly candy hearts and baked goods.
I know my busy mom was always looking for simple and fast recipes. If you don't have a whole day carved out to make personal soufflés with your favorite small humans, but need some ideas in a pinch, I've put together a list of easy (and super cute) recipes to pull out, say, the night before when you've just been notified that you're responsible for snacks for 30 children. Bonus: most of these recipes are easy enough for the kid in your life to take the lead. Enjoy!
1. Peanut Butter Pretzel Munchies
These bite size treats from Bake Love Give are perfect for small hands and are super easy, making them a great go-to as a last minute option.
2. Valentine's Rice Krispies Treats
No kid's party is complete without Rice Krispies treats, and Cookies and Cups' take on the well known treat is too adorable to pass up.
3. Super Fudgey Brownies
What kid doesn't love brownies? Make them festive with this recipe from Bake Love Give.
4. The Old Favorite — The Box Mix
In a pinch, Bakerella suggests that the cake mix box in the back of your pantry plus store-bought icing and sweethearts will do the trick. (Plus, most cake mixes and icings are dairy free — a great option for kids with allergies.)
5. Chocolate Sugar Cookies
These cookies from Baked By Rachel are fast, easy to make, and look like you spent all day on them.
6. Spiral Sugar Cookies
Baked by Rachel's dough-roll method is my favorite on the list. This technique ensures every cookie in your batch will come out perfectly round and uniform. So cute!
7. Strawberry Cupcakes with Strawberry Meringue Buttercream
These pink cupcakes with pink icing from Brown Eyed Baker are a more subtle, but still delicious, way of spreading love.
8. Red Velvet Sandwich Cookies
An alternative to the cupcake, these little sandwiches from Cook Nourish Bliss are less messy than a traditional cupcake (which is always good).
9. Soft Chocolate Sugar Cookies with Strawberry Icing
Cook Nourish Bliss' update on the iced cookie is cute and delicious. No kid will pass these up!
10. Red Velvet Strawberry Dreams
Of this list, The Simple Sweet Life's red velvet cupcake is the hardest for young ones to help with. But, they're so irresistible, so make sure you add them to your roster.
11. Buttermint Frosted Sugar Cookie Cups
These cute pastel cups from Cookies and Cups are great for small kids.
12. Chocolate Strawberry Puppy Chow
Put Your Cup of Cake's puppy chow in festive bags with ribbons, and you'll have a great treat that is easy to transport to school.
For more ideas, check out Bustle on YouTube.
Images: Bake Love Give; Cookies and Cups; Bake Love Give; Bakerella; Baked By Rachel; Baked by Rachel; Brown Eyed Baker; Cook Nourish Bliss; Cook Nourish Bliss; The Simple Sweet Life; Cookies and Cups; Your Cup of Cake