8 Easy Lunch Ideas Lazy People Will Love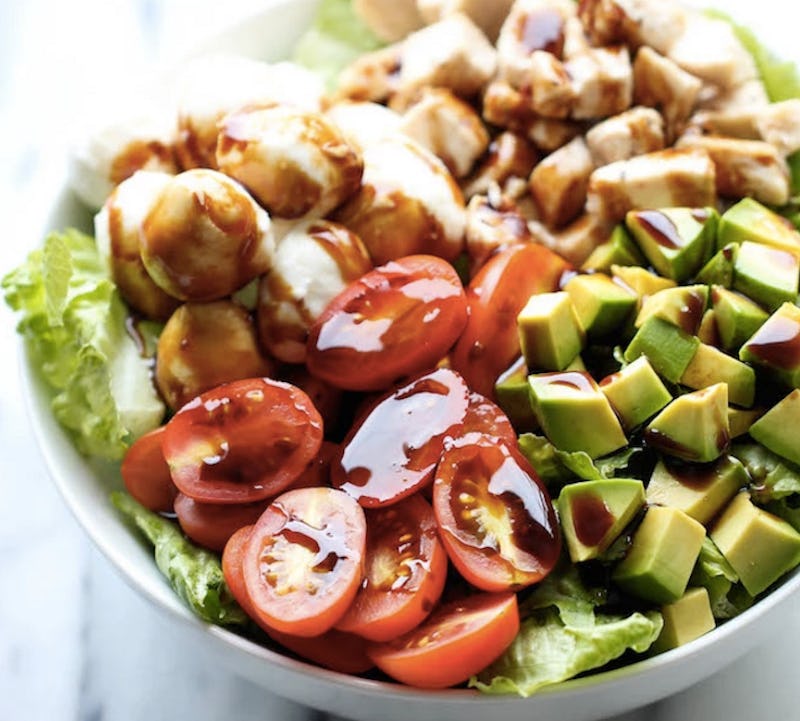 Everybody knows that breakfast is the most important meal of the day, and you wouldn't catch most people skipping dinner several times a week, which leaves us with lunch, a most neglected meal. Finding easy lunch ideas isn't hard, but because lunch happens right in the middle of the workday, it's logistically inconvenient. And, when people actually do have time for a midday meal, they "grab" lunch, implying that it's a luxury that is a detriment to productivity. Fortunately, there are a plethora of lazy lunches and make-ahead meal ideas online that will prevent you from getting super hangry during the day.
The objective for a lazy lunch is to keep energy levels in working order and metabolisms cranking on all cylinders — so, not an In-N-Out double-double, animal style, or a pile of bacon-wrapped street meat. You do not want to be in a deep, dark food coma until dinner. You will in fact accomplish less than you would on an empty stomach, so scratch that as a strategy.
Look for lean proteins, fiber, and sneak in a few carbs to give you the energy boost you seek. And keep it simple. You can create some pretty impressive lunches with just a few ingredients, or better yet, leftovers from a healthy meal that you made the night before. Here are a few lazy and make-ahead lunches that will keep you alert all day.
1. Quinoa Fruit Salad
This quinoa fruit salad with refreshing mint and a bright lemon vinaigrette is almost like dessert, except it's packed with protein and antioxidants. Something this delicious shouldn't be this good for you. If you've already got cooked quinoa lying around, this salad by Damn Delicious can be ready to rock in less than 10 minutes.
2. Burrito Bowls
If you've been craving Chipotle, try your hand at making a burrito bowl at home. Heat up some rice and beans, toss in your favorite burrito-inspired veggies, and dump a dollop of your favorite salsa into a travel-friendly container, and you've got yourself the perfect afternoon snack. Find out how to make this colorful dish at Damn Delicious.
3. Easy Italian Deli Style Chicken Sandwich
Pre-made pesto and a jar of roasted bell peppers set you up for success with this easy deli-style sandwich. You can even wrap the cold sandwich in foil the night before, and heat it in a warm oven or toaster oven when you're ready to eat. Get the full details at The Kitchn.
4. Sweet Potato Pesto Wraps
These savory wraps from The Kitchn are 100 percent freezable. One Sunday, if you've got some extra time, make a whole batch of these vegetarian lunch wraps, and stock your freezer. When you're ready to eat lunch but don't have much time, bust out your pre-assembled and conveniently frozen wraps, heat, and eat! It doesn't get much easier than that.
5. Three-Ingredient Pumpkin Soup
Pumpkin puree, coconut milk, and green curry paste will have you sipping a piping hot bowl of pumpkin soup in minutes. This is a great way to break the monotony of cold cuts and chicken wraps without any extra labor whatsoever. Find out how to make this better, faster, cheaper food dream a reality at Food Fanatic.
6. Blue Apple Salad
Make the barley and grilled chicken for this one ahead of time, and assemble in the morning to keep your greens as fresh as can be before lunchtime. This salad is a part of an opus called Salad Swag at The Kitchn that will keep your salad game strong through an entire work week.
7. Four-Ingredient Quesadillas
Quesadillas are a go-to lazy meal staple in my house. They're just so easy to put together and customize, and you can fill them with healthy things and leftovers and eggs and yum. This recipe calls for refried beans, cheese, salsa, and avocado for a feast that's ready in five minutes. Find the delicious recipe for this one at Making Thyme For Health.
8. Caprese Avocado Salad
Here is yet another example of why it's basically essential to have grilled chicken in your fridge. You can have a delicious Italian salad ready in minutes. It's like a Caprese sandwich without the bread. Head over to Damn Delicious for the details.
For more food inspiration, check out Bustle on YouTube.
Images: Damn Delicious (3); The Kitchn (3); Food Fanatic; Making Thyme For Health