These Headphones May Forever Boost Your Workouts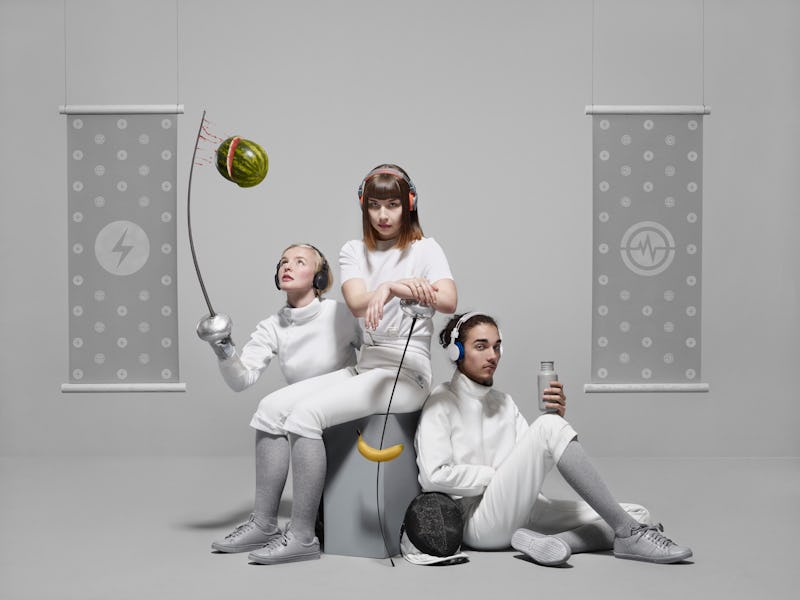 Death by burpees is possible — and I'm living proof of it. Committing to a workout schedule requires much willpower, but if I knew I could get endorphins in style, then that would be a game changer. Urbanears Active has launched a new headphone collection that will revolutionize your fitness routine. Get ready to whittle that waistline and groove to your favorite jams — all at once.
Mixing Tame Impala with a cardio workout is harder than it seems. Often times, this results in tangled earbuds and entrusts you with the important mission of trying not to shatter your precious iPhone mid-ab crunch (been there, done that). Fortunately, Urbanears Active understands the woes of active gals. Their new collection is the remedy to all problems: headphones that are both stylish and functional. Count me in!
With two options to choose from — the Hellas wireless on-ear headphones and the Reimers in-ear headphones — exercising with your favorite playlists will come at ease. The Hellas feature meshy, washable ear cushions and moisture-resistant headband for a sweat-free music experience. There's also a built-in swipe interface so you can conveniently pause and play your tracks — no need to hunt for any buttons here and waste precious cardio time. On the other hand, the Reimers headphones are the classic white earbuds reimagined: EarClick technology ensures that they stay secure and snug, while the reflective cable doubles as a shield for those late night jogs.
The Hellas are priced at $119 and come in four designs: Team (a sleek white/blue), Black Belt (matte black), Rush (vibrant coral and gray), and Trail (dark blue/green combo).
Personally, I'm digging the Rush edition — I wouldn't mind taking them for a spin on my next workout. I'm just grateful I can now crush my HIIT routines with some heart-pumping tunes.
The Reimers are priced at $49 and also come in the same aforementioned styles. Why don't you mix and match your headphones while you're at it? And have no fear: all headphones are equipped for both Apple and Android phones (so you really don't have an excuse to sit this one out).
Pumping up the endorphin levels while streaming Drake songs just got easier.
Images: Courtesy Urbanears