Starbucks' Secret Menu Is Better Than A Boyfriend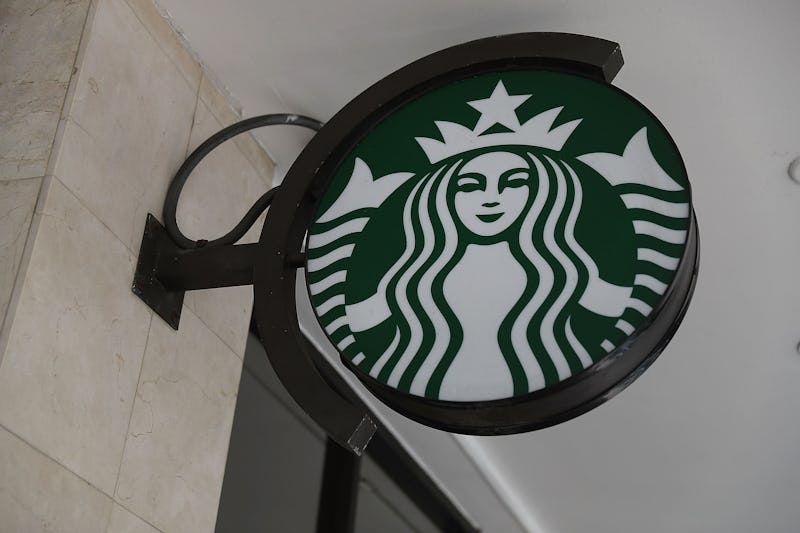 Joe Raedle/Getty Images News/Getty Images
You've undoubtedly noticed the wash of pink hearts that has unceremoniously replaced holiday décor everywhere that sells, well... anything. That's right, lovebirds, it's Valentine's Day season, and while the beginning of January means the end of Starbucks' beloved red cups (til next year, my love), here's something else to help ease the pain — an Arizona barista recently revealed a Starbucks secret Valentine's Day menu. Enter Tony Aguilar, a Starbucks employee at a Tucson store, who recently came up with three Valentine's Day-inspired Frappuccinos that will fill that red cup-shaped hole in your heart.
Aguilar posted his creations on Reddit earlier this January, and since then, the Internet has been java-buzzing about the trilogy of romantic frozen drinks. But stick with me, kids, because you won't be able to walk into any old Starbucks and order up a pretty, pink Love Bean Frappuccino... unless of course you know the recipe. Consider me the love guru of caffeine.
So, whether you're single and looking for a festive caffeine fix to fuel your righteous independence through the Valentine's Day madness, or you have someone special that shares your love of all things Starbucks, check out these three deliciously sweet drinks before time runs out, and you're just a weirdo ordering a pink frapp when everyone else is shamrockin' the green.
The Valentine Frappuccino
This tri-colored concoction starts with Strawberries and Crème Frappuccino, is blasted with raspberry pumps for extra pinkness, has a layer of bright white vanilla bean in the center, and blackberry frapp on top. Then the whole thing is topped with whipped cream.
The Love Bean Frappuccino
The Love Bean Frappuccino is head-to-toe pink. It's a Vanilla Bean Frappuccino with raspberry pumps for color, topped with raspberry-infused whip and delightful chocolate curls.
The Java Berry Frappuccino
This one is a Java Chip Frappuccino topped with the pink raspberry-infused whipped cream, and basically, it looks delicious.
How would you proclaim your love for Starbucks' secret menu? Personally, I'd go for a Strawberries and Crème Frapp topped with whipped cream, chocolate curls, and chocolate sauce. Happy Valentine's Day to my one true love, caffeine.
Image: Getty Images