Does Baby Powder Really Work On Greasy Hair?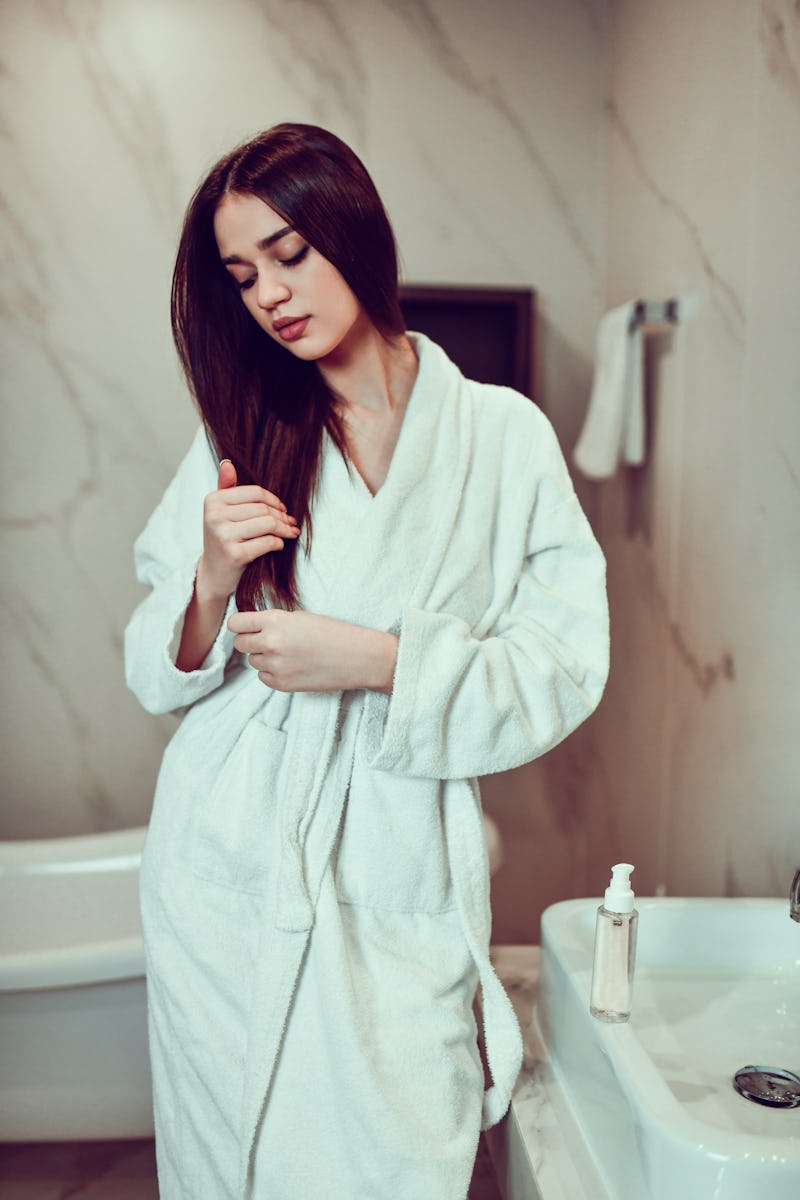 AleksandarGeorgiev/E+/Getty Images
When you've just gotten a fresh blow out, it makes sense to want to extend it as long as possible. One of the most popular greasy hair hacks is sprinkling baby powder on your roots, but does baby powder really work on greasy hair? If you're skeptical, my advice would be not to knock it 'till you try it!
First and foremost, let me break down the baby powder on roots strategy. As explained in PopSugar, all you have to do is sprinkle a little baby powder on your greasy roots and rub it through your hair shaft until it's all blended. Your hair will instantly feel less greasy, and the only tricky part is making sure you've blended all of it in so you don't end up with any awkward powder spots.
I first learned about this hack on the set of 16-Love (which you should totally go watch on Netflix, yay!). We were shooting on a seriously sunny day in San Diego and the sun would just not quit. As a result, I started getting all sorts of sweaty and greasy. In between takes, my hairstylist would run over, sprinkle baby powder on my roots, blend it like a pro, and the grease would be gone!
Look at that non-greasy hair magic:
And seriously, standard baby powder is all you need.
Johson's Baby Powder, $10, Amazon
But if you're just not feeling the baby powder strategy, there are plenty of other awesome products out there that can fight shine and grease in no time. Below are some of my top picks:
Rene Furterer Naturia Dry Shampoo, $15, Amazon
This spray-in shampoo eliminates the powder marks that straight up baby powder can occasionally leave. It also features essential oils for a touch of bright, earthy fragrance.
Jason Natural Cosmetics Tea Tree Oil Shampoo, $13, Amazon
This super budget-friendly shampoo works preventively to fight grease before it even happens.
R+Co Badlands Dry Shampoo Paste, $28, Amazon
Featuring volcanic ash, coconut oil, and a bit of organ oil, this epic paste will lift your roots and add lots of texture to otherwise limp and greased out strands.
Living Proof Perfect Hair Day Dry Shampoo, $16, Amazon
Another spray winner, this dry shampoo features a patented molecule that not only absorbs unwanted oils and sweat, but totally removes them. Gotta love science, man.
Aveeno Active Naturals Pure Renewal Dry Shampoo , $12, A mazon
Packed with soothing and light ingredients, this is my favorite pick for girls with extra fine hair!
Klorane Gentle Dry Shampoo With Oat Milk, $20, Amazon
Featuring hypoallergenic oat milk and rice starch, this dry shampoo powder is a reliable choice for those with extra sensitive skin.
John Frieda Anytime Volume Refresher, $7, Ulta
If a little grease pulls down your hair into a limp tragedy, this spray will revitalize it and give you back all the volume you're craving.
Batiste Dry Shampoo Original, $8, Amazon
This little bottle is my ultimate fav. It's super portable so you can just slip it in your bag and take it wherever!
Rahua Voluminous Dry Shampoo, $28, Amazon
Expensive but awesome, Rahua's formula is 100 percent vegan and utilizes organic cassava root, cosmetic clay, and star anise.
/p>
Want more beauty tips? Check out the video below, and be sure to subscribe to Bustle's YouTube page for more hacks and tricks!
Images: AleksandarGeorgiev/E+/Getty Images; Author's Own(1); Courtesy of Brands