This Score Reveals How Hot You Are On Tinder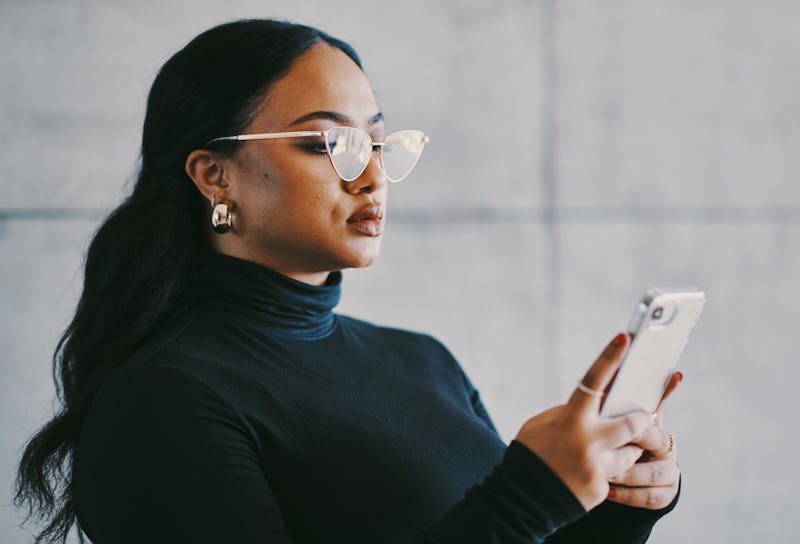 Delmaine Donson/E+/Getty Images
In a recent interview with Fast Company, Tinder revealed a secret. The dating app confessed that every Tinder user has a secret internal rating aka the "Elo score." The score is calculated by the company from the moment you sign up, and immediately deems which users are most and least desirable based on a number of determining factors. These results are then kept top secret within the confines of the company.
Tinder CEO Sean Rad confirmed the scoring system's existence to Fast Company, explaining that the rating is 'technically' not a measure of attractiveness, but instead a measure of desirability, as the score is determined by more than just your profile photo. "It's not just how many people swipe right on you," Rad explained. "It's very complicated. It took us two and a half months just to build the algorithm because a lot of factors go into it."
Considering users judge one's attractiveness based on a series of images, 'desirability' really does seem like a nicer way of saying 'attractive', but Tinder's data analyst, Chris Dumler, claims the users are ultimately the culprits responsible for the algorithm. "Every time you swipe right on one person and left on another, you're fundamentally saying, 'This person is more desirable than this other person.' Every swipe is in a way casting a vote."
Rad likened the voting system to the popular World of Warcraft game series, explaining that the better you perform against an opponent with a higher experience level, the higher your level rises in return. On Tinder, this means that if the gal or guy you swiped right on also swiped right on you, you're a total babe, and your score rises as a result.
As for whether this score will ever be available to users, it doesn't look promising. Fast Company's reporter was fortunate enough to view his own score, which he shared was 946 and "on the upper end of average," according to Tinder staff.
In the meantime, I guess the best way to determine your worth on the app is by studying the types of men/women we're given the opportunity to swipe through, as these are the people we're most aesthetically compatible with according to Tinder's algorithm that seemingly lacks depth.
How Do Other Dating Site Algorithms Work?
According to Mashable, most paid dating websites (such as Match) allow users to customize their own algorithms, which is curated on the seemingly hundreds of questions you're asked about yourself and ideal partner upon signing up. (This is what's most important – and what you're paying top dollar for. So make sure you answer fully and honestly!). These questions are what ultimately customizes your own algorithm within the site, matching you up with those who possess the qualities you've mentioned you're looking for. But of course, it's far more complicated than this.
Since discovering your "perfect match" isn't realistic, Match has built recommendation engines that consider which criteria one is willing to compromise on to open members up to more potential matches.
Another interesting factor is that Match will see what you've done on the site (taking note of who you've contacted, etc.) and match you up with others similar to these members, meaning if you can't articulate the kind of person you're after, it's no problem. They'll do it for you.
Ultimately, the website has collected 16 years of insurmountable matchmaking data, and uses this information to recommend multiple compatible partners to chat and interact with. Most websites use similar algorithms – all of which stem from the dreaded opening questionnaire. So answer wisely!
In case you're wondering what other kinds of information on Tinder is available, here are some more interesting points below, according to Tinder's own reports, as well as DMR and university studies:
1. Tinder Boasts 9.6 Million Daily Active Users And 1.4 Billion Swipes Per Day
2. As Of November 7, 2015, Tinder Made 26 Million Matches
3. Nearly Half Of Tinder Users (45 Percent) Fall Within The 25-34 Age Gap, Followed By 16-24, Which Makes Up For 38 Per Cent
4. Tinder Users Reside In 196 Different Countries
5. You're 54 Percent More Likely To Hook Up With A Tinder Match If You're Within A Mile Of Each Other
6. Users Are Most Likely To Swipe Right For These Factors: Looks (72 Percent), Clever Opening Line (17 Percent), And Humor (11 Percent)
7. Men Swipe Right 47 Percent Of The Time; Women, 15 Percent
8. Left-Handed Tinder Users Swipe Right 27 Percent More Than Those Who Are Right-Handed
9. The Largest Complaint On Tinder Is That People Don't Look Like Their Photos
Want more of Bustle's Sex and Relationships coverage? Check out our new podcast, I Want It That Way, which delves into the difficult and downright dirty parts of a relationship, and find more on our Soundcloud page.
Image: Delmaine Donson/E+/Getty Images; Giphy