Professional Baby Goat Cuddling Is A Real Job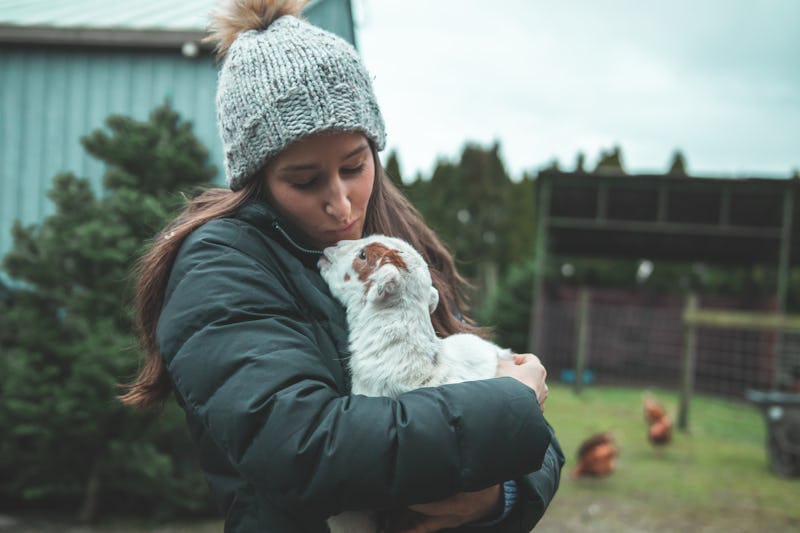 Jordan Vanderzalm / EyeEm/EyeEm/Getty Images
If you're still looking for your dream career, you heard it here first: baby goat cuddling is a real job, and it's just as adorable as it sounds. The job listing comes from my new hero farm (who knew you could have a farm that was a hero?), Caromont Farm in Esmont, Virginia. Caromont is looking for volunteers to head on over and literally cuddle baby goats. Have you seen a baby goat? Do you even know how cute they are? Especially when they prance? Caromont houses more than 120 goats, who produce fresh and aged cheeses. So not only is goat cuddling a great way to get your daily dose of the cutes, it's also a really good way to show your appreciation for cheese. And who doesn't appreciate a good goat cheese?
But wait, it keeps getting cuter. Caromont's call for volunteers comes amid predictions that the farm will have 90 new baby kids birthed on premises this February. That's 90 baby goats in need of snuggling. The job, along with cuddling, also involves loving, feeding, and playing with baby goats. Can you even think of a better way to spend your free time? But wait, there's even more cuteness. Goat cuddling will also involve bottle feeding the little kids, and dressing them in sweaters to keep them warm. Are you dead yet? I think I am. The bad news is all the volunteer slots are currently full, but Caromont says to keep checking back, because slots could open up.
If you're not inspired to quit your desk job in search of something much cuter, here are some more amazing jobs to change your mind:
1. Panda Nanny
This is not a drill — this is a real job. If you live in or are planning to move to China anytime soon, then you can become an actual nanny to pandas at the China Giant Panda Protection and Research Center in Ya'an. You'll get paid $32,000 a year, plus room and food, just to take care of pandas. You have to be over 22, and have a basic knowledge of pandas, as well as writing and photography skills.
2. Chocolate Taster
How adorable do you have to be to sit around tasting chocolate all day? It sounds like something out of a whimsical Willy Wonka fantasy. Entry level chocolate tasters can make up to $60,000 a year. Not too shabby, if you have a sweet tooth.
3. Bed Tester
What's cuter than pajamas and snuggles? Luxury bed testers get to sleep in world class beds. Don't believe me? Just ask student and blogger Roisin Madigan, who was paid $1,600 to sleep in and blog about her luxury bed experience for a month.
4. Fortune Cookie Writer
Most writers never get the opportunity to write cute, cryptic one-liners... unless they're in the fortune writing business for cookies, that is. Full-time fortune cookie writers can make up to $50,000 a year, and get to make people feel like their wildest dreams just might come true.
5. Water Slide Tester
Bringing your inner child to work seems pretty adorable to me. Professional water slide testers can make $30,000 a year, and get all expenses paid vacations to whatever slide it is they're testing out, many of them being in resorts and other fun places. Dream. Life.
Images: Jordan Vanderzalm / EyeEm/EyeEm/Getty Images; Giphy (5)