Amazing News For Jaclyn Hill x Champagne Pop Fans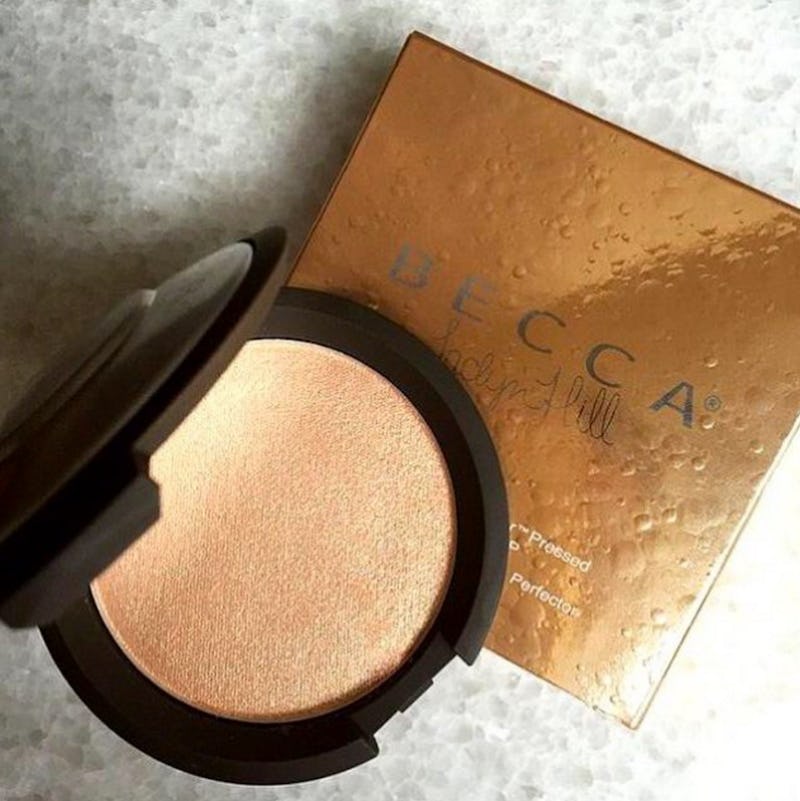 Calling all beauty lovers: We have some amazing news. Beauty vlogger Jaclyn Hill's Champagne Pop highlighter is permanent. I'm not sure if this means Christmas came a little late or a lot early this year, but one thing's for sure: this announcement is definitely a gift.
This instant cult classic launched back in July, and both Jaclyn Hill fans and beauty junkies alike were instantly hooked. The product was a collaboration with BECCA Cosmetics, and it was a limited-edition steal — until now. BECCA tweeted out the good word this afternoon, and people pretty much freaked (as you do when your fave beauty product is saved from its limited-time-only fate.)
Champagne Pop love affairs aren't without merit, either — boasting 70,000 "loves" and 4.6 rating on Sephora's website, the beauty retailer sold 25,000 of the coveted compacts in its first 20 minutes, according to Allure. Whoa.
BECCA's Shimmering Skin Perfector is formulated with "ultrafine luminescent pearls that absorb, reflect, and refract light so your natural radiance is never lost," according to Sephora.com. And Champagne Pop is a fitting name for Jaclyn's shade, considering the product's success.
While I've never tried the fan favorite highlighter myself, I'm thinking I should get it while it's hot (and, more importantly, in stock.)
Becca x Jacyln Hill Shimmering Skin Perfector in Champagne Pop, $38, Sephora
I'd better act fast, because Twitter's blowing up with excited customers, and I'm sure I'm not the only one with a new lust for Champagne Pop. Here's the tweet that started it all...
...And the excited tweets that keep on comin'.
The news is definitely meme-worthy.
Obviously, you need chips when you're hyperventilating.
But can you blame them? Just take a look at how incredible it looks on the creator herself.
Congrats, Jaclyn!
Want more beauty tips? Check out the video below, and be sure to subscribe to Bustle's YouTube page for more hacks and tricks!
Images: jaclynhill/Instagram; Courtesy of brand