15 Kids' Books Presidential Candidates Should Read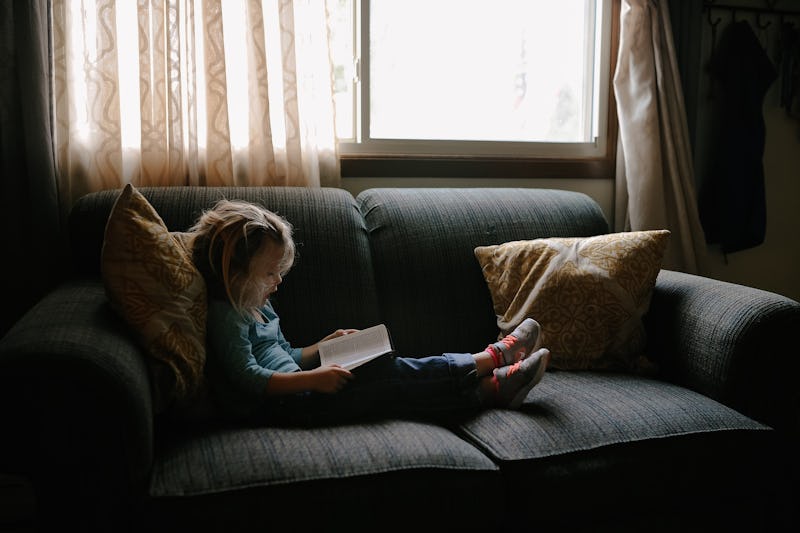 OK, I get it: being a presidential candidate (especially in the Twitter age) is probably no walk in the park. And sure, a lot of people have different ideas about what makes a really successful leader, and a truly great country. But at the end of the day I think we all really do want the same thing — to make the world a better place. For everyone who lives in it. Amirite? So, in my mind, what better way is there for all of 2016's presidential candidates to take a moment of pause, unwind, and reconnect with what it truly takes to change the world, than by reading some children's books about social responsibility? (Admit it: You kinda think it's a great idea too.)
I know that I developed some of my very first ideas about friendship, kindness, trust, and what it takes to be a good community member from the pages of my own children's books, growing up. And as an adult, whenever I need to reconnect with some of those really basic, essential tenants of being human in this crazy, messy, diverse, beautiful world, the wise voices of my favorite children's books will always be there for me.
Here are 15 children's books that should be required reading for every presidential candidate.
1. The Lorax by Dr. Seuss
A children's book about what it means to be good stewards of our environment — and a cautionary tale against what will happen if we're not — The Lorax reminds readers of all ages that everyone needs to care about making a difference. And also that the world is super beautiful, so we should probably stop making messes all over it.
2. The Story of Ferdinand by Munro Leaf
An oldie, but goodie, The Story of Ferdinand tells the story of a reluctant bull who would rather smell flowers than fight with the other bulls. Written during the Spanish Civil War, it turns out peace was considered such a radical idea (gasp) that this children's book has historically been banned in countries all over the world for its satirical handling of violence. Go Ferdinand.
3. One Well by Rochelle Strauss
Using both story and beautiful illustration, One Well explains how all of the Earth's water is connected — and how as water is essential to all life, we should probably stop polluting it (duh.) This book explores how our actions today are affecting the health of the world for years to come, and offers suggestions about how each of us can do our part to improve the quality of water all over the world.
4. We March by Shane W. Evans
Ranked as one of the best children's books of 2012, We March introduces young people to the history of the 1963 March on Washington for Jobs and Freedom, and explores the themes present in Martin Luther King Jr.'s famous "I Have A Dream" speech, which was spoken there. This book will remind you that when we stand together for a cause we are much more powerful than if we stand alone.
5. And Tango Makes Three by Justin Richardson
If you haven't already met Tango, then get ready to feel all the feels, because he's about to become your favorite penguin ever. And Tango Makes Three tells the story (based in truth!) of two male penguins who fall in love and decide to co-parent their adopted baby penguin together. Just an adorably illustrated little reminder that love always wins.
6. The Monster at the End of this Book by Jon Stone
In The Monster at the End of this Book, Sesame Street character Grover spends every page imploring you to stop reading, for fear of encountering the unknown monster at the end of the book. The feared monster, as it turns out, is Grover himself — which is perhaps a little too rife with psychologically complex meaning for children under the age of 4... But all in all a good reminder not to automatically fear what you don't know, and that it's important to have all the facts before acting on that fear.
7. The Enemy by Davide Cali
Nobody loves an anti-war book for children quite like I do. In The Enemy, two soldiers face one another across a battlefield, but instead of fighting, they learn that they share those things in life that are most meaningful to them both — homes and families, friends and communities, fears and hopes and dreams. It's kind of a tear-jerker, if you ask me.
8. The Good Garden by Katie Smith Milway
Food security is still a huge issue for so many people in our world today — which seems like all kinds of crazy since the last time I checked, there were approximately 47,000 different types of Oreos in my local grocery store. The Good Garden tells the story of one Honduran family as they learn to self-sustain by growing their own fruits and vegetables. The book will also introduce you to sustainable farming practices, and offer ideas on how everyone can create their own "good garden" no matter where you live.
9. Good People Everywhere by Lynea Gillen
This title pretty much says it all. Good People Everywhere will remind you of just that — that despite what the evening news might say, there really are lots of good people everywhere. Sharing stories and images of anyone from doctors and siblings, to farmers and teachers, this book suggests looking for the good in people all around you, and provides an opportunity to pay gratitude to all those good people as well. A little thanks goes a long way, after all.
10. The Cardboard Shack Beneath the Bridge by Tim Huff
Homelessness is still a huge issue in the United States and other parts of the world, and this book will introduce you to all kinds of different people who have had the misfortune of becoming homeless. By teaching compassion, understanding, and charity, The Cardboard Shack Beneath the Bridge inspires thoughtful discussions about homelessness, and ways to assist those in need.
11. Razia's Ray of Hope by Elizabeth Suneby
Razia's Ray of Hope tells the story of a young girl living in Afghanistan, who dreams of being allowed to attend school and earn her education — but first she must convince her father and brothers to let her study. Based on the true story of the Zabuli Education Center for Girls near Kabul, this book is all about the importance of fostering a world where girls are no longer denied the right to an education.
12. The Wonderful Adventures of Suzuki Beane by Sandra Scoppettone
Raised by two Bleecker Street beatniks, Suzuki Beane just wants to hang out with her new friend, Henry Martin, a rich kid from the Upper East Side. But her stereotyping parents think Henry's a "square" — and Henry's parents probably aren't all that excited about Suzuki either. The Wonderful Adventures of Suzuki Beane tells the story of two friends who come from very different backgrounds, and how they teach the adults in their life to stop judging people based on what neighborhood they come from. Good thinking, Suzuki.
13. A is for Activist by Innosanto Nagara
You're never too young to become an activist, as children's ABC-book A is for Activist will quickly teach readers. Touching on everything from political activism and LGBTQ equality, to environmental justice and civil rights, this might just be the most delightfully progressive children's book of all time.
14. It's Your World: Get Informed, Get Inspired & Get Going! by Chelsea Clinton
So, I'm betting at least one of 2016's presidential candidates has already read this title (hint: because her own child wrote it) but that's all the more reason for all the others to jump on board. It's Your World: Get Informed, Get Inspired & Get Going! profiles tons of young people who have become involved in changing their own communities — whether that means working to alleviate poverty, protecting endangered species, fighting for gender equality, or more, and empowers all young people to do the same.
15. What Does It Mean to Be Global? by Rana DiOrio
The children in What Does It Mean to Be Global? are kind of living my dream childhood. They get to visit the pyramids of Egypt, eat sushi in Japan, learn Swahili, immerse themselves in the holiday traditions of other countries, and so much more. This book is all about embracing the global community, and celebrating the beautiful diversity that our world has to offer. Plus, it'll probably make you want to hit the road.
Image: Pixabay