'Colony' Moves Up The Apocalypse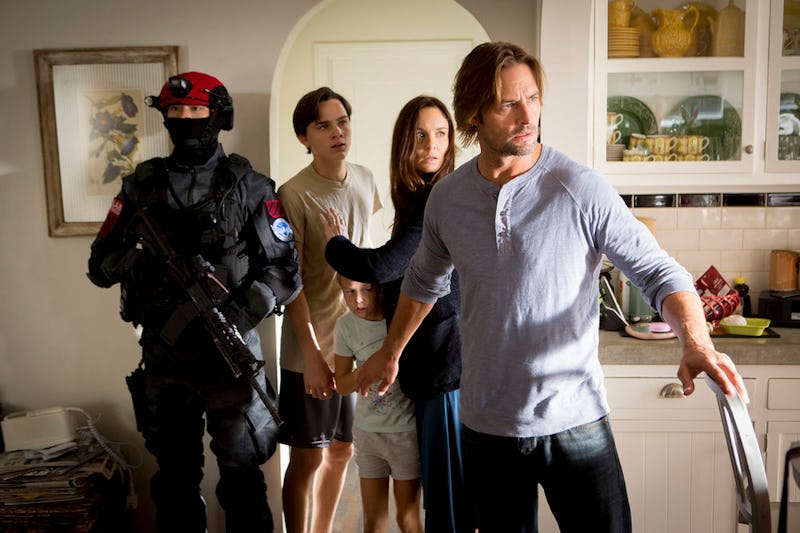 The end of civilization isn't just for movie theaters and the Young Adult bookshelf anymore. (OK, it hasn't been since The Walking Dead turned a zombie plague into a road trip soap opera. You know that I mean.) The brand new USA thriller series Colony hopes its audience will make a weekly appointment with the apocalypse. Premiering on Jan. 14, Colony stars Lost castaway Josh Holloway and TWD's Lori Grimes herself, Sarah Wayne Callies as Will and Kate Bowman, a married couple trying to keep their family and friends alive in what used to be Los Angeles but is now a camp controlled by unearthly hostile occupiers. But when is Colony 's invasion supposed to take place?
USA's description of Colony sets the action in "the very near future." Whether Will and Kate are fighting against these forces in the fictional tomorrow or the fictional two weeks from now doesn't really matter, as long as their surroundings are recognizable to a modern audience. The series trailer that debuted at San Diego Comic-Con this summer introduces the show first by showing a young family in their regular domestic routine. "A world not so different from our own," the subtitles read, and then a tank rolls down a tree-lined street. This is life as the audience knows it, with one horrible difference.
Colony co-showrunner and Lost alum Carlton Cuse explained during a Television Critics Association presentation in August why the series picks up the action when it does, as reported by Entertainment Weekly. "Ryan [Condal, co-showrunner] and I felt like that show had been done," Cuse said of skipping over the process by which the "Hosts" gain control of the city. He compared the Los Angeles of Colony to Paris after the Nazis took up residence — a strange period of limbo where there's little for civilians to do except go about their regular business. Condal elaborated on the comparison:
As Paris very quickly went back to normal life, what happens when it's not soldiers anymore, it's not an army vs. an army, what happens when you take these people who have lived there their whole lives and you force them to make a decision? Are you going to collaborate or are you going to resist?
Basically: Panem, this is not. Colony wants you to be able to easily picture yourself in the circumstances these characters face. Holloway, who's also an Executive Producer on the show, reiterates the importance of the familiarity of Colony's setting in this interview clip. "What would you do put in this situation? What would you do for your children? What would you do for humanity? Who comes first?" Watch the full interview below.
Will Colony ever let viewers in on the exact time stamp of the invasion? It's possible. Holloway hints in the interview above that the scope will eventually pull back to reveal what's occurring geographically outside of Will and Kate's immediate community. Has the entire country been colonized? The entire world? These are secrets that the show will no doubt feed audiences little by little. But even a vague "near-future" description of time is specific enough to make the events of Colony feel uncomfortably close to home.
Image: Paul Drinkwater/USA Network