How To Tell If You Have Cystic Acne Or Mean Zits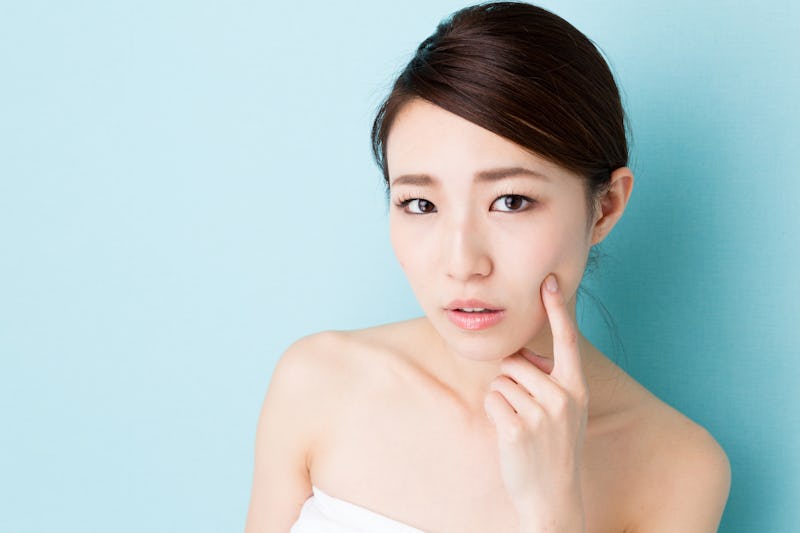 Stubborn pimples are the worst, but sometimes unrelenting ones can be a sign of something more serious. If you're on the fence over whether or not your pimples qualify as acne, you're not alone. I reached out to a professional to learn exactly how to tell if you have cystic acne or just some seriously aggressive zits. Fortunately, once you know what you're dealing with, you can begin to seek effective treatment.
I spoke with Dr. David E. Bank, M.D., FAAD, to get all the details on how to tell you're dealing with cystic acne. He explains, "Cystic acne is even more visibly inflamed [than standard pimples] and can have large painful bumps. Because it is the most severe form of acne that produces cysts and nodules in addition to numerous papules and pustules, it can cause scarring to the skin."
As for what triggers cystic acne, a variety of factors can be at play. Banks shares, "One factor that can cause cystic acne is the hormonal changes that happen during puberty and before the menstrual cycle. Cystic acne is also triggered by other hormonal changes such as pregnancy." Beyond hormones, he says, "Other triggers can be stress, poor hygiene, environment, oil based cosmetics or cleansers, and even certain drugs or chemicals."
If these symptoms sound familiar, Banks advocates that "patients should be seen by a dermatologist for the most effective treatments possible." I also asked him for a few treatment tips and preventative measures below that will help you get your skin clear as soon as possible.
1. Don't Over-Wash Your Face
Cetaphil Gentle Skin Cleanser (Pack of 2), $20, Amazon
Avoid washing your face too often and reach for "gentle washes and fragrance-free cleansers" that will not irritate inflamed skin further, explains Banks. When washing your face, he advises, "Do not scrub harshly when washing," and also, "Leave pimples alone since picking and squeezing is likely to worsen the acne."
2. Avoid Makeup With Oils And Petroleum
Bare Minerals Storybook Set, $79, Macy's
Oils and petroleum-based makeup don't allow your skin to breathe and can trigger outbreaks. Luckily, there are plenty of wonderful brands out there that dodge those ingredients. My personal favorite is anything from BareMinerals!
3. Consider Accutane For Treatment
"A specific type of oral medication called Accutane taken over a number of months is typically the most successful against resistant cystic acne" explains Banks. Talk to your doctor if you think this might be a solution for you.
4. Ask Your Doctor About Birth Control
Additionally, "for women whose cysts occur mostly around periods," Banks adds, "birth control pills [can be an effective treatment]." Ultimately, you and your dermatologist can work together to build the best strategy for you.
Want more beauty tips? Check out the video below, and be sure to subscribe to Bustle's YouTube page for more hacks and tricks!
Images: Andrei Porfireanu, Brooke Cagle, Christopher Campbell/Unsplash; Courtesy of Brands