The 47 Best Movies Of The '90s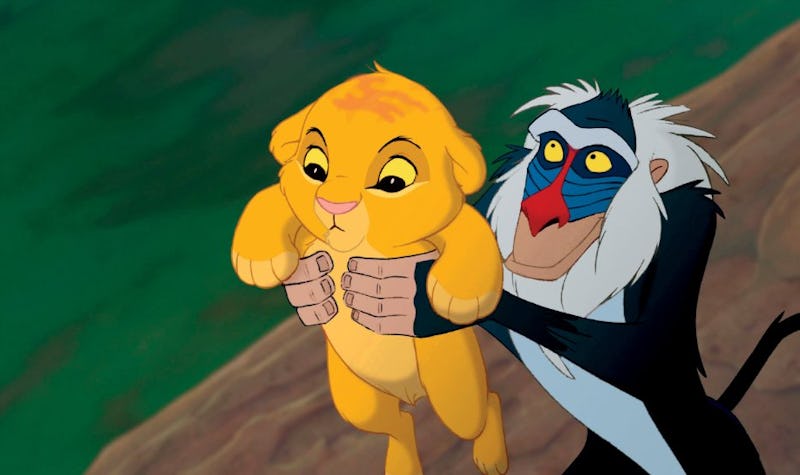 Publications everywhere have tried to take the pulse of '90s nostalgia, evaluating what it says about the future, about the millennial generation, about Internet culture — but what many of them miss is that the '90s also produced a whole lot of art that was just good. Pining for the '90s is, in many ways, mourning the passing of a decade of culture — film, in particular — that delighted, impressed, surprised, shocked, horrified, from peak Spielberg to nascent Tarantino. It's a decade that made stars of Julia Roberts, Kate Winslet, Leonardo DiCaprio, Jason Schwartzman, Johnny Depp, and Kirsten Dunst. These 47 best movies of the '90s show off the varied filmmaking (everything from rom coms to anime to gore-fest horror movies to dour dramas is included here) that defined the decade.
The most difficult element of composing a list intended to summarize an entire decade is not the sheer quantity of material (though it's that, too) — instead, it's the process of ranking the movies. How to compare a Disney masterpiece to one by Quentin Tarantino? How does Hayao Miyazaki measure up to Jim Jarmusch? What about Pretty Woman as compared to The Silence of the Lambs? It's a rigged system, but the greats are all here, from True Romance to Spice World and everything in between.
1. True Romance
Quentin Tarantino could have rested on his debut film Reservoir Dogs for a couple years before he followed it up with Pulp Fiction, but instead he wrote True Romance and handed it off to Ridley Scott. It stars Patricia Arquette and Christian Slater as star-crossed lovers of a somewhat hapless variety, caught between a drug deal and an angry pimp. True Romance also boasts the best diner scene in cinema.
2. Rushmore
Wes Anderson's second feature, the superlative Rushmore was also the director's first collaboration with Jason Schwartzman, who would go on to become one of his preferred collaborators. (Schwartzman has since appeared in The Darjeeling Limited, Moonrise Kingdom, and The Grand Budapest Hotel and to provide a voice in Fantastic Mr. Fox.) Rushmore is a sweetly surreal coming-of-age movie about the endearing yet aloof Max Fischer, who reigns supreme over his own intellectual kingdom while operating at a smooth detach from the world around him — that is, until he's put on academic probation, and he falls for first grade teacher Rosemary Cross (Olivia Williams).
3. The Lion King
Widely touted as an animal kingdom retelling of Hamlet, The Lion King would be one of the best movies of the '90s even without its Shakespearean undertones. Old English heritage does not a great film make (though it can help — both Romeo and Juliet and 10 Things I Hate About You make their way onto this list). It offers us the saddest opening moments of a Disney film prior to Up, which may have usurped the position with its death-is-inevitable story arc setting up its whimsical second movement. Yet The Lion King also has some of the most joyous musical numbers of a Disney film ever, from "Hakuna Matata" to "I Just Can't Wait To Be King." You know you're already humming along.
4. Jurassic Park
The Spielberg flick we all watched when we were too young (the sight of the lawyer who's lifted off a toilet seat in the jaws of a Tyrannosaurus Rex haunted my dreams for years after the first time I saw Jurassic Park), Jurassic Park remains the quintessential dinosaur horror film. Jurassic World and Chris Pratt can't even touch it.
5. Pretty Woman
Julia Roberts is the heart of this movie — Richard Gere is just fine and Roberts is excellent in Pretty Woman, a romantic comedy for even the most cynical among us.
6. The Virgin Suicides
It's not as good as Lost in Translation, but that movie didn't premiere until 2003. Sofia Coppola's debut The Virgin Suicides highlights the male gaze through which Jeffrey Eugenides' novel is told. It's the tale of five sisters who commit suicide over the course of a year as recounted by their male neighbors, and like much of John Green's oeuvre, it demonstrates how young men might try and fail to impose a neat narrative on the young women around them.
7. Eyes Wide Shut
Stanley Kubrick's last film, and his first in nearly two decades, Eyes Wide Shut is an ambitious viewing project. It clocks in at nearly three hours, and while it's not quite as slow as 2001: A Space Odyssey, it meanders through dreamy New York City streets on a psychosexual odyssey. Nicole Kidman and Tom Cruis co-star, and creepy masks abound.
8. Reservoir Dogs
Quentin Tarantino's best directorial effort of the decade was probably Reservoir Dogs, though films like Pulp Fiction and Jackie Brown provided stiff competition. It features all the usual suspects, from Tim Roth to Michael Madsen and Tarantino himself, and it features just the second-best diner scene in cinema.
9. Princess Mononoke
Like The Virgin Suicides for Sofia Coppola, this might not be Hayao Miyazaki's best movie but it's one of his most beautiful and ambitious, like an anime Avatar or Fern Gully by way of Japanese mysticism. As with many — even most — of Miyazaki's imagined worlds, this one is led by a young woman whose gender has nothing to do with her strength, and the love-interest plot is remarkably platonic.
10. Se7en
Morgan Freeman and Brad Pitt make one of the best detective duos in recent film history as a rookie-veteran pair on the hunt for a local serial killer murdering according to the seven deadly sins. Kevin Spacey plays the murderer, in a role even more menacing than Frank Underwood.
11. Dead Man
Alejandro G. Iñárritu's The Revenant, the gritty, violent survival drama, owes a lot to Jim Jarmusch's Dead Man — in many ways, The Revenant parallels Dead Man with all the funny bits taken out. (Dead Man, in turn, is indebted to forebears like True Grit.) Dead Man features one of Johnny Depp's best performances, an underexposed role as accountant William Blake who finds himself embroiled in a cross-country bounty hunt. And, of course, there are the requisite dreamy interludes linking Depp's Blake to his poet namesake that earned Dead Man the "psychedelic western" moniker.
12. Titanic
Leonardo DiCaprio and Kate Winslet made themselves some of the most coveted actors on the planet in James Cameron's 1997 epic — a title that both, arguably, still hold. You're not living if you've never reenacted that iconic scene on the bow of the Titanic.
13. A Little Princess
The 1993 remake of A Little Princess loosely draws inspiration from Frances Hodgson Burnett's novel. The Alfonso Cuarón-directed story was a prototype for Matilda, the Chronicles of Narnia, Hugo — a whole host of adolescent escapist fantasies in which a young woman gets to be the star of her very own fairy tale.
14. Edward Scissorhands
Johnny Depp had an incredible streak in the '90s — from Edward Scissorhands to Dead Man to What's Eating Gilbert Grape and the 1999 Sleepy Hollow, he was in some of the best-received films of the decade. Edward Scissorhands, the quasi-Shakespearean romantic dramedy about a man with — you guessed it — scissors for hands, was one of the finest.
15. Heavenly Creatures
Kate Winslet's breakout role came in this New Zealand drama about two young women who scheme to murder one's parents when they threaten to send her to boarding school. Heavenly Creatures is based on the true story of a disturbing murder in 1954, but it's more compelling for its portrayal of the friendship between the two girls that dances between the platonic and erotic.
16. A Bug's Life
In 1998, Pixar raised the bar for animated children's movies — and set the tone for Finding Nemo to follow. A Bug's Life brings back memories of childhood Halloween costumes and figurines and, of course, the always-quotable conversation when Flik tries to explain imagination to sister Dot by way of a rock and a seed.
17. Matilda
Roald Dahl's darkly humorous fantasy features one of the best (maybe the most stomach-turning?) chocolate cake scenes in movies, ever.
18. Romeo & Juliet
The Leonardo DiCaprio one with the fish tank scene. Also starring Claire Danes, Baz Luhrmann's Romeo + Juliet might be a career highlight for all three, stars and director alike.
19. Clueless
Clueless was as much a style touchstone for the '90s as it was a hallmark of '90s filmmaking. Plaid never had such a moment.
20. The Sixth Sense
It feels a bit odd to relegate The Sixth Sense, far and away M. Night Shyamalan's best movie, to the '90s given that it's revived nearly every weekend night on network television. It's hard not to channel surf without finding a Sixth Sense re-run. It rewards viewers on repeat views, when all the clues to the massive twist ending come together seamlessly. You'll wonder how you didn't catch it the first time through.
21. Trainspotting
Baby-faced Ewan McGregor is a far cry from young Obi-Wan Kenobi in Trainspotting. Ten years after the movie premiered, Danny Boyle — the director who also helmed Slumdog Millionaire and Steve Jobs — plans a sequel to be his next film, according to a report from Deadline back in September 2015.
22. Pulp Fiction
Pretty much everything Quentin Tarantino put out between 1990 and 1999 will show up on this list — even though he's made a mere eight films in his nearly-three-decade career, each one has been an obsessive-compulsive perfectionist's masterpiece. Tarantino does with ultraviolence what Wes Anderson does with symmetry.
23. American Beauty
Kevin Spacey stars as Lester Burnham, a suburban husband on the cusp of a midlife crisis who becomes infatuated with his neighbor's daughter. It's an American Dream satire in the vein of Phillip Roth, and when it was released, Esquire named American Beauty among the best movies of 1999.
24. Fargo
Frances McDormand, William H. Macy, and Steve Buscemi star in the Coen Brothers' Minnesota-set murder mystery, in which a pregnant, fumbling cop accidentally happens on the solution to the crime.
25. Thelma & Louise
In 1991, the idea of two female leads in a black comedy about a crime spree was still quite revolutionary — but that's all the more reason to love Thelma & Louise, because, with stars Geena Davis and Susan Sarandon, it placed women at the heart of the narrative.
26. Safe
Safe, one of Todd Haynes' earliest movies, also doubled as a breakout vehicle for a young Julianne Moore. She plays a suburban housewife with severe environmental sensitivities who constructs a bubble to inhabit, sheltering her from the surrounding world. It was voted the best movie of the decade in a Village Voice poll in 1999, though we might not go that far.
27. Jackie Brown
Quentin Tarantino's most underrated movie stars Pam Grier as flight attendant-turned-black market arms dealer. It's an ode to, and satire of, '70s blaxploitation movies, many of which Grier herself starred in during the heyday of her career.
28. Boogie Nights
The dance moves are the underrated heroes of Boogie Nights.
29. La Haine
The only foreign-language film on this list, La Haine depicts cycles of violence in the French suburbs — and despite its root in early-'90s crime in the Parisian banlieue, it's painfully resonant even today.
30. My Cousin Vinny
Perhaps the best part of my early encounter with My Cousin Vinny was the revelation at the conclusion, courtesy of my mother, that I, too, have a cousin named Vinny. But really, the revelation of My Cousin Vinny is young Marisa Tomei playing Mona Lisa, the fiancée of the titular lawyer Vinny.
31. Toy Story
Toy Story gets knocked down a little bit because, if I'm being completely honest, the uncanny has always made my skin crawl. The idea of my toys moving around in my sleep was the stuff of my nightmares — quite literally. Yet Toy Story is an undeniably brilliant bit of animation, and it captures the entire imaginary universe of childhood in a way that few other movies have managed.
32. Fight Club
Brad Pitt, Helena Bonham Carter, and Edward Norton co-star in Fight Club, the Chuck Palahniuk-inspired, David Fincher-directed movie that also features a stomach-curdling cameo by Jared Leto squarely between Thirty Seconds to Mars and his debut as a "Serious Actor" in Requiem for a Dream.
33. Schindler's List
A towering Liam Neeson commands Schindler's List as Oskar Schindler, a Nazi party member and factory owner who helped save the lives of more than 1,000 Polish Jews by recruiting them to work in the factory. Director Steven Spielberg reportedly refused to accept a salary for his work on the film, according to Mental Floss.
34. The Big Lebowski
With white Russians and "The Dude abides," The Big Lebowski — and Jeff Bridges in its titular role — was responsible for many catch-phrases and memorable fragments that have outlived the film itself.
35. Scream
A horror film satire disguised as a horror film, Scream plays with all the classic genre tropes and still manages to be terrifying.
36. Forrest Gump
Tom Hanks earned the second of two consecutive Oscars for Best Actor for the title role in Forrest Gump, in which he played a mentally handicapped yet inexplicably talented athlete. "Run, Forrest, run!" might be the film's most lasting legacy, but Forrest had a far more lasting legacy on most major events in the middle 50 percent of the 20th century.
37. Blair Witch Project
A movie that's not to be watched alone at night, The Blair Witch Project was the godfather of cinema verité. It's scary enough on its own, but its faux-documentary style blurs the line between fiction and reality.
38. Aladdin
It's oh-so-tempting to place every good Disney movie from the decade on this list, too — from Aladdin to The Lion King, it was a banner decade for Disney princesses.
39. Before Sunrise
The first in three installments of Richard Linklater's Before trilogy, which spans multiple decades for its actors and their characters. Among romantic comedies like Two Days in Paris and Lolo, it's easy to overlook Julie Delpy's dramatic talent, which is in top form in the Before trilogy.
40. Good Will Hunting
Matt Damon plays Will Hunting, a mathematically gifted Massachusetts Institute of Technology janitor who begins a court-ordered treatment session with psychiatrist Sean Maguire (Robin Williams) and starts studying math with MIT professor Gerald Lambeau (Stellan Skarsgard). It was a critical and commercial success back when it was released in 1997, and it still holds up.
41. Shakespeare In Love
Shakespeare in Love won seven Oscars during the 1999 ceremony: Best Picture, Best Original Screenplay, Best Art Direction, Best Costume Design, Best Original Score, and acting prizes for its two female leads — Best Supporting Actress for Judi Dench and Best Actress for Gwyneth Paltrow. It's Paltrow's only Oscar to date, but it's a worthy one in a film that tells the story behind Shakespeare's Romeo and Juliet.
42. Home Alone
Baby-faced Macaulay Culkin was never better than in the very first Home Alone movie, first released in 1990. It set standards for kids everywhere who begged to be left home alone without supervision.
43. Mulan
A musical imagining of the tale of a real Chinese woman warrior named Hua Mulan, Mulan depicts what it's like to be a woman in a patriarchal society. While it begins with Mulan disguising herself as a man in order to be accepted among her soldier peers, it ends with her being accepted on her own terms, in front of an audience of thousands of Chinese citizens she saved from invasion by the Huns.
44. The Silence of the Lambs
I mean, without The Silence of the Lambs we probably wouldn't have gotten Bryan Fuller's Hannibal. Anthony Hopkins makes a truly menacing Hannibal the Cannibal.
45. 10 Things I Hate About You
A Taming of the Shrew for the '90s set, 10 Things I Hate About You is the best of romantic comedy. It stars Julia Stiles and Heath Ledger, as well as a very young Joseph Gordon-Levitt. Like Pretty Woman, it's a rom-com for even the most cynical moviegoers.
46. Balto
It got a bad critical rap upon release, but critics like Roger Ebert praised Balto — the late Chicago Sun-Times critic wrote that "this is a kids' movie, simply told, with lots of excitement and characters you can care about." It's a captivating story even leaving aside the real-life inspiration for the movie, and it features voice work from Kevin Bacon, Bridget Fonda, and Phil Collins, as if you needed more motivation to re-watch it.
47. Spice World
Right, okay, let's get this out of the way: Artistically, Spice World might not be the best movie of an entire decade or even the 46th-best movie of the decade. And yes, it currently rates a meager 29 percent on Rotten Tomatoes. But Spice World was like a British Invasion for the '90s set — for young women watching the movie in their pre-teen years, it was funny and dry and even a little raunchy. It made us feel mature and worldly and above all, it was a massive hit with five central female characters.
The best work of the '90s ran the gamut from Disney animation to romantic comedies, from crime thrillers to horror satire. It may have aged a bit (see the style choices from Clueless and Silence of the Lambs alike), but these movies had an undeniable impact on filmmaking going into the '00s and continue to set the bar for what contemporary movies can and should look like.
Images: Walt Disney Studios; Warner Bros. Pictures (2); Giphy (34); Miramax Films (4); Gramercy Films; Sony Pictures Classics; Universal Pictures; Dimension Films; Paramount Pictures; Orion Pictures; Dreamworks Pictures