Alan RIckman's Potter Goodbye Will Make You Cry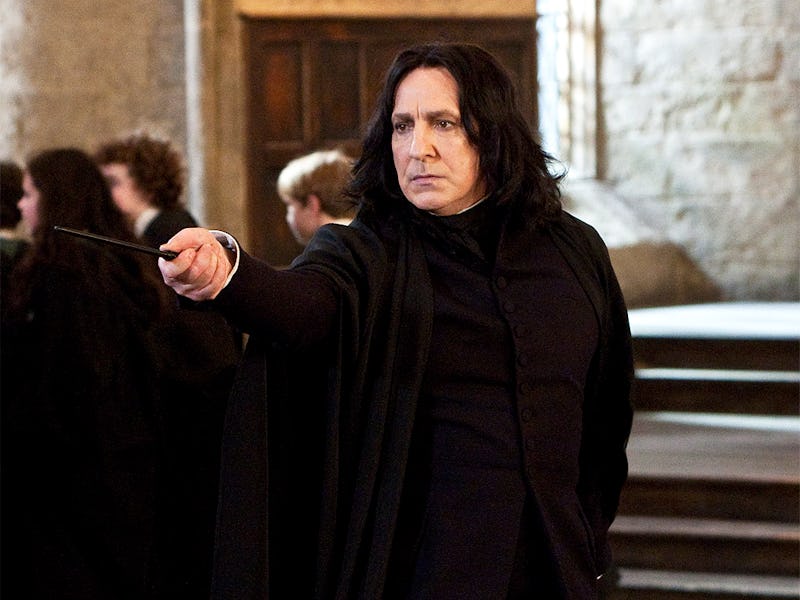 Depending on what generation you're in, you might've known the late Alan Rickman for his role as a grieving woman's husband in Truly, Madly, Deeply, or perhaps for his time playing the bachelor Colonel Brandon in Ang Lee's Sense and Sensibility. But for so many of the iconic actor's fans, his most memorable performance will always be Severus Snape, from the eight, beloved Harry Potter movies. Rickman was pitch-perfect as the complicated, layered professor, an angry, sad man whose true self, hidden behind sneers and greasy hair, wouldn't be revealed until the very end of J.K. Rowling's series. Fans loved him (or, more accurately, loved to hate him) as Snape, and, as this moving letter written by Rickman back in 2011 shows, the actor enjoyed his time playing the role just as much as we enjoyed watching him in it.
Written in April of 2011 for Empire magazine, right after Rickman had apparently completed his last Harry Potter scenes ever (Deathly Hallows — Part 2 would be released in July of that year), the letter is an incredibly moving piece that shows just how much playing Snape truly meant to Rickman. Discussing his memories of seeing Daniel Radcliffe, Emma Watson, and Rupert Grint as children, Rickman wrote that "a lifetime seems to have passed in minutes," a sentiment that could be shared by so many Harry Potter fans. He then thanked J.K. Rowling for giving him the part and persuading him that "there was more to Snape than an unchanging costume," before concluding with this powerful paragraph: "It is an ancient need to be told stories. But the story needs a great storyteller. Thanks for all of it, Jo."
You can read the entire letter below. Rickman's words were moving then, but now, after his passing, they're even more poignant. It's wonderful to know that the actor loved his role in the series just as much as fans did, even if it makes knowing he's gone harder than it already was.
Image: Warner Bros.