'Harry Potter' Cast Reacts To Alan Rickman's Death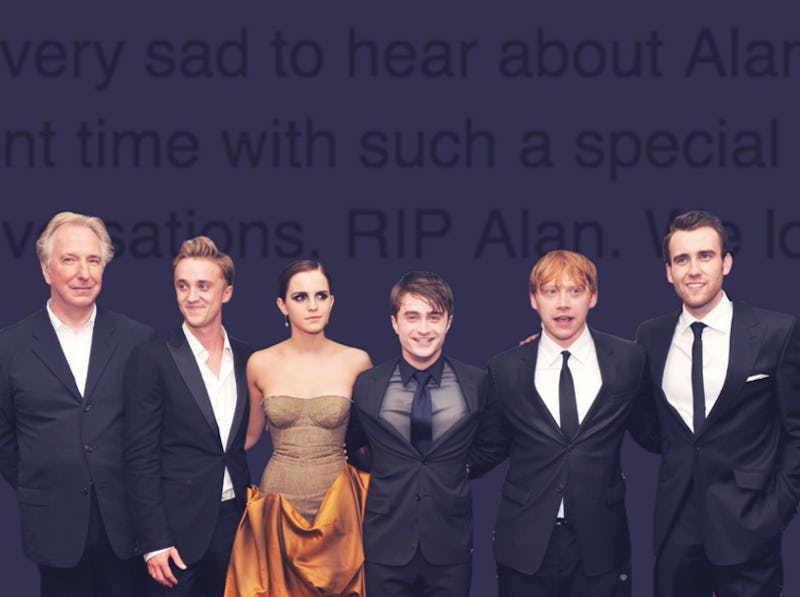 Potterheads are devastated over Alan Rickman's death after losing his battle to cancer at just 69 years old. Well, now the Harry Potter cast is opening up about Rickman's death by expressing their deepest sorrows and heartbreak about the actor, who they describe as a wonderful man, in more words or less. As expected, the actors can't believe the news and are extremely sad to know the man who they worked with for so many years is no longer with us. I think that's going to take awhile to sink in, and rightfully so.
The cast reactions are typically emotional, but they also have a common message. That being, Rickman was an amazing teacher who taught, especially the young stars, so many life lessons, especially about acting. See? He was a real-life professor, just like his Harry Potter character Professor Snape. Now that is something truly heartwarming to hear.
From Daniel Radcliffe, Emma Watson, and Matthew Lewis, to Rickman's long-time co-star Emma Thompson (in addition to the Harry Potter films, they appeared together in Sense & Sensibility, Love Actually, Judas Kiss, and The Song of Lunch), there are many Harry Potter stars who are opening up about the legendary Rickman. Be sure to grab a box of tissues, because, like HP author J.K. Rowling, these stars are going to make you shed a tear or two.
Daniel Radcliffe (Harry Potter)
On Thursday, Radcliffe took to Google Plus to share his thoughts. Part of his post reads:
Alan Rickman is undoubtedly one of the greatest actors I will ever work with. He is also, one of the loyalest and most supportive people I've ever met in the film industry. He was so encouraging of me both on set and in the years post-Potter. I'm pretty sure he came and saw everything I ever did on stage both in London and New York.
His conclusion is even more touching:
As an actor he was one of the first of the adults on Potter to treat me like a peer rather than a child. Working with him at such a formative age was incredibly important and I will carry the lessons he taught me for the rest of my life and career. Film sets and theatre stages are all far poorer for the loss of this great actor and man.
Emma Watson (Hermione Granger)
Rupert Grint (Ron Weasley)
"I am devastated to hear about the passing of Alan Rickman, I feel so privileged to have had the opportunity to work with him on numerous occasions — even though he has gone — I will always hear his voice," Grint said in a statement released to Bustle. "My thoughts are with his friends and family at this time."
Emma Thompson (Professor Trelawney)
Thompson and Rickman worked together on multiple occasions. Part of her statement about his death reads:
Alan was my friend and so this is hard to write because I have just kissed him goodbye. What I remember most in this moment of painful leave-taking is his humor, intelligence, wisdom and kindness. His capacity to fell you with a look or lift you with a word. The intransigence which made him the great artist he was — his ineffable and cynical wit, the clarity with which he saw most things, including me, and the fact that he never spared me the view. I learned a lot from him.
Matthew Lewis (Neville Longbottom)
Jason Isaacs (Lucius Malfoy)
Isaacs also said in a statement released to Bustle, "Sidestepped by the awful news today. The polar opposite of the icy, manipulating characters he became best known for, Alan was hilarious, warm-hearted and fabulous company. To witness his laser-like honesty and precision as an actor in the flesh was a rare privilege. A great artist and a lovely man."
James & Oliver Phelps (Fred & George Weasley)
Devon Murray (Seamus Finnigan)
Chris Rankin (Percy Weasley)
Bonnie Wright (Ginny Weasley)
"As a young actor I was incredibly fortunate to have worked with Alan and be exposed to his graceful methods," she said in a statement release to Bustle. "He had that rare ability to shift the energy of a set the moment he walked on. I will never forget his deep, measured and theatrical voice. He will be missed by the Potter family."
The Harry Potter cast just proved all over again how special Rickman truly was.
Image: Caroline Wurtzel/Bustle