Here's How To Tell If You're Allergic To Makeup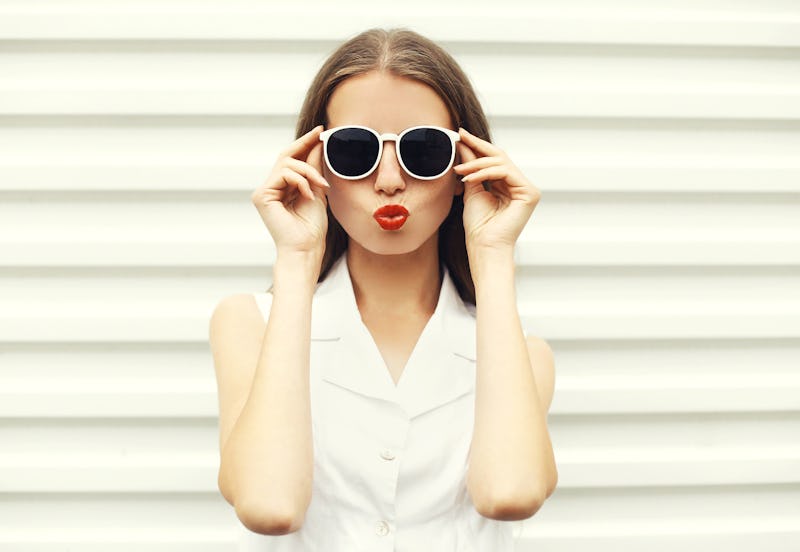 As beauty junkies, we tend to want to try every new product. But for those with sensitive skin, a common concern is how to tell if you're allergic to your makeup. Since an allergic reaction can manifest in many different ways, I talked to several skin experts about the various signs. Lead Esthetician of Shen Beauty, Carrie Lindsey, explains that makeup allergies most often show up as a skin irritation called contact dermatitis. "[Contact dermatitis] can appear in the form of red, dry patches on the skin, or with more severity there will be inflammation in the form of hives or raised, dry patches." This is the rashy, red blotchiness you probably already recognize as a sign a product isn't right for you.
However, Celebrity Skincare Expert and Co-Founder of TULA, Dr. Roshini Raj, notes that there are other signs to look out for as well. She says, "your skin might sting, burn, itch, or get red right where you used the product." And in addition to blisters, some less-common reactions that Dr. Raj lists include the development of blackheads, folliculitis (inflamed hair follicles), or darkened skin. Of course, the first thing to do should you notice any of these symptoms, is to stop using the product immediately. Dermatologist, Dr. Debra Jaliman, explains that within a week or so, the reaction should subside on its own.
If it doesn't? Be sure to check with your physician or dermatologist to determine what's best for you, but Dr. Jaliman suggests "treatment with either a topical steroid preparation or antihistamines or steroids by mouth if it's a severe reaction."
If you notice that you commonly have reactions to beauty products, try scanning the ingredients to see if you can find a common one that may be causing your irritations. Dr. Jaliman recommends to "stay away from fragrance because that is the number one cause of allergic reactions to makeup and skincare products." She further explains that "preservatives can also cause problems— the most common ones are parabens, imidazolidinyl urea, and quaternium-15." Need some recommendations? Here are eight makeup products that should keep allergic reactions at bay.
1. Primer
This primer is oil, silicone, paraben, and fragrance-free, making it perfect for all skin types.
Lorac "I'm So Sensitive" Soothing Face Primer, $32, Amazon
2. CC Cream
This CC cream is all-natural, fragrance and paraben-free, and hypoallergenic to boot.
Physician's Formula Organic Wear CC Cream SPF 20, $10, Amazon
3. Setting Powder
Sensitive skin will love this vegan powder that is formulated without fragrance, parabens, phthalates, talc, gluten, or mineral oil.
Cinema Secrets Ultralucent Setting Powder, $12, Amazon
4. Concealer
Not only is this concealer free from all of those bad ingredients like parabens, mineral oil, and fragrance, but it also treats blemishes.
COVER FX Blemish Treatment Concealer, $25, Check It Out
5. Powder Foundation
A powder foundation free from synthetic fragrances and dyes, talc, sulfates, and parabens? Yes, please.
Josie Maran Argan Matchmaker Powder Foundation , $34, Check It Out
6. Blush
A gorgeous flush can totally be achieved without parabens, fragrance, talc, or gluten.
Hourglass Ambient Lighting Blush , $35, Check It Out
7. Bronzer
You get the idea. This bronzer gives a summer-glow without any of those annoying ingredients that could cause a reaction.
Tarte Amazonian Clay Matte Waterproof Bronzer, $30, Sephora
8. Highlighter
Even this cult-favorite highlighter is formulated sans fragrance and parabens. Score.
Becca Shimmering Skin Perfector Pressed, $38, Check It Out
Images: rohappy/Fotolia; Courtesy of Brands