Meet Bobby "Axe" Axelrod Of 'Billions'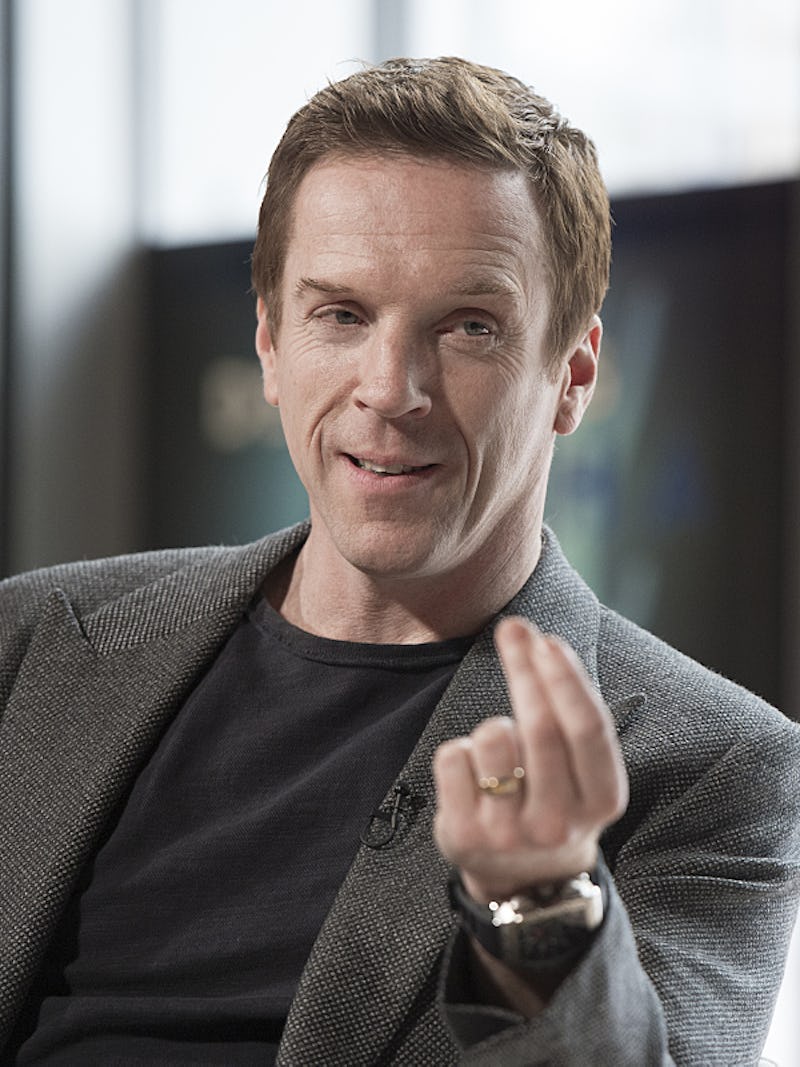 Damien Lewis' return to Showtime comes in the form of Bobby "Axe" Axelrod on the new show Billions . Lewis made a name for himself playing USMC Sergeant Nicholas Brody on Homeland, and his return to the network seems to be another serious turn for the actor. His character Axelrod is a multi-billionaire thanks to his involvement with hedge funds. Seeing as the big screen has enjoyed major success with Wall Street films — The Big Short was just nominated for five Oscars, after all — the finance world is a wise topic for television to tackle. You know what they say, truth is stranger than fiction, so is Bobby "Axe" Axelrod based on a real person? If so, who could it possibly be?
The New York Post claims that Billions was inspired by the charges brought against hedge-fund manager Steven Cohen by US Attorney Preet Bharara in 2012. (Both declined to comment to the Post regarding Showtime's trailer for Billions.) But the Wall Street Journal reports that even though some people are drawing parallels between Axelrod and Cohen, the show's creators Brian Koppelman, David Levien, and Andrew Ross Sorkin have said "there is no direct correspondence between any real-life individual and their fictional characters."
Cohen, like the fictional Axelrod, is very wealthy. Very wealthy. He was listed at #37 in the Forbes 400 this year, with a total net worth of $12 billion dollars.
In his case, Cohen was implicated, but never found guilty, of insider trading in what The New Yorker calls the "most lucrative insider-trading scheme in history." The Guardian reports that Cohen neither admitted nor denied guilt. In regard to the federal inquiry of the alleged insider trading scheme, a spokesperson for Cohen's firm SAC Capital Advisors LP told the Wall Street Journal in 2012: "Mr. Cohen and SAC are confident that they have acted appropriately and will continue to cooperate with the government's inquiry."
The New York Times reports that in 2013, SAC Capital pleaded guilty to insider trading and paid a $1.2 billion fine. Its founder Cohen, however, was not charged. SAC's management released a statement in Nov. 2013:
We take responsibility for the handful of men who pleaded guilty and whose conduct gave rise to SAC's liability. The tiny fraction of wrongdoers does not represent the 3,000 honest men and women who have worked at the firm during the past 21 years. SAC has never encouraged, promoted or tolerated insider trading.
In his spare time, Cohen has a reported habit of "collecting" large mansions and iconic pieces of artwork, according to Business Insider. The worth of his multiple homes combined allegedly totals close to $280 million over six properties, reports Forbes. Cohen is also a notable art collector, having recently paid $115 million for a Picasso, according to Forbes. This extravagant lifestyle is one most of us can only imagine, and the fictional Axelrod on Billions lives a similar dream. Then again, so do many men portrayed in finance movies.
Axelrod and Cohen do share similar upbringings. Axelrod and his wife Lara were not brought up in hyper-wealthy environments. Similarly, WSJ reports that Cohen was the son of a dress manufacturer and a piano teacher in the suburbs of New York before becoming a billionaire on Wall Street.
There is, however, one thing that both Axelrod and Cohen most certainly have in common: their news-worthiness. Billions is getting rave reviews and garnering a lot of buzz. As for Cohen's headlines, in early Jan. 2016, the SEC announced that Cohen would be prohibited from managing outside money until 2018. Business Insider reports that Cohen sent the following statement to his firm:
Provided that we maintain our world-class compliance programs and continue to adhere to the high ethical standards defined by our Mission and Values, we can expect to again be able to manage outside investments, effective January 1, 2018.
It may be two years before Cohen can manage money again... but Billions airs weekly. Now that's money in the bank.
Images: JoJo Whilden, Jeff Neumann/SHOWTIME