How This Engineer Shattered The Glass Ceiling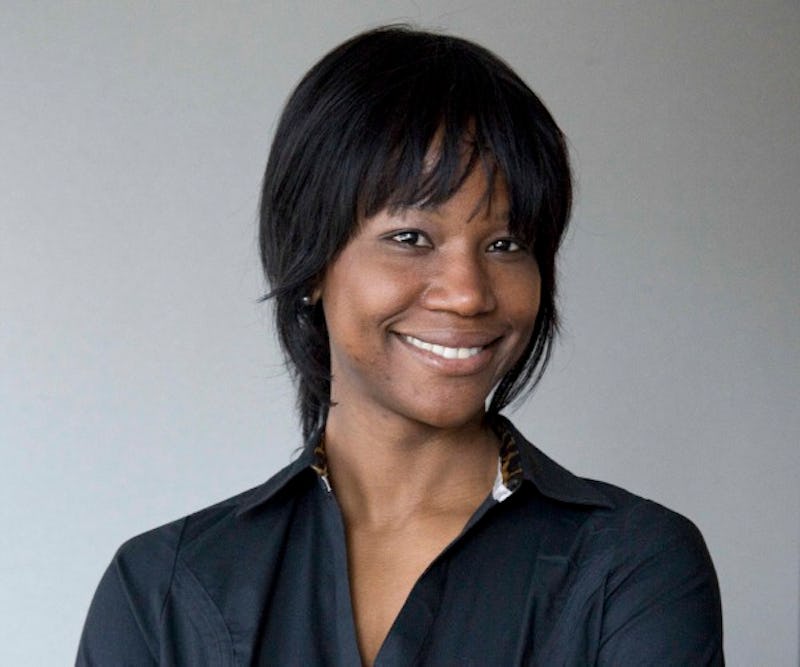 If there is a glass ceiling in Fatou Jabbie's way, you can bet that she is going to shatter it — but not until she has made it more efficient. Jabbie, an energy efficiency expert and a small business owner, has helped architects, companies, and government agencies build greener buildings, develop better software, and engineer network solutions. Whether Fatou Jabbie is shattering a glass ceiling in engineering or helping a business meet legally required efficiency standards, she lives by the same philosophy that she instills in her clients: that there is always the potential to do more.
Jabbie was born and raised in The Gambia, a small western African country bordered on three sides by Senegal and on one side by the Atlantic Ocean. Most of her family still lives there, though she admits that she hasn't returned in at least five years. She left her home country in 1994 in order to attend college in the United States, graduating from Kentucky State University with a bachelor's degree in computer science.
At least as early as her undergraduate education, Jabbie was breaking gender stereotypes (and as an immigrant, no less). The percentage of women in computer science majors has been in decline for decades — from 1990 to 2000 (and beyond), about 25 to 30 percent of computer science majors were women. Today, it's closer to 15 percent.
After graduating, Jabbie eventually found herself on the West Coast, working as a software developer during the dot-com boom. After several years in Seattle, Jabbie left the city she still calls her "home away from home" for the Big Apple. "I wanted to be in a city where I could start my own business," she says of New York City. When a company she consulted for offered her a full-time position, she sat down to the negotiations table. In a move that would make Jennifer Lawrence beamingly proud, Jabbie left the table without settling and instead decided to go it alone. "When I didn't get the base salary that I had anticipated," she says, "I thought that was a good time to take the chance of starting my own business."
That business is called USL Technology, a sustainability and energy efficiency consulting firm that works with clients throughout the five boroughs to make buildings in New York City more efficient. When she first started, Jabbie's focus wasn't on energy efficiency, but rather on providing information technology (IT) infrastructure for small businesses. Then, a new technological innovation called Cisco EnergyWise, which was able to monitor energy-consuming systems, turned her onto efficiency. "That's how I became really interested in energy efficiency," she says. "That's also how I pivoted into sustainability — I didn't really start out wanting to go into sustainability."
Wanting to learn more about this new field and wanting to give herself and her company a competitive advantage in the services she could offer, Jabbie enrolled in a sustainability management graduate program at Columbia University. During her time at Columbia, Jabbie participated in the Environmental Defense Fund's Climate Corps fellowship program, spending roughly 12 weeks embedded in Northrop Grumman, one of the world's largest defense contractors, auditing one of its facilities for energy consumption.
This is just a snapshot of Jabbie's wholly impressive resume — a highlight reel, if you will. During our interview, she tells me about thermal energy and network operations, things that I usually have to consult a textbook or a 1-800 customer service number to figure out. Yet, no matter how little of the technical language I comprehend, it's pointedly obvious that Jabbie is in her element.
Toward the end of our conversation, I ask Jabbie the question I had been dying to ask since we first began — in paraphrased form: What is it like to be a woman in this line of work? Her answer is both sobering and optimistic. "I usually don't like talking about this because, sometimes, people just don't get it," she begins. It's funny that out of all of the technical things we've discussed, she finds this the only difficult part for people to understand — but I do get where she's coming from.
Once she does start talking about the female elephant in the room, though, she describes the sobering reality she faces. "If I thought it was difficult for me to be an IT engineer, it's even more difficult being in the energy industry and being in the construction industry and being in the real estate industry," she says. "It's a predominantly male environment, and it's almost like I have to prove myself five times more for people to even look at my credibility. Most of the time, when I'm at places, people don't even expect that I am part of the industry. ... It's almost like, 'No, she doesn't exist.'"
They'll say, "So what brings you here today?" and I'll say that I'm in sustainability, and I'm in energy efficiency, and they'll say, "That's interesting." ... It's almost dismissive.
Jabbie goes on to say that she often feels that men who have less experience than her are listened to more quickly than she is. "I don't understand the psychology behind that, but I find it fascinating," she says. That's part of the optimism I mentioned — she recognizes that the odds in the industry are stacked against her, yet she finds that fascinating... and she has a universally applicable strategy to work around it.
"I try to do what I can do within my own capabilities — and that is to cultivate relationships with my prospective clients," she says. "I'm running a business and when I solicit opportunities with potential clients, I sit in front of them and I know that when I have the opportunity to sit at the table, I can deliver and I'll talk the talk and walk the walk."
It's difficult to determine just how rare a woman in Jabbie's position is. After all, as she says herself, sustainable energy engineering is still an emerging field. She's not building hydroelectric dams or hybrid cars, but rather making sure that buildings in New York City are constructed to operate as efficiently as possible.
In New York City, buildings are responsible for between 70 and 80 percent of greenhouse gas emissions. Simple design changes during construction can greatly reduce that number — and Jabbie points out that it's often mandatory for developers to make those decisions anyway, thanks to energy codes and the growing pressure on businesses to meet LEED and similar certification standards. To meet these standards, businesses can use efficient materials and pay closer attention to sealing gaps that let air leak out of buildings.
In reality, Jabbie's role touches many male-dominated industries. Take construction, for instance, where fewer than 9 percent of workers are women. Similarly, just 11 percent of engineers are women. These numbers don't even offer a breakdown by race or ethnicity, but it's safe to say that Jabbie is one of very few female African immigrant engineers. She's also a female business owner — one of the roughly 29 percent of small business owners in America who are women.
So often, Jabbie is tasked with helping businesses meet and understand the legally required minimum efficiency standards. To that, she says, "I don't know when meeting the minimum was ever a goal. If you can meet the minimum, you can do more."
That's the perfect call to action not just for construction teams and real estate developers in New York, but also for the workforce of our country as a whole. Jabbie has probably done far more than statisticians or the skeptics in her industry ever expected her to — and she's not done yet. Whether it's making buildings more efficient or creating more opportunities for women, we can always do more.
Images: Fatou Jabbie (2)