Don't Use Olive Oil For These 6 Types Of Cooking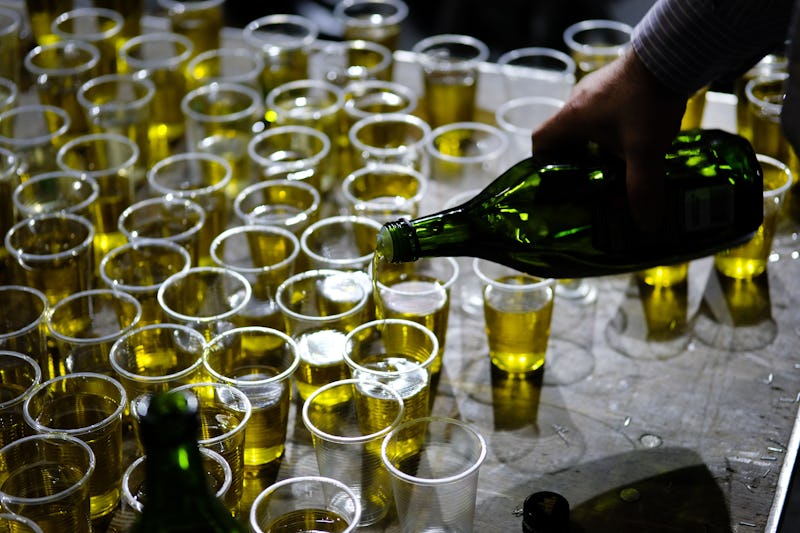 Spencer Platt/Getty Images News/Getty Images
When it comes to cooking, most of us reach for the olive oil without second thought. However, the heart-healthy oil may not always be the right choice, as their are certain times you shouldn't use olive oil in your cooking. Whether you're preparing something a specific way, or you're making a dish with a very distinct flavor, there are sometimes other oil options that end up being healthier and more tasty for the type of dish you're making.
"Olive oil consumption is routinely encouraged by healthcare professionals due to its high amount of monounsaturated fatty acids, which improve heart health," says Tory Tedrow RD, CNSC over email. "Although this is true, there are some caveats to these health benefits, particularly in regards to heating and something called the smoke point."
The smoke point is the temperature where heated oils stop simmering and begin to produce smoke. "A little smoke is okay, but after awhile, the heat breaks down oils into free radicals, damaging molecules associated with aging and disease, and produces a burnt taste," says Tedrow. "The issue with olive oils is that they have low smoke points, making it easy to surpass them when cooking."
If you're one to always reach for the same bottle, consider these six times you shouldn't use olive oil in your cooking and should opt for something else.
1. When Making A Stir Fry
"It is best to avoid using olive oils when utilizing cooking techniques that require a high temperature such as sautéing or stir frying, in order to avoid free radical production," says Tedrow. Instead, opt for canola, peanut, or grapeseed oil, which all have medium smoke points and make great options for stir fry.
2. When Making Popcorn
Like frying, making popcorn requires high heat, rendering olive oil a risky option. "Canola oil or peanut oil should be used when doing high heat cooking like frying or making popcorn because they have a higher smoke point," says Rebecca Lewis, in-house RD at HelloFresh over email.
3. When Roasting Vegetables
"Olive oil has a smoke point of 325 to 375 degrees Fahrenheit," says Natalie Rizzo, MS, RD over email. "If you are roasting vegetables in the oven at a temperature higher than that, it's better to use an oil with a higher smoke point, such as canola oil or vegetable oil. This will prevent a burnt or acrid taste."
4. When Searing Meat
Searing requires high heat, and olive oil turns to smoke before reaching the necessary temperature. If you're searing steak, pork, or even fish, choose refined oils with a high smoke point such as canola, peanut, sunflower, and soy oils.
5. When Deep Frying
In addition to stir fries, anything else deep fried should use vegetable oil, or something with a higher smoke point such as avocado oil or sunflower oil. If you want less of a nutty flavor, canola oil works as well.
6. Roasting Chicken
Like with vegetables, roasting chicken requires a high temperature. Pure soybean oil, safflower oil and avocado oil are good for these uses, as their smoke points are are 495, 510 and 520 degrees Fahrenheit, respectively.
"Olive oil is still a great food to incorporate into a healthy diet, so long as it is used at a low temperature in order to help, not hinder your health," says Tedrow. "Tasty ways to do this include drizzling oil over a salad or hummus or using it as a dip for bread or pita slices."
Images: Getty Images (7)