Huge News For 'Jessica Jones' Fans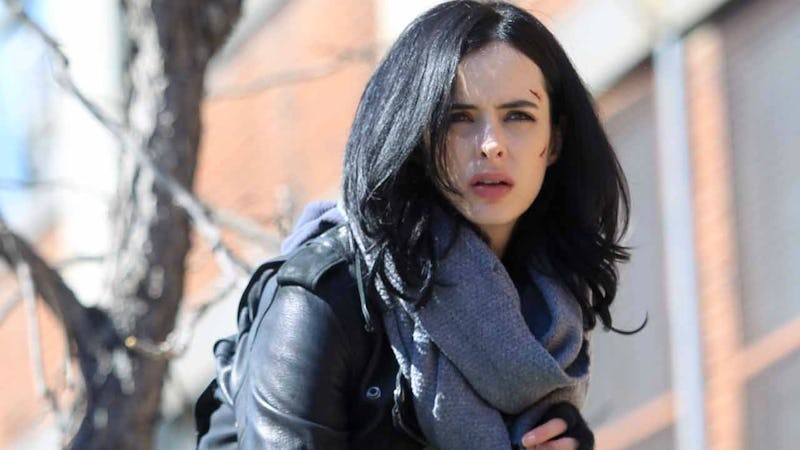 After months of hand-ringing and ample speculation over the series' return, the news has finally arrived: According to its Television Critics Association presentation on Sunday, Netflix has officially renewed Jessica Jones for Season 2. Despite the fact that the Marvel drama premiered in November to rave reviews, the streaming service had held out announcing its renewal, much to fans' frustration — as well as its stars'. When The Hollywood Reporter brought up the fact that the Netflix greenlit Daredevil shortly after its debut last year, Jessica Jones' Krysten Ritter said, "It's such a tricky thing. I'm not supposed to talk about that. But I think there is lots of story left to tell with Jessica and I really love playing the character. I would love to throw on her boots and leather jacket anytime."
Netflix has not yet announced a date for the season 2 premiere, but showrunner Melissa Rosenberg told The Hollywood Reporter in the same article that she's holding out hope for it to debut before the upcoming Marvel show The Defenders. "The question becomes is there actual time? There are logistics involved, because Defenders has to shoot by a certain time, contractually," Rosenberg said. "Actually, I'm not sure; I'm not at all involved in those conversations, much to my dismay. [...] I'd certainly love it to be before but there are things that play into that — time, availability."
Regardless of when Season 2 premieres, there's much to celebrate about Jessica Jones' return. As Rosenberg told Variety in December, "All the conversations I wanted to be happening around it are happening. There are just these wildly articulate insightful pieces being done about a feminist perspective, a political perspective, at a time where these subjects are getting some attention about women in Hollywood and women in the world, and how we're portrayed in the media. It's my life goal to contribute something to the world that hopefully moves it in a positive direction."
Jessica Jones is the second of five Marvel series already on or coming to Netflix: there's Daredevil, along with the upcoming Luke Cage, Iron Fist, and The Defenders. It's looking like the next few TV seasons will be a superhero bonanza, and for many fans, that couldn't be better news.
Images: Netflix; Giphy