Huge News For 'Unbreakable Kimmy Schmidt' Fans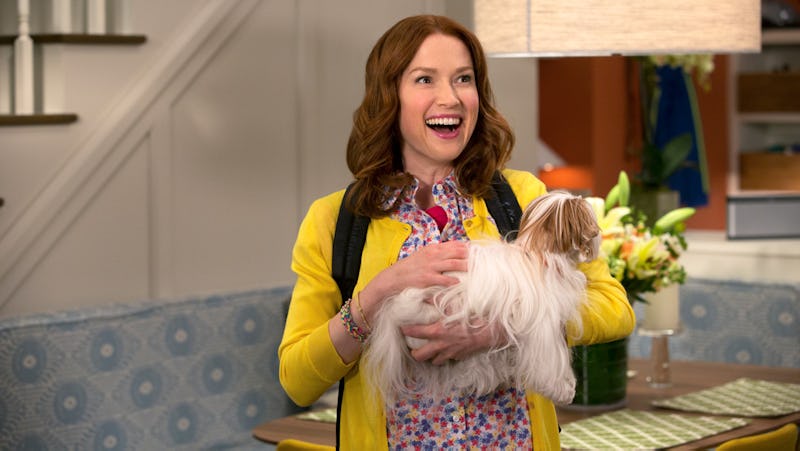 Friday, April 15 will be a happy occasion for Unbreakable Kimmy Schmidt fans. This is the date that the series, from SNL alum and mastermind Tina Fey, will return for a second season on Netflix. For the uninitiated, the Ellie Kemper led show centers around a young woman who's trying to build a life for herself in New York City after escaping a doomsday cult where she was forced to live underground. At the Television Critics Association's panel for the show on Sunday afternoon, it was confirmed that Unbreakable Kimmy Schmidt will have a Season 3. For the upcoming season set to debut this spring, Fey says of the title character: "She has deeper emotional life issues she has to deal with."
That being said, Fey stressed that she never wants the show too feel too scandalous in terms of content. "We became aware just anecdotally, that we have a very young audience. We wanted to make sure that even if we went towards more difficult ideas, you could still watch it with a 12 or 13-year-old audience," Fey says. "The original pilot a long long time ago was a little bit darker. We were right to tip it in the direction that we did. As a mom I would hate to put on the second season and it's like... prison sex. I mean that has it's place."
In terms of character arcs, fan favorite Titus, played by Tituss Burgess, will continue to seek fame in Season 2. "Towards the end of the [second] season there's an opportunity, but he is far, far away from the type of fame that he thinks he's deserving of," Burgess says. His character will also have a romantic relationship, according to Fey. Burgess appreciated this internal growth of his character. "He has to put someone's needs in front of his for the first time which is wonderful to watch."
Jacqueline Voorhees, played by 30 Rock vet Jane Krakowski, will be dealing with the after math of her divorce. "Jacqueline is trying to learn what her life is. She's trying to stand on her own two feet. They've given her more opportunities to grow into a more fully formed human being this season," Krakowski says. Kemper, whose character is employed by Jacqueline in the show, adds: "The employer/employee relationship is muddied a little bit since they are friends. Their dynamic changes a little bit."
Sitting a few seats down from Fey on the panel, Tituss complimented the writing of the show, specifically the writing of Kimmy's character, saying: "[Tina] knows how to write for women. You don't have a lot of positive, female heroes — people who are self-sufficient and can take care of themselves and don't need men to take care of themselves — and it's so cool."
"The name of the show in Japan is I am Power," Fey adds.
Images: Netflix; Tumblr [2]