12 Books To Help You Run Away With The Circus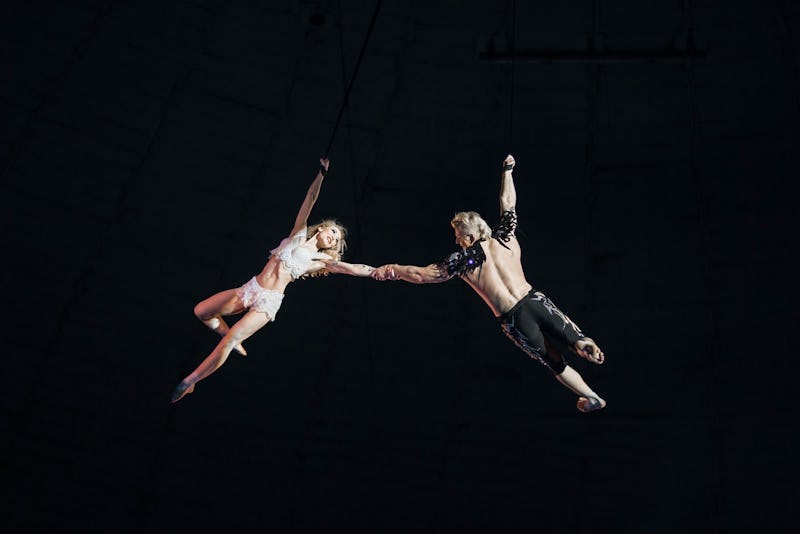 There's one fantasy that doesn't get old even when you do: running away with the circus. Escaping to the place that smells of cotton candy and fresh popcorn, that stands tall with red and white stripped tents, and reveals the most impossible human feats like contortion and fire eating right before your eyes always sounds like a grand plan. (Especially when you're overwhelmed with work and family and life in general.) While it may not be realistic for most, running away to the circus has never been easier with the help of a book.
I've always had a fascination with the circus — constantly writing fictional stories about it, reading circus books, and the brief moment of my life where I planned on becoming a magician. While I did learn a few card tricks, my magician days didn't last long. But that never stopped me from falling in love with the atmosphere of wide eyes and gasps under the bright lights of circus tents.
Recently, I've filled my TBR list with books that take place in or around circuses. Full of magic, suspense, and intricate characters who each have their own fascinating qualities, I had to share with you the best ones. Bring a spark of extraordinary into your everyday life with these 12 absolutely incredible books that'll make you feel that nostalgic craving to run away with the circus.
The Cirque American has just offered Jules Maroni and her family of circus-act stars, a prestigious role. Jules has always wanted to follow her father's footsteps and become a high-wire walker, and that's exactly what she does. Not even the rivalry between the Amazing Maronis and the Flying Garcias can stop her, but just as her fame begins to rise, unlucky talismans start appearing all around Jules. To save her act and herself from this dark magic, Jules turns to the Garcia boy for help, crossing a line that could either lead toward hope or a fatal fall. This book has everything you love about circuses, and the YA love story surely won't disappoint.
Welcome to Le Cirque des Rêves, the circus of dreams. The Night Circus is the tale of two trained illusionists bound at a young age to battle each other over the course of their lives without knowing who the other is, when it will take place, or how the rules work. As their story unfolds, a circus that opens at sunset and closes at sunrise is appearing all over the world, stunning people with its impossible nature and infinite tents showcasing extraordinary acts. This story will reinvent any image you had for a circus and will without a doubt make you want to pack up all your belongings and join this amazing world.
3. Big Fish by Daniel Wallace
If you've seen the movie then you know this story is about much more than a circus. Edward Bloom, an exceptional man, is on his deathbed. His son, William, is determined to get to know his father before he passes and dig deeper into all of the fantastical and fictional stories his father told him about his life as a kid. Living an amazing life that seems too far -etched to believe, Edward Bloom is not an easy one to crack the truth out from. One of my favorite parts of this novel is the strange circus Edward walks into, one filled with characters that will capture your heart and break it at the same time.
Fans of Big Fish will simply adore Circus Mirandus , the story of a boy named Micah Tuttle who wholeheartedly believes in magic and everything his dying grandfather tells him about the Circus Mirandus. It's a place where an invisible tiger guards the gates, a real birdwoman soars the skies, and the Man Who Bends Light exists. When Micha's grandfather offers proof that the circus is real, Micha sets out to find it, along with finding a miracle to help save his grandpa. If you were a kid who believed in magic and the impossible, you'll definitely love this book.
Mermaids versus tree climbers and tightrope walkers — this is the story of two competing circus acts fueled over generations of hatred. Lace Paloma, new to her family's swimming show, knows the secrets behind the black magic the rival Corbeaus family uses. Just one touch from her competitors could spell death. So it's surprising when the Corbeaus boy rescues Lace when disaster strikes in a town both families are performing in. His touch sparks something new between the two of them, and reveals a unique story within the bounds of a circus life.
When snarky, music-obsessed Lexi Ryan makes a huge mistake, she runs to the circus. Not for the sake of running away, but to run home, as her absent mother is rumored to work within a traveling circus in Florida. Her mother is no where to be found, but Lexi fits right in and quickly falls into the circus lifestyle, wondering if this is where she's always truly belonged — until her best friend shows up, questioning Lexi's choices and future. Filled with trapeze acts, incredible animals, and fortune tellers, you'll be addicted to Lexi's circus adventure.
If you're looking for a circus memoir, you just hit the jackpot. Tiny Kline shares stories from her spectacular performing life — from the burlesque stage to within the circus tent to days at Disneyland. Known for her "slide for life" and "iron jaw" stunt where she dangled from the trapeze with her teeth, Tiny has some very large tales to share. Offering insight on how the circus has changed over the years and the untold secrets of all the magic, you'll quickly be a circus professional after reading this.
A cast misfit of characters, including twins separated at birth, a serial killer, a Hindi film star, and a dwarf chauffeur, will astound you in John Irving's most ambitious work. This story may have a bit of slow start, but once it picks up, it'll throw you into the chaos of India and a series of stories you won't be able to put down. It's a big, heartbreaking, and completely hilarious book every circus and book lover must read.
Mosco's Traveling Wonder Show is home to many curiosities and strange sights from around the world, but among them is the normal Portia Remini, a runaway girl from McGreavy's Home for Wayward Girls. Finally free to live as she pleases, Portia seeks out her missing father. It isn't long before Mister McGreavy fulfills his promise to her that she could never truly run from him and is tracking her down. This is an exciting, heartwarming, and thrilling story of a young girl trying to find her place in the world among so many strange and wonderful things.
If you're intrigued by Harry Houdini (because who isn't?) you need to read this biography. Magic expert William Kalush and best-selling writer Larry Sloman reveal the passion behind the magician, the struggles he went through before making it big, and secrets behind his magical tricks. Leading a fascinating life, including his intriguing spy adventures, this is a breathtaking view into the most renowned magician to ever live.
The greatest train that was ever built, The Boundless, is traveling across the country, and Will Everett, a first-class passenger, is about to embark on the most exciting adventure of his life. Will soon becomes the target of a sinister attack from figures of his past after coming across a precious key to a forbidden train car. Without a choice, Will runs off and joins a traveling circus to keep under cover. Packed with suspense, this is an exciting book you won't want to miss out on.
This is the crown jewel of circus novels, and if you haven't read it by now, do so ASAP. Jacob Jankowski, the loving main character of Water for Elephants , is newly orphaned and drop out of college when he hops aboard an oncoming train. Come morning, his entire life has transformed. The Benzini Brothers Most Spectacular Show on Earth is his new home and family. Told during the prohibition and Depression, the circus distracts from the darkness, but that doesn't mean there isn't evil within the tall tents and train cars. This wicked love story will surprise you with an ending so shocking you might drop the book, and one that'll make you pack your bags and jump on the next circus train.
Images: Fotolia; Giphy