The One Thing You Need To Make Your Eyebrows Grow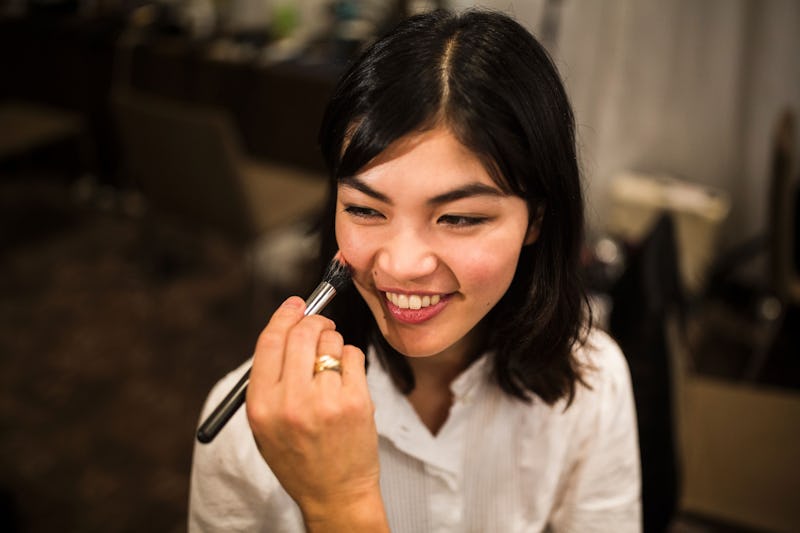 BEHROUZ MEHRI/AFP/Getty Images
If you've over-plucked and all your dreams of achieving on fleek brows seem impossible, you seriously need to shake off that attitude. With the one thing you need to make eyebrows grow, you can create thicker, fuller brows with barely any effort at all. While I love a good brow kit and manipulating my brow shape in fun ways on occasion, knowing I only need one hack to get and maintain full brows sounds pretty dang nifty.
To unlock the secret to making eyebrows grow, Bustle spoke celebrity brow stylist Nicoleta Barbarasa from Brighton Salon in Beverly Hills (her client list includes names like Sienna Miller, Nicole Richie, and Kristin Cavallari — fancy, no?). She explained, "It's not that I don't believe in those brow growing serums, it's just that I see the most hair growth from castor oil. It's amazing." What's more, the application process couldn't be simpler. "You put a drop in the morning and a drop in the evening, and even if people don't even need growth, you should still use it. It's good to maintain your hair."
As for the science behind why castor oil is so effective at growing thick brows, WellnessMama shared on her blog, "[The oil's] antibacterial and anti fungal properties make it beneficial against follliculitus, dandruff and scalp infections and its ricinoleic acid content helps increase circulation to the scalp and improve hair growth. [Additionally,] the antioxidants in castor oil also support the keratin in hair and help make hair stronger, smoother and less frizzy." Well, I'm sold.
Here are a few bottles to consider if you're ready for strong, healthy, bold brows!
Organic Castor Oil
Organic Castor Oil, $15, Amazon
This is my favorite brand of castor oil and is definitely one of the most affordable organic options.
Heritage Stone Castor Oil
Heritage Store Castor Oil, $7, Amazon
Buying castor oil might seem foreign to someone who's never purchased it, but it can be as easy as making a trip to your local drugstore.
NOW Solutions Castor Oil
Now Solutions Castor Oil, $9, Amazon
A little goes a long way, so this bottle will last you forever.
To reiterate Barbarasa, all you do is add a drop on each brow and rub through once in the morning, and once before bed. It's literally that simple!
Want more beauty tips? Check out the video below, and be sure to subscribe to Bustle's YouTube page for more hacks and tricks!
Images: BEHROUZ MEHRI/AFP/Getty Images; Courtesy Of Brand