Why Anastasia Liquid Lipstick Is A Must-Have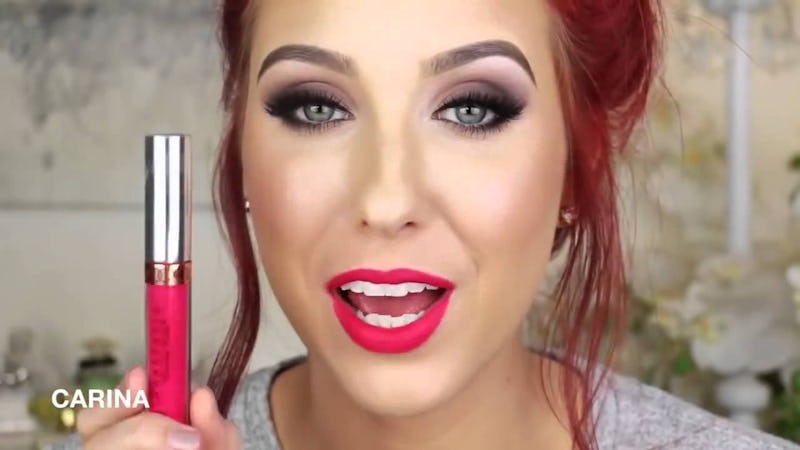 Nothing took the beauty world by storm in 2015 like liquid lipsticks. Almost overnight, every company added a liquid lipstick formula to their collection and everyone began to scramble to find their perfect shade and formulation. If you've been debating dropping a few dollars on a quality liquid lipstick, you may be wondering "Are Anastasia Liquid Lipsticks worth it?" I'm here to help you answer that question.
If you're not familiar with the popular product, here's a quick rundown: Liquid lipsticks are long wearing formulas that go on wet like a gloss but dry ultra matte, like a lipstick. They won't transfer like a typical lipstick formula, but they are also significantly more drying than a gloss or even a typical matte lipstick.
ABH Liquid Lipsticks, $20, Anastasia Beverly Hills
Anastasia Beverly Hills was one of the first companies to release a 19-shade liquid lipstick line in January 2015, and today the collection has expanded to 20 shades that literally cover every color of the rainbow. On the site, ABH describes their lipsticks as an "ultra-saturated liquid formula delivers an intense shot of matte pigment in one easy swipe. A single application gives you smear-resistant coverage that stays put for hours." Each shade retails for $20.
ABH Liquid Lipstick in Candy Apple, $20, Anastasia Beverly Hills
The lipsticks have been a hit, used by YouTube beauty vloggers like Jaclyn Hill to celebrities like Kylie Jenner. That said, it largely depends on the color you choose and the way you apply it. If you're still curious, here's how to know if the ABH liquid lipsticks are worth it for you.
1. You Love High Pigment
In this review, Jaclyn Hill states that she never had to re-dip her lip applicator into the bottle — every look was created with the amount of product on the applicator when pulled out. What does that mean? These lipsticks are ultra-pigmented and only need one application. A little goes a long way! If you're worried about the price, at least you know that this bottle will last you a long time!
2. You Love Wild Colors
Kylie Jenner chose the deep blue "Paint" shade to support World Bullying Prevention Day.
3. You Love Pretty Packaging
Anastasia Beverly Hills' price point is normal for mid to high quality lipsticks, and they're packaging reflects it. If you're a packaging nerd, you'll love these.
4. You Love Longwear Formulas
ABH Liquid Lipsticks, $20, Anastasia Beverly Hills
If you're the type who loves everlasting lipstick and can commit to a color all day and night, you'll want these. They have a slightly tacky texture once dried, but they stay on forever.
Want more beauty tips? Check out the video below, and be sure to subscribe to Bustle's YouTube page for more hacks and tricks!
Image: Jaclyn Hill/YouTube