'Suicide Squad' Trailer Has This Classic Rock Song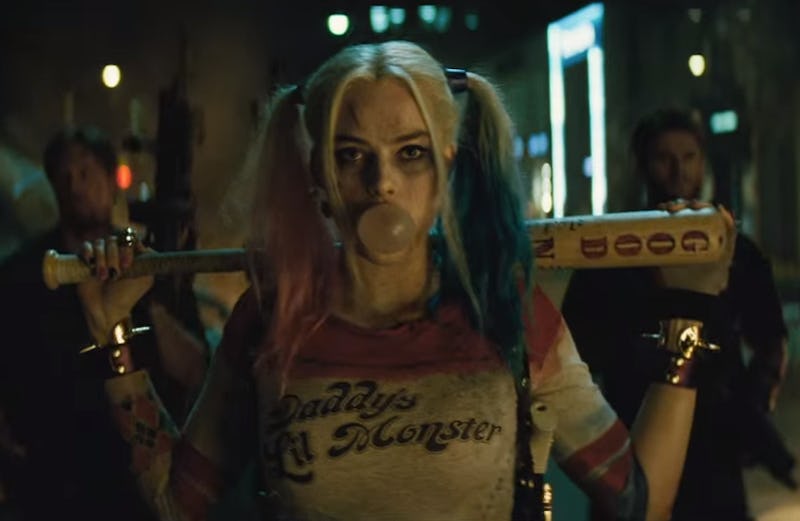 It's no secret that the right soundtrack can boost a movie from "memorable for a week" to a lifetime "Top Five Films" status. Turns out, song choice can be just as critical when it comes to a movie's trailer, because no one wants to buy a ticket for a flick that didn't succeed in, say, making your heart ache during the preview's melancholy ballad (think any Nicholas Sparks movie ever). In the case of the sure-to-be summer blockbuster Suicide Squad, there's no better pick than a legendary rock single that's just as wild as the film's characters. So, what's the song in the new Suicide Squad trailer?
Fans awaiting Suicide Squad's release are already gearing up for a wild and wacky couple of hours at the theater. Jared Leto as Joker is sure to be like nothing anyone has seen before. Margot Robbie's take on Harley Quinn seems absolutely terrifying in that cute sort of way, of course. Will Smith is just a badass at all times on screen. And Queen's 1975 epic rock opera single, "Bohemian Rhapsody," may be the only tune that can successfully capture all of the craziness to be had when the film releases in August. Each famous part of the six-minute musical suite — yes, the song has several different sections — gets a chance to shine in the preview.
But, to be fair, using Bohemian Rhapsody to attract moviegoers isn't the most original strategy Suicide Squad's producers could have gone with. The song has been covered, re-covered, pop culture-referenced, and snagged for soundtracks more times than Freddie Mercury could probably handle. Here are just a few of highlights.
When The Song Made It Into Wayne's World, And Basically Made Wayne's World
A whole new generation of "Rhapsody" fans found their way to Queen's most famous tune on the rock opera album because of Wayne's and Garth's hilarious car karaoke version.
When Bohemian Rhapsody Got Covered, By The Muppets
Kermit The Frog only makes a cameo at the very end, and that's okay. Animal trying to play drums, but getting distracted calling for his mama? Priceless.
When The English National Ballet Turned The Song Into A Thing Of Beauty, Not That It Wasn't Already
This number doesn't just make me want to have Mercury's vocal chords so, so badly. It also makes me wish I could successfully pull off just about any ballet leap. Really, any one of them would be enough.
When The Song Was So Good, It Even Got Samuel L. Jackson Headbanging In Loaded Weapon
This 90s spoof of Lethal Weapon had Samuel L. Jackson and Emilio Estevez as a police duo on a mission to solve the murder of a fellow police officer. And what better way to celebrate their accomplishments at the end than to find "Bohemian Rhapsody" playing on the radio?
When Kanye Tried To Do Bohemian Rhapsody Justice, And Fans Decided To Put The Performance To The Test
Kanye, you didn't sound much worse than I sound when I try to humor my mother by belting out the song's intro. Beware, however, the standard you are attempting to meet when you sing as legendary a Freddie tune as this in front of thousands of people.
When The Original Was Better Than Everything
You can't go wrong with a classic. You just can't.
Image: Warner Bros. Pictures/YouTube