Tips For A Perfectly Fitted Bra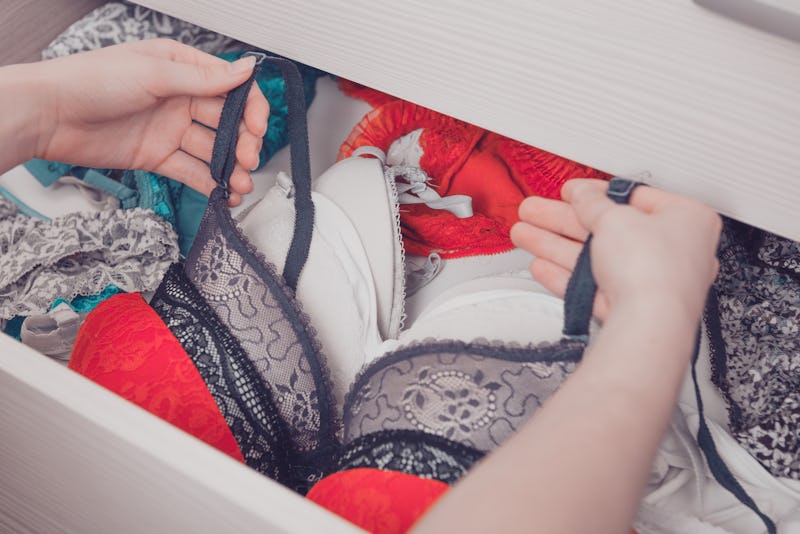 Finding the right bra is the eternal struggle. No matter how hard you search, it's either a little too big, or a little too small, or a little too padded, or not quite padded enough... you know the drill. The good news is there are actually ways to find the best bra ever for your body. You just need to know a few bra-shopping basics.
And if you constantly feel as though your bra drives you crazy or is just never quite right, there's probably a good reason — according to a study conducted by the Swiss lingerie company Triumph, approximately 64 percent of women are wearing the wrong bra size. This means that well over half of us are walking around tugging, adjusting, and generally feeling uncomfortable all day long. Additionally, according to Women's Wear Daily, 73 percent of women said that badly fitting undergarments can make or break their day. It can literally be the difference between tackling your day with confidence or feeling self-conscious as soon as you step out the door.
And as trivial as all this may sound in the grand scheme of things, trust me when I say I've been there. I spent years wearing the wrong bra size, and so was always self-conscious about my breasts. It wasn't until well after college that I started realizing how pivotal the right bra really is, and I've never looked back. I'll now devote a whole day to finding just the right one and don't waste any time keeping ones in my underwear drawer that don't make me feel great (you know the ones I'm talking about).
If you're tired of feeling uncomfortable in your own skin, here are seven tips for finding perfect bras. Trust me — it will change your life.
1. Choose Support Over Comfort
In an article for O Magazine, bra fitting expert and owner of Linda's Bra Salons Linda Becker said it's important to choose support over perceived comfort when shopping for bras. She noted that a well-fitted bra band should fit snugly across your back, and that the majority of bra support should come from the band, not the straps. You'll get way more comfort in the long-run.
Wacoal Awareness Underwire Bra, $65, Amazon
2. Never Assume Your Size, Even When Measured
Becker also noted that many women determinedly wear the same size for years, even when their bodies change. She said you should reevaluate your size once a year or every time you go bra shopping. And in terms of getting a professional bra measurement or measuring yourself at home, professional bra expert Elizabeth Dale actually said to always focus on how the bra actually fits over the size on the tag in a piece for The Huffington Post. "The measuring tape, and how it's used, isn't precise," she said. "Perfect fit is more trial and error, given all the different breast shapes and body types," and she also noted that cup and band sizes aren't the same across all brands anyway.
Vinyl Tape Measure, $5.97, Amazon
3. Buy New Bras Every Nine Months — At Least
This might sound excessive, but according to Glamour's Executive Fashion Editor Suze Yalof Schwartz on a video segment on The Today Show, we should be replacing our bras every nine months. If you keep them for longer, Schwartz says they'll lose their elasticity, and therefor their effectiveness.
Calvin Klein Perfectly Fit Modern T-Shirt Bra, $30, Amazon
4. The Hooks Are There For A Reason
The same Glamour piece reminded us that the three-tiered hooks on the back of the bra (for a less tight, medium tight, and more tight band) are designed to be tightened as the bra ages and stretches. This means that you should always try on a new bra on the least tight band setting.
Maidenform Two-Hook Bra Extender, $7.50, Amazon
5. Go For The Best Cup Shape For Your Body
New York-based style blogger and YouTuber Jalisa reminded us that just as there are cuts and styles of clothes that work best with each body type, the same holds true for bra cut and breast shape as well. For example, she noted that a demi bra works very well for smaller busted women, as they lift and shape. Meanwhile, a full coverage bra often works best with fuller busted figures, as ladies with larger breasts generally don't need padding and may pop out of demi and half cups. Again, it will often come down to a lot of trial and error as every body and every bra is different.
Playtex 18-Hour Ultimate Lift and Support Wire-Free Bra, $19, Amazon
6. Scrutinize The Fit
Knowing what to look for in terms of a good fit is super important when trying on bras. A piece on Glamour on finding the right bra size said to check that the bra cups lie smooth with no wrinkles, that the center of the bra lies flat against the breast bone, and that the back of the bra is even with the front (instead of hiking up in the middle). If it doesn't do all of these three things, then it's not the perfect fit.
7. It Pays To Pay More
And finally, while it may hurt our wallets to hear it, Dale noted that the higher quality the bra materials, the better the bra will be at supporting us. "Think about all the pieces that go into a bra: underwire, lace, padding, wide or thin straps, one or multiple hooks, etc. etc," she wrote. "Bras are subject to the same rules as the rest of the fashion world. Some clothes are made of higher quality fabrics or are so well-constructed, that they fit you like a glove. Others fall apart after one washing. The same holds true of bras. Cheaper materials, especially when asked to support the weight and motion of your boobs, won't wear as well." So don't be afraid to splurge when it comes to this super important item. Or do what I do and look for high quality brands at discount stores like TJ's and Marshall's.
A well-fitting, quality bra that does what it's supposed to is genuinely really important to our daily comfort and sense of confidence, so don't be afraid to block out a whole day for finding your perfect model. Just remember the above tips, and you'll be well on your way to the best fitting bras of your life!