The New +Size Lingerie Brand Making Harness Bras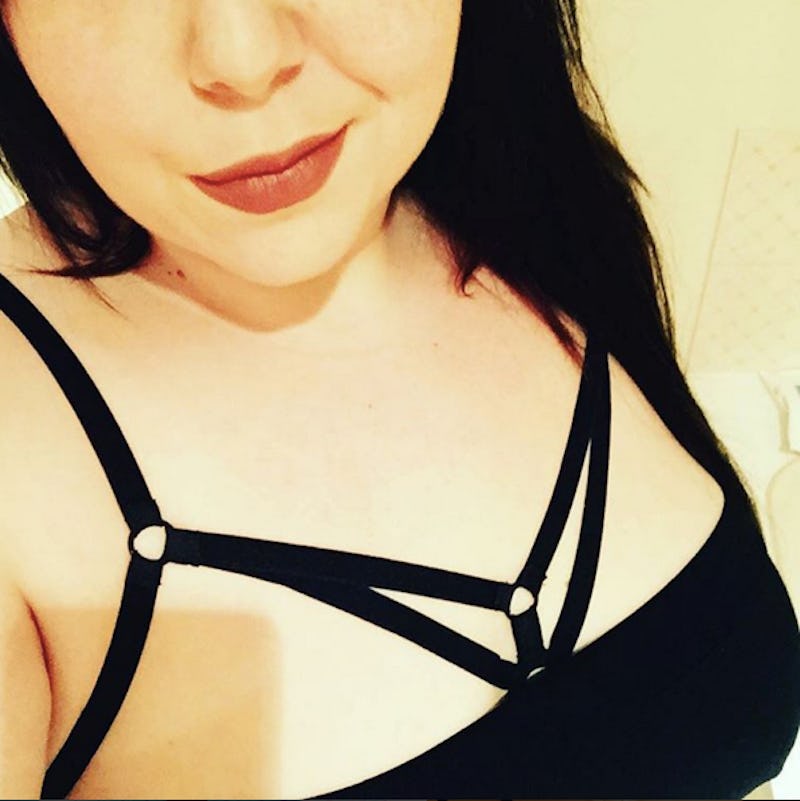 When it comes to plus size lingerie shopping, the search for the perfect bra and panty set at a price less expensive than a Van Gogh painting can sometimes seem near impossible. Finding a plus size harness for cheap, however, has just become an attainable reality thanks to new indie retailer Vixen Curves. The brand new business launched on Instagram only a couple of months ago, but is already building quite a following amongst body positive proponents.
The brand is based in the UK, but paying the $7 for international shipping seems totally worth it. After all, the total price is still likely to be lower than the cost of most other plus size bras. Ranging from $14 to $22 and in adjustable sizes, the harness bras are perfect to wear under an outfit, on top of an outfit, or all on their own.
Vixen Curves isn't only about the bras, either. The store offers plus size chokers, harnesses, and even tulle skirts. When I spoke to owner Vicky-Lou via Instagram, she also hinted at the idea that as the shop grows in popularity, so too will the collection expand. For now, I'm perfectly content to drool over the different types of harness bras available. Plus, all orders are currently being offered with a free gift. There's no reason not to invest.
When I asked Vicky-Lou about why she chose to open up shop now, her answer was totally body positive.
"Being plus size my whole life and wanting to feel sexy, I was annoyed that I could never find any items I wanted to wear myself. So one day I decided I would make my own items! Just because someone is plus size doesn't mean they don't want to or can't feel sexy. And these items truly make me feel good. I wanted to share that with other women who felt like me. Plus size doesn't mean 'boring,' it means 'beauty.'"
It's obvious from her words (and the prices of the products) that Vixen Curves isn't just cashing in on a highly lucrative market. Instead, the focus is on providing plus size people with what wasn't available to them before. Or, at least, what has never been available to them so cheaply.
Vicky-Lou also re-posts positive reviews of her designs, allowing us to see that the customers are just as in love with the products as the owner is. Scottish-based Kylie Charles shared many images of herself in her new bra, exclaiming, "I freaking love my new caged bra from Vixen Curves [...] how awesome is it? I need one in every style and color."
Similarly, happy customer Kelsea Amber shared a glowing review, saying she is "in love" and praising the brand's "speedy delivery."
Personally, I'm in love with the work ethic of any store that's simply trying to spread the love. This kind of passion and compassion is what's arguably needed from plus size retailers, and really proves why we should go out of our way to support independent businesses.
Images: Courtesy Vixen Curves